Wir verlassen Piräus und Athen.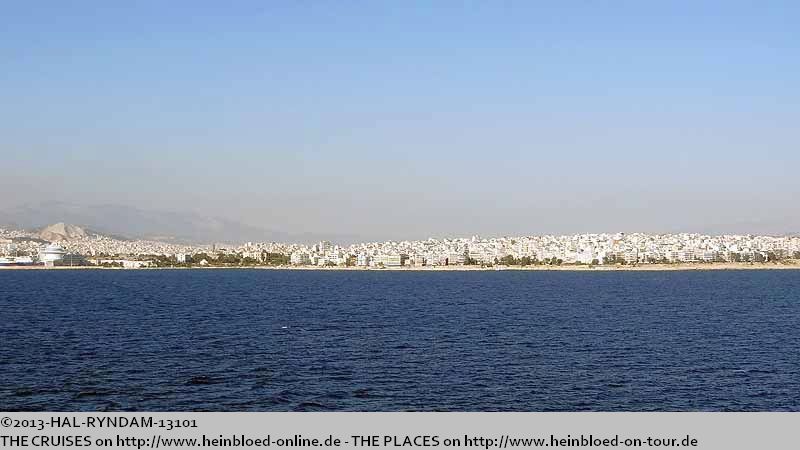 We left Piraeus and Athens.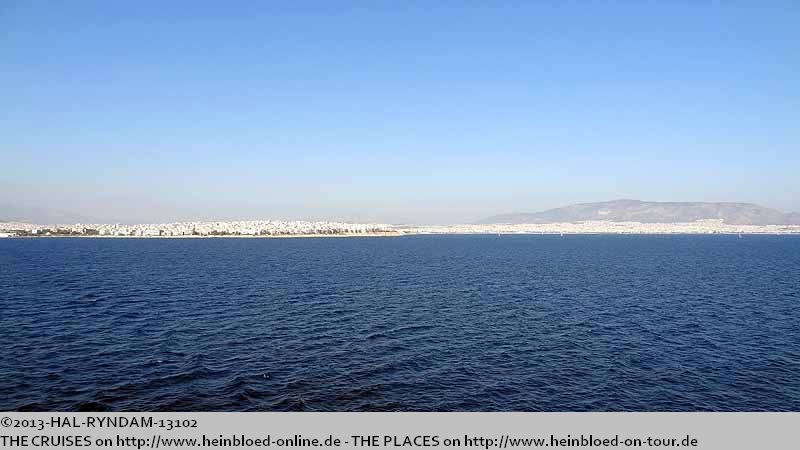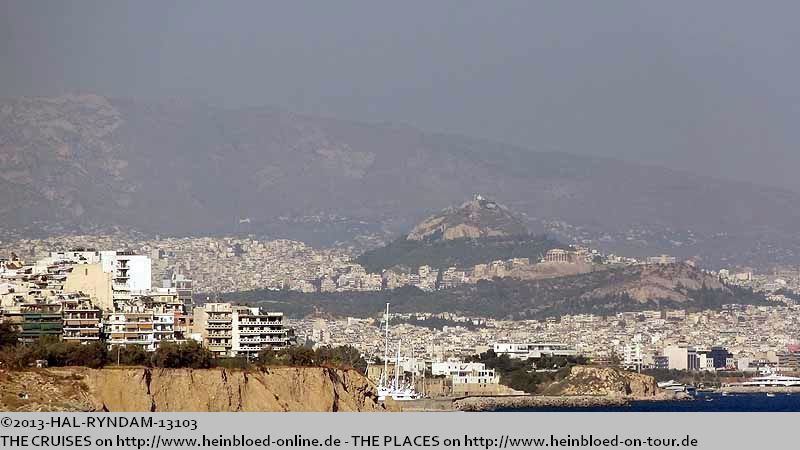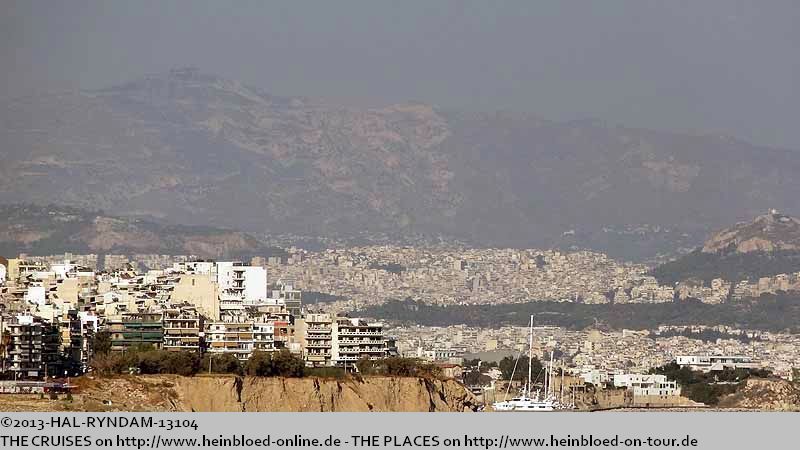 Wir müssen zum ersten Kapitänsempfang für Suiten-Gäste.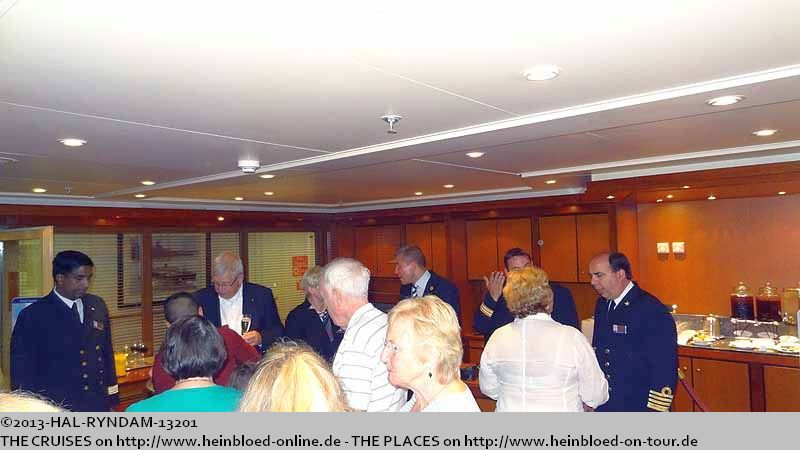 We need to see the first Captain's Reception for Suite-Guests.

Zero-Alcohol for Senior Officers. Very commandable.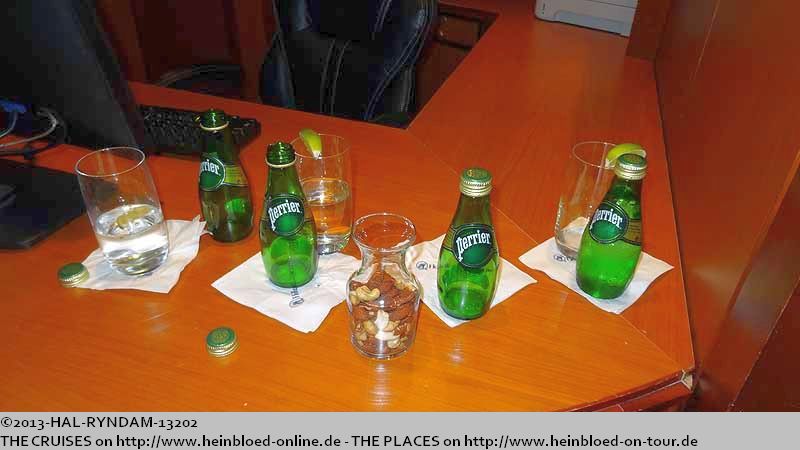 Zero-Alkohol für die Senior-Offiziere. Sehr vorbildlich.
Also die leckersten Canapés gibt es bei Holland America... finde ich.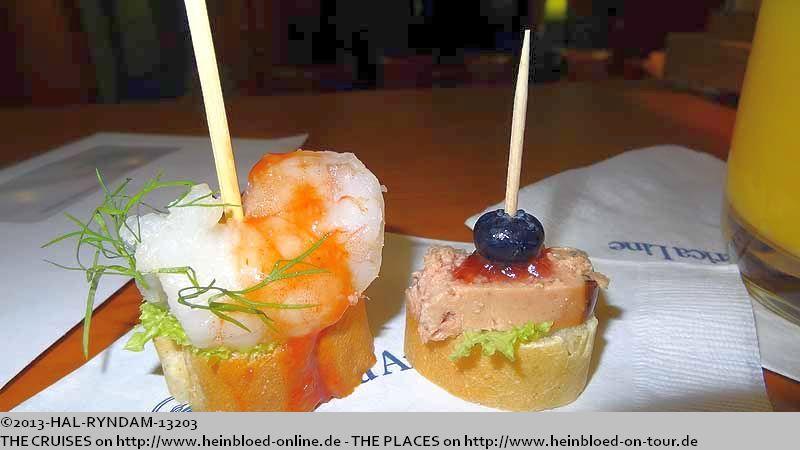 The nicest Canapés you have always with Holland America... I think so.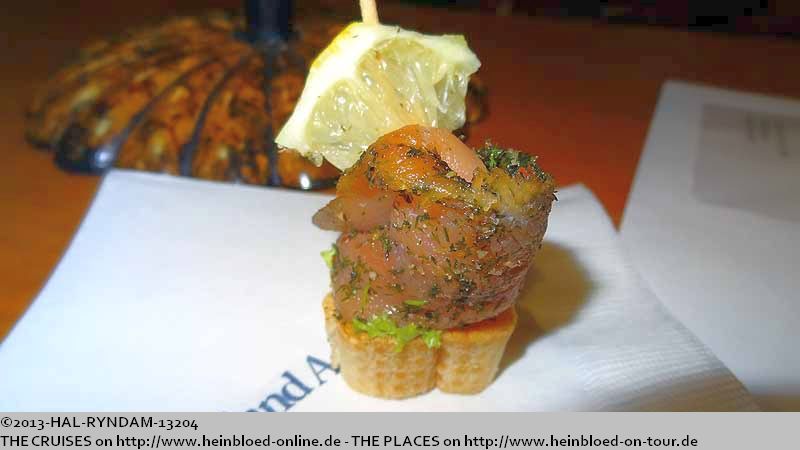 Hier schließen wir direkt Yohan ins Herz. Nicht wie bei anderen, kommen doch öfters vorbei, damit wir auch mehr als ein Canapé bekommen.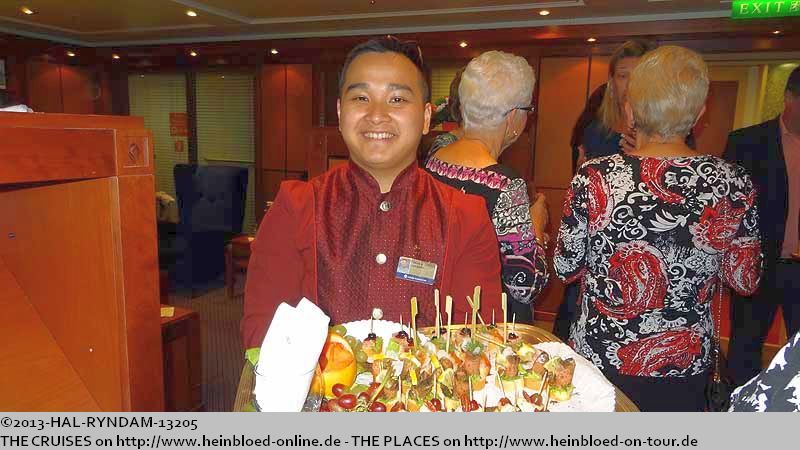 Here Yohan became our friend. Just because he came again and again that we could get more than one canapé - so not like others.

Then the hot canapés came.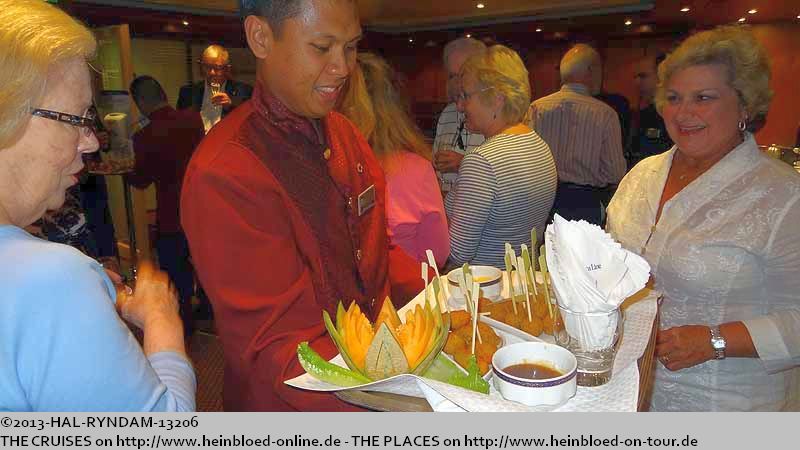 Dann kommen die warmen die Canapés.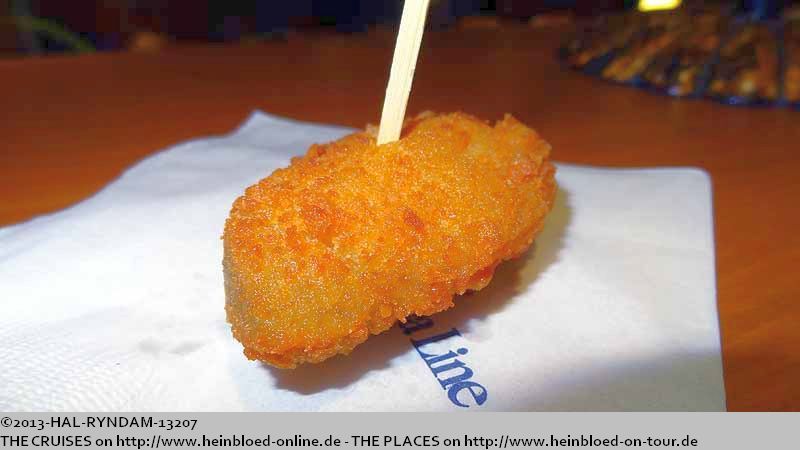 And then we had the biggest surprise: Yvonne. She had really a hard life with me on WESTERDAM because she was the buffer at the front desk because the Hotel Director did not like to talk with me. Last year we met her IN FRONT of ZAANDAM and she decided to leave the ship when she saw me... (o.k. she went to her well-deserved vacation and helped her co-workers during embarkation). But this time I really had not so many reasons to see her: 1. we had a Concierge who was part of her department and 2. there were no serious reasons to be upset and to report anything. So Yvonne could find out this time that I am not so bad as guest... The ratio of crew-members who jumped overboard when they had to deal with me is quite low.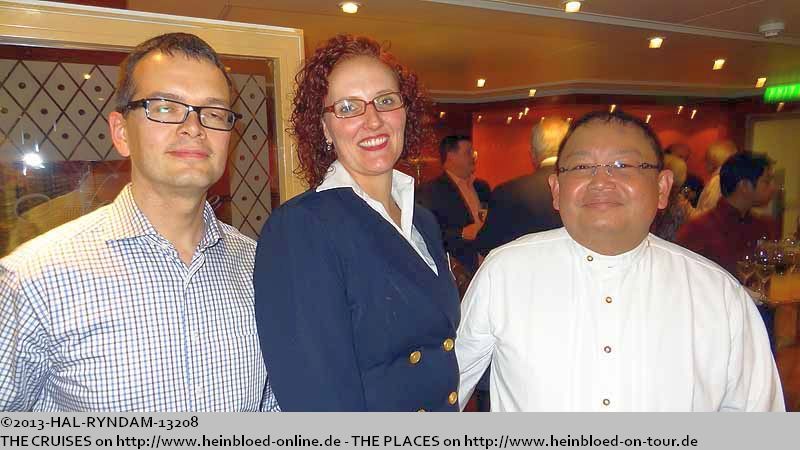 Und dann kommt die größte Überraschung: Yvonne. Sie hatte echt ein hartes Leben mit mir auf der WESTERDAM, weil sie der Puffer an der Rezeption war, weil ja der Hoteldirektor nicht direkt mit mir sprechen wollte. Letztes Jahr haben wir sie VOR der ZAANDAM getroffen und wohl dann entschlossen nicht wieder an Bord zu gehen, als sie mich sah... (o.k. sie ging in ihren wohlverdienten Urlaub und hat nur die Kollegen bei der Einschiffung untersützt). Aber dieses Mal hatte ich wenig Grund sie aufzusuchen: 1. wir hatten ja einen Concierge, der aus ihrer Abteilung gestellt wird und 2. es gab ja keine wirklichen Gründe uns über etwas aufzuregen und vorzutragen. Deswegen konnte auch Yvonne feststellen, dass ich so schlimm gar nicht als Gast bin... Der Anteil der Crew-Mitglieder, die über Bord springen, weil sie mit mir zu tun haben, ist eigentlich recht gering.
Damals auf der WESTERDAM hat Yvonne Frau und Herrn Pannen zum Abschied ein Geschenk überreicht, um sich für die Ereignisse auf der WESTERDAM zu entschuldigen. Für Herrn Pannen war diese Reise ein wichtiges Ereignis in seinem Leben, das sogar dann noch in der Trauerfeier Erwähnung fand. Nach dem Tod von Frau Pannen wurde ich gefragt, ob ich etwas haben möchte: nur das Geschenk von Yvonne hat mich interessiert, weil es mich an die tolle Reise in die Fjorde erinnert.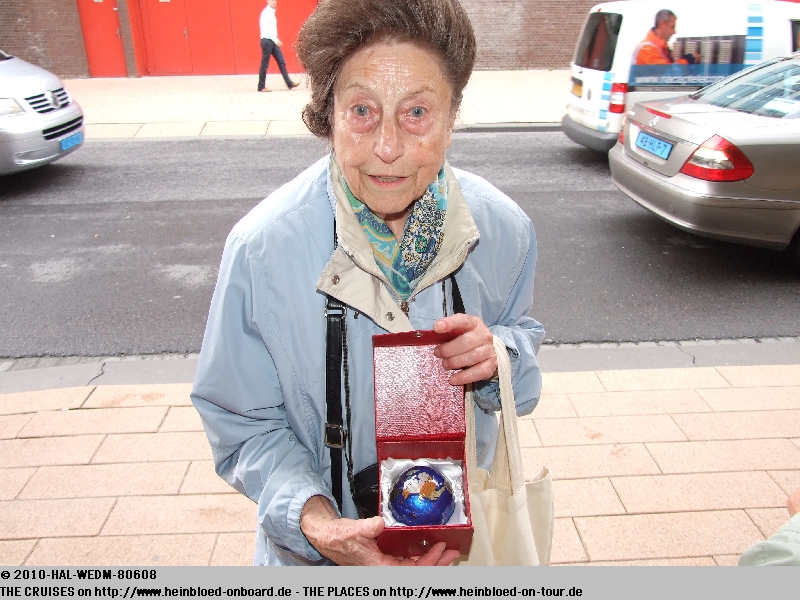 Then on WESTERDAM Yvonne gave Mrs and Mr Pannen a gift to say good-bye and to apology for everything what happened on WESTERDAM. For Mr Pannen it was one important event of his life so it was mentioned on his funeral. After Mrs Pannen passed away I was asked if there would be anything I would like to have and it was only Yvonne's gift I asked for because it reminds me to a great voyage to the fjords.

We had vacation and we did not want any kind of stress: so we did not ordered any table by phone. The queue was very long when we came from the Captain's Reception so we went directly to Pinnacle Grill. As we had 400.00 USD OBC it did not hurt so much. But anyway we would have seen it - even without OBC.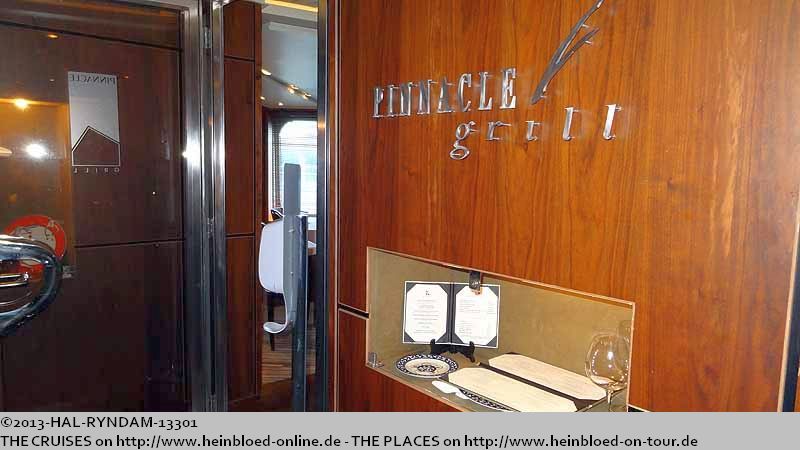 Wir waren im Urlaub und wollten keinen Stress: daher haben wir keinen Tisch telefonisch vorbestellt. Die Schlange ist jedoch riesig, als wir vom Kapitänsempfang kommen, so dass wir direkt zum Pinnacle Grill gehen. Mit 400,00 USD OBC tut es auch nicht so weh. Aber wir wären eh hingegangen - auch ohne OBC.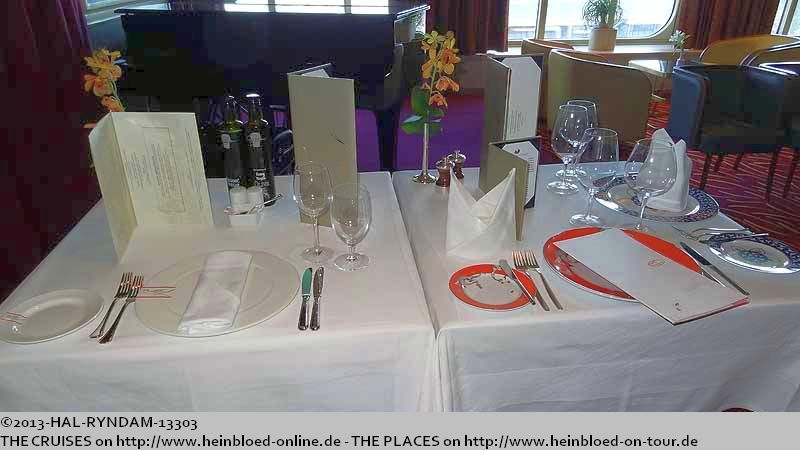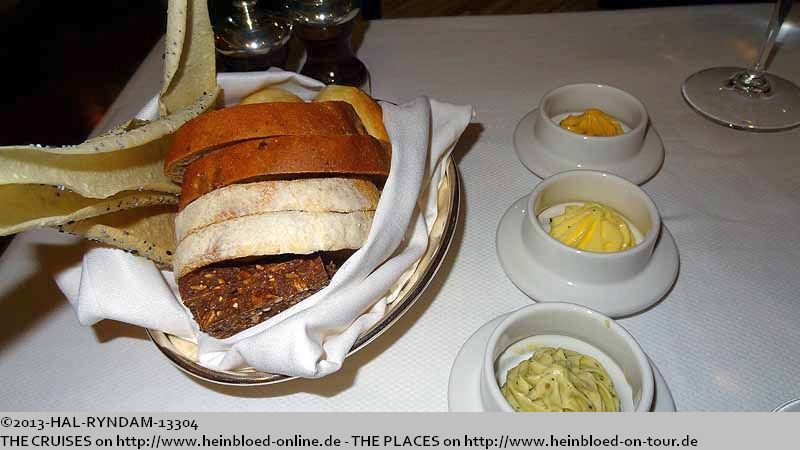 The mushroom cream soup as Amuse Bouche.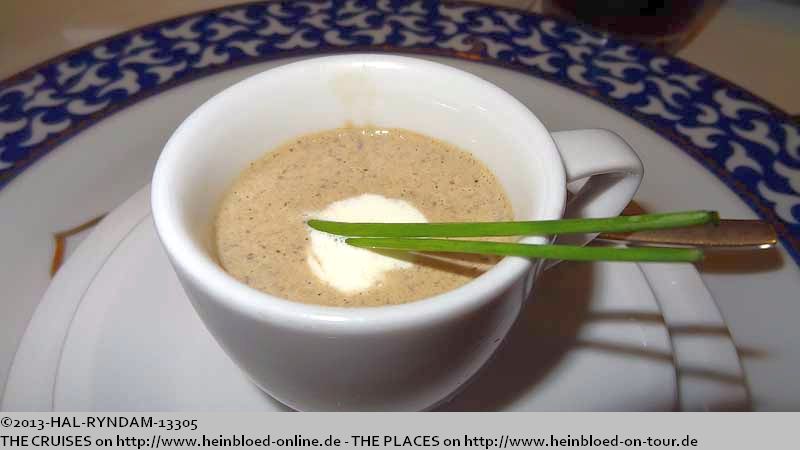 Die Pilzcremesuppe als Amuse Bouche.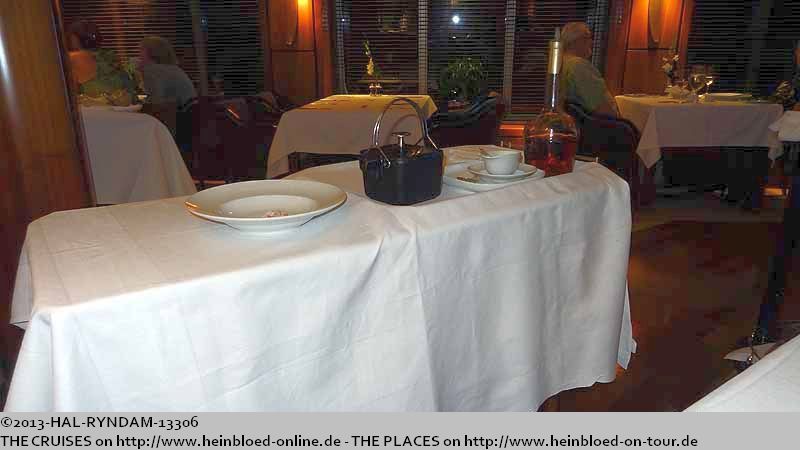 Lilis prepared my Lobster Bisque. Looked again different compared to earlier visits.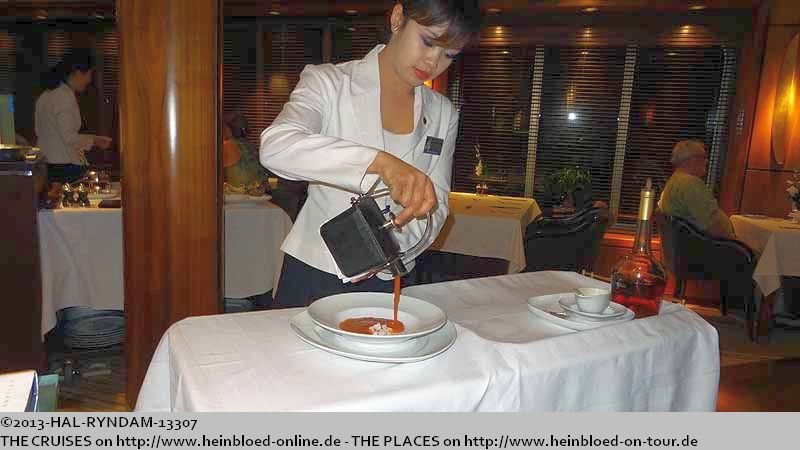 Lilis bereitet mir meine Lobster Bisque zu. Sieht wieder etwas anders aus, als bei früheren Besuchen.
Hicks... und anschließend bin ich besoffen... Die Menge Alkohol in meiner Hummercremesuppe war so viel, wie ich sonst in einem ganzen Jahr konsumiere...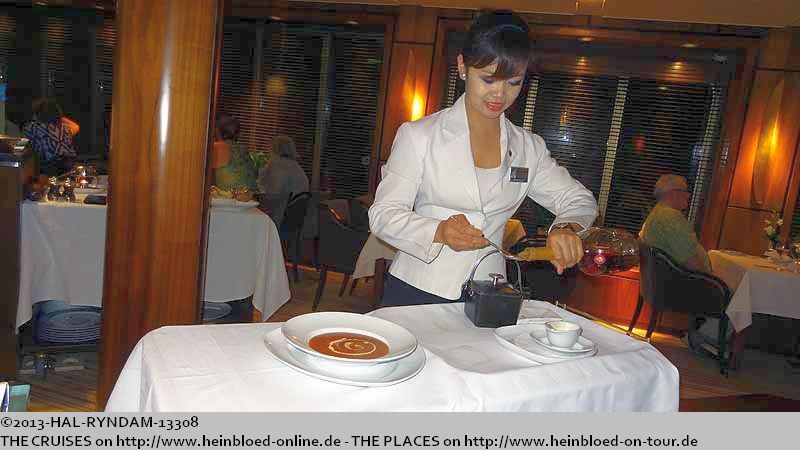 Hicks... and then I was drunk... The quantity of alcohol in my lobster bisque was same like I am consuming in one year...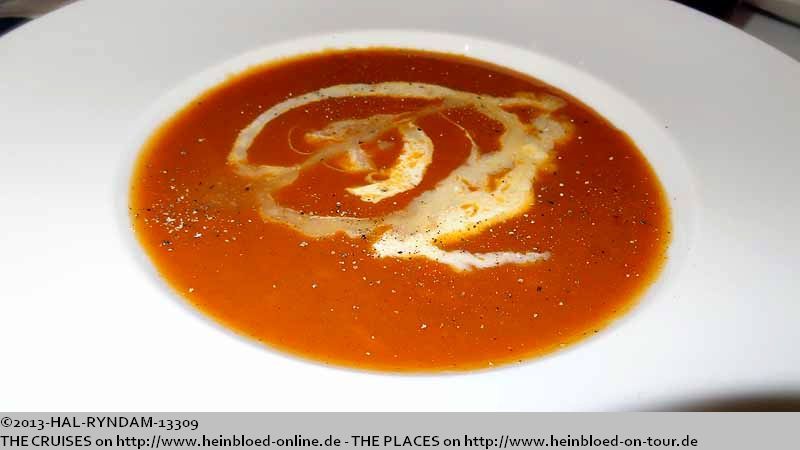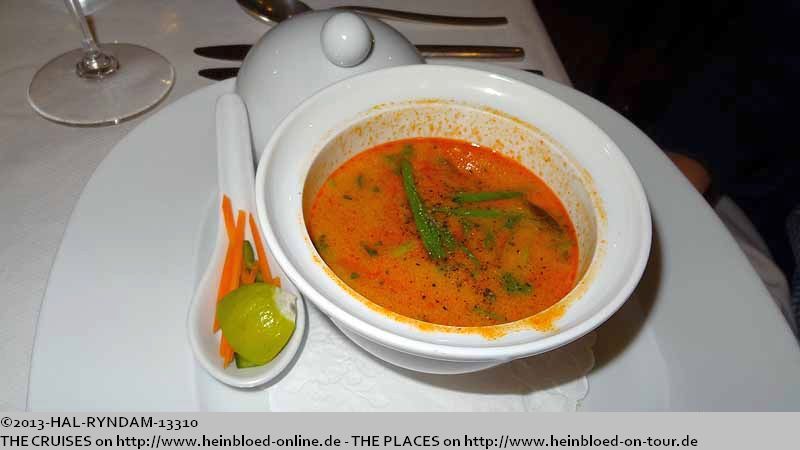 Roger - our suggestion for the position of a Fleetwide Maître who would automatically transferred to Princess and Cunard when we go on Princess or Cunard... I could experience his service 24/7.. It was a lot of pleasure!!!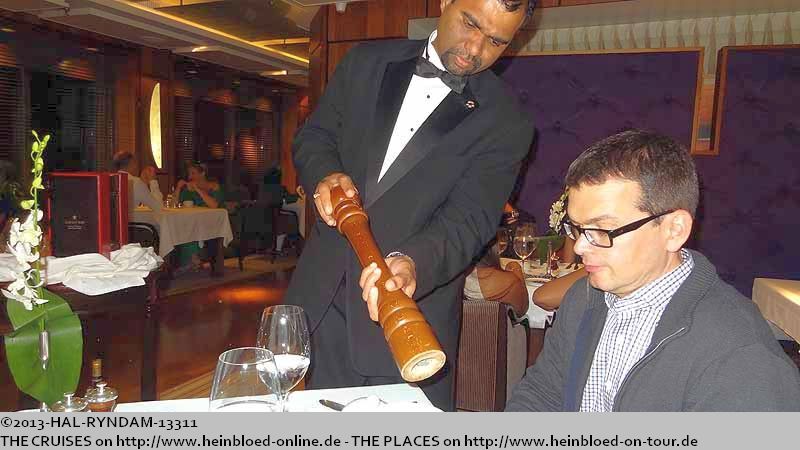 Roger - unser Vorschlag für einen Fleetwide Maître, der automatisch zu Princess und Cunard versetzt werden muss, wenn wir mit Princess oder Cunard fahren... Seinen Service könnte ich 24/7 genießen... Das macht richtig Spaß!!!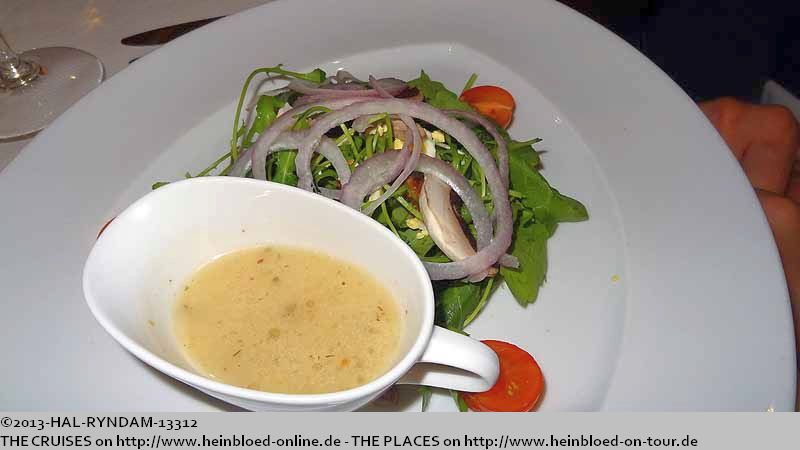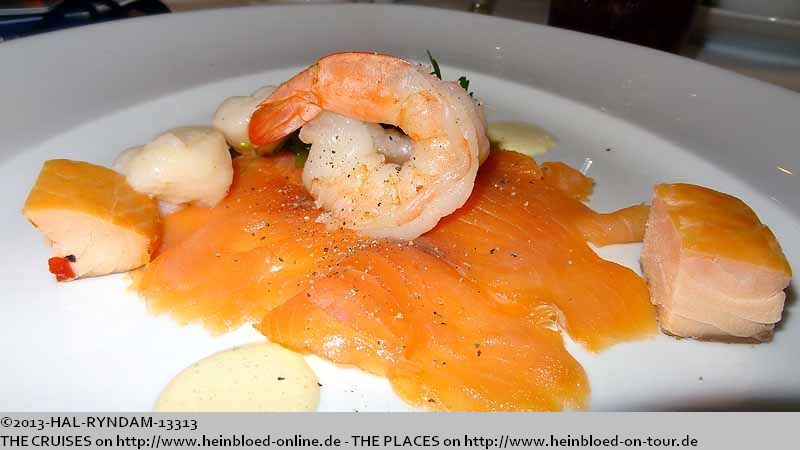 Bruno nimmt den Fisch... - wie immer - schon alleine die drei Jumbo-Shrimps machen ja schon satt!!!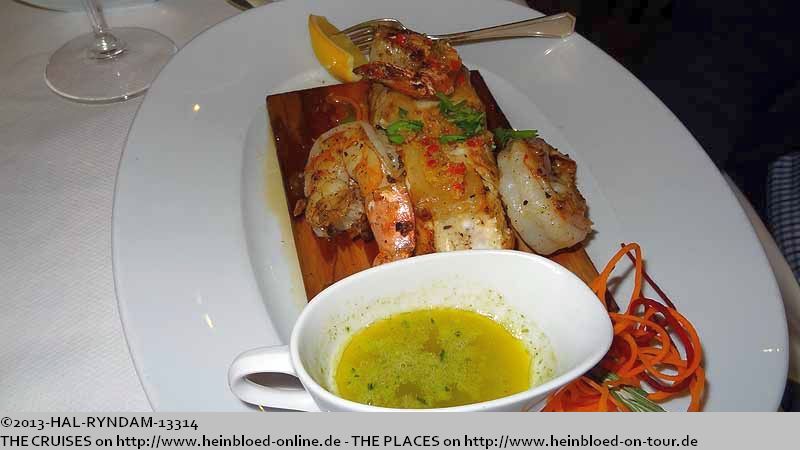 Bruno took the fish... - as usual - but even the three Jumbo-Shrimps made him full!!!

My Bone-In-Rib-Eye-Steak...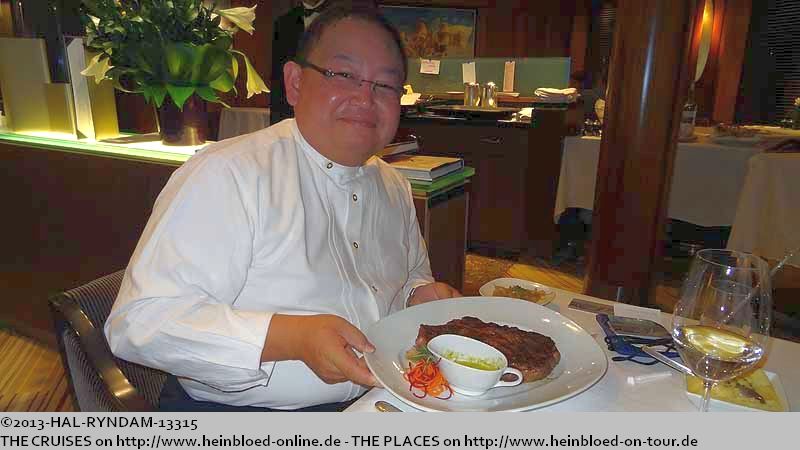 Mein Bone-In-Rib-Eye-Steak...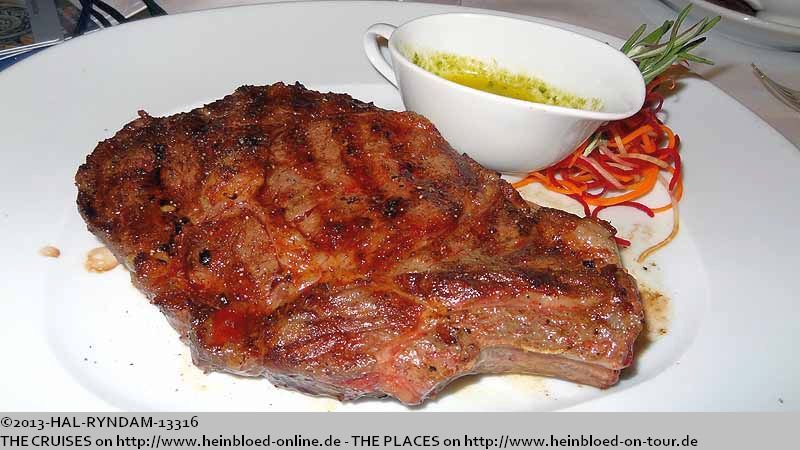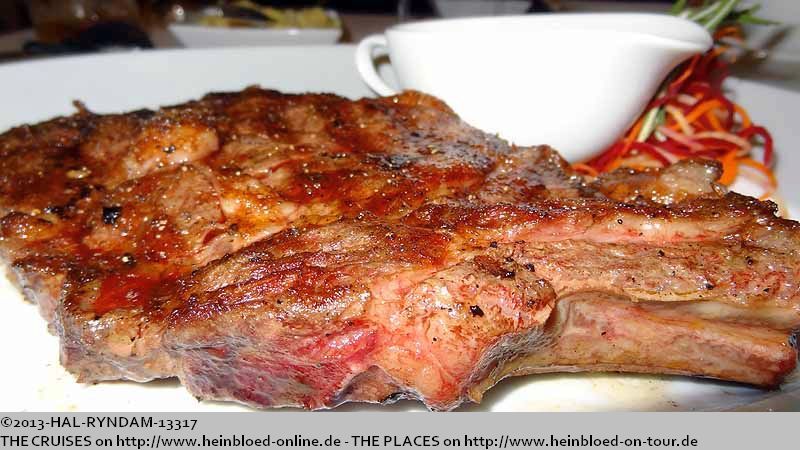 Da ist mein Fettauge in der Mitte, so wie ich es angefragt habe...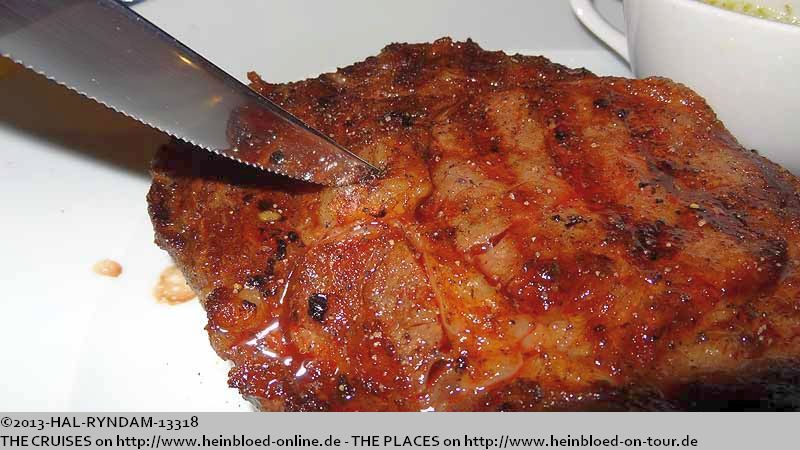 There was my fat eye in the center which I requested...

Was not that just gorgeous??? And the meat juice... I was kindly asked not to use my tongue to lick the sauce on the plate clean...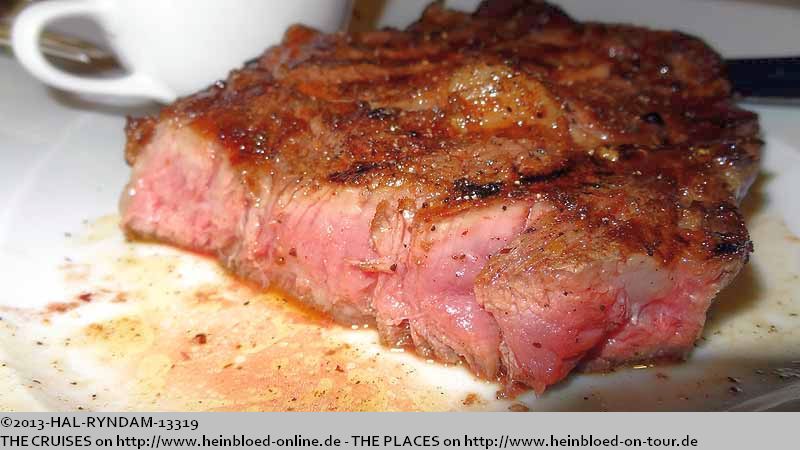 Ist das nicht wunderschön??? Und der Fleischsaft... Ich wurde allerdings höflichst gebeten, darauf zu verzichten, mit der Zunge die Soße vom Teller aufzuschlecken...
Die alten Getränkekarten gelten nicht mehr. Nun kosten sie 25,00 USD für den Wert von 50,00 USD aber als Getränk von der Zapfanlage (2013).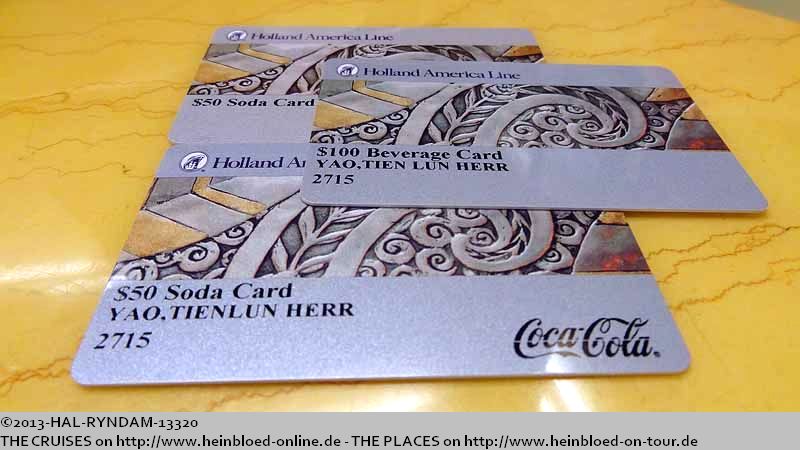 We could not use the old soda cards anymore. Now it was 25.00 USD for the value of 50.00 USD but from fountain (2013).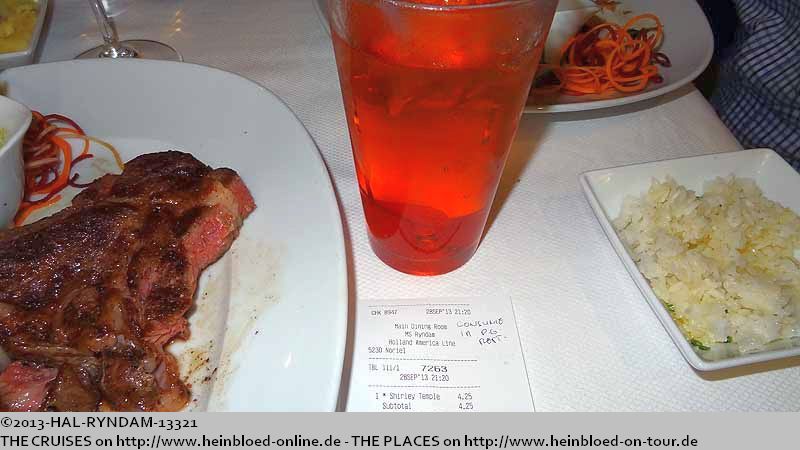 Ein Shirley Temple wird nicht über den Soda-Pass abgerechnet, sondern mit 4,25 USD plus 15%. Bei NCL gibt es für den Schuss Kirschsirup und 1 Kirsche keinen Aufpreis auf den Soda-Pass, weil ja sonst das Teil zu 98% aus Sprite besteht.
Selbstgemachte Pralinen am Schluss zum Kaffee.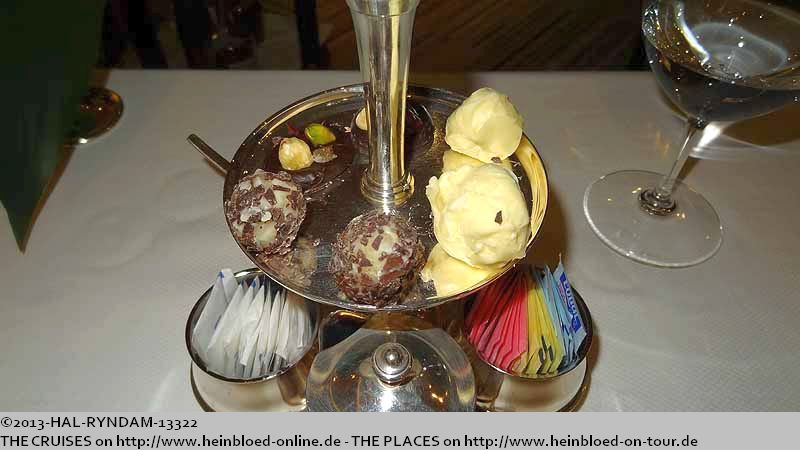 Housemade chocolates at the end for the coffee.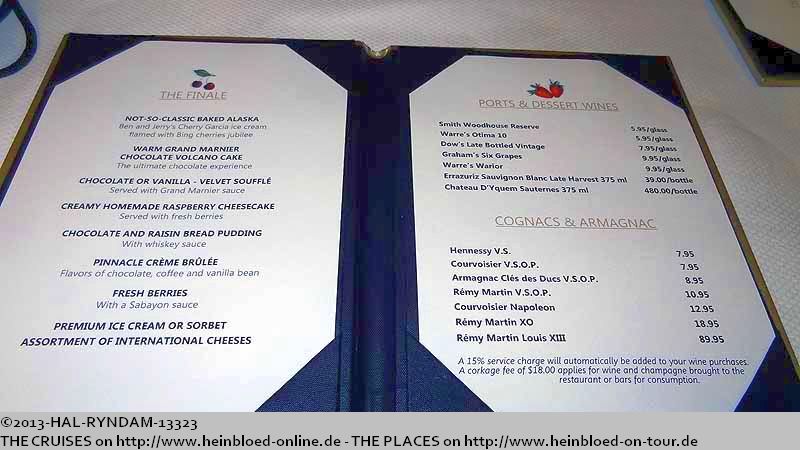 Wow... 89,95 USD plus 15% für einen Rémy Martin Louis XIII...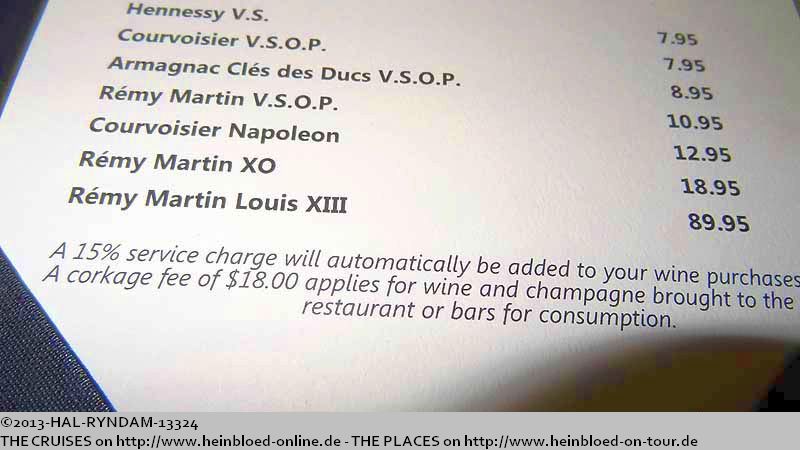 Wow... 89.95 USD plus 15% for a Rémy Martin Louis XIII...

Bruno was happy because Roger noticted that he did not have so much pleasure with the coffee for Americans and so he got another for Europeans.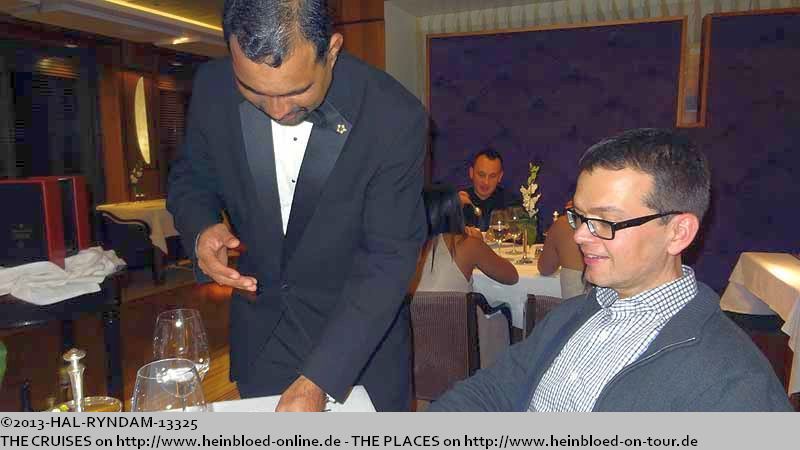 Bruno freut sich, weil Roger merkt, dass er wenig Spaß an dem Kaffee für Amerikaner hatte und daher er ihm nochmals einen bringt für Europäer.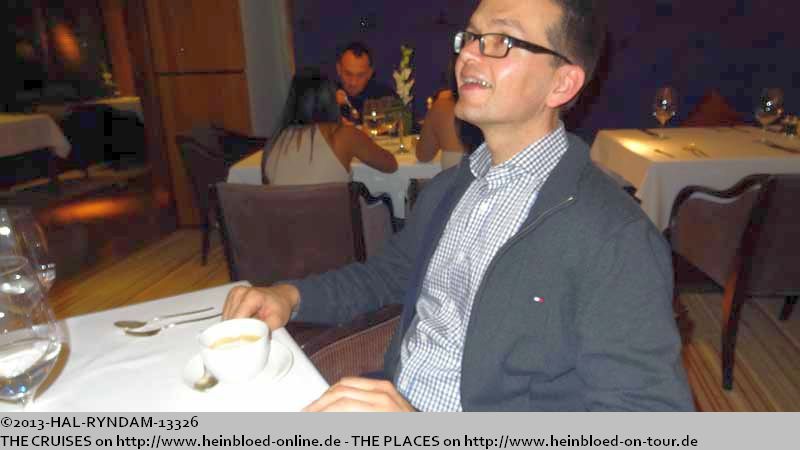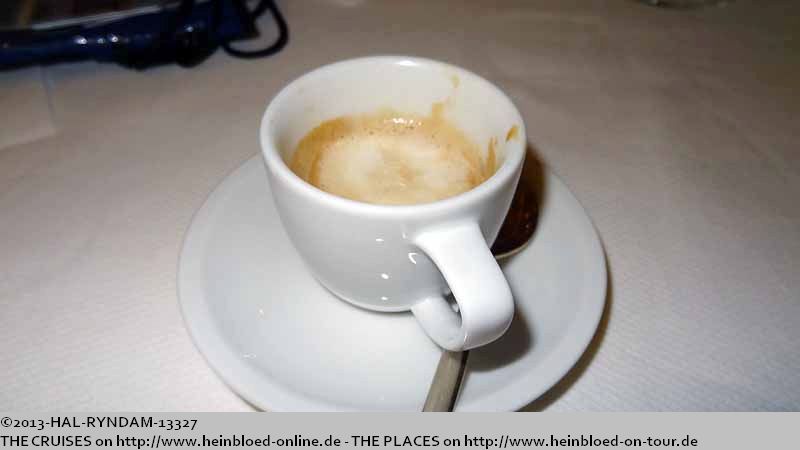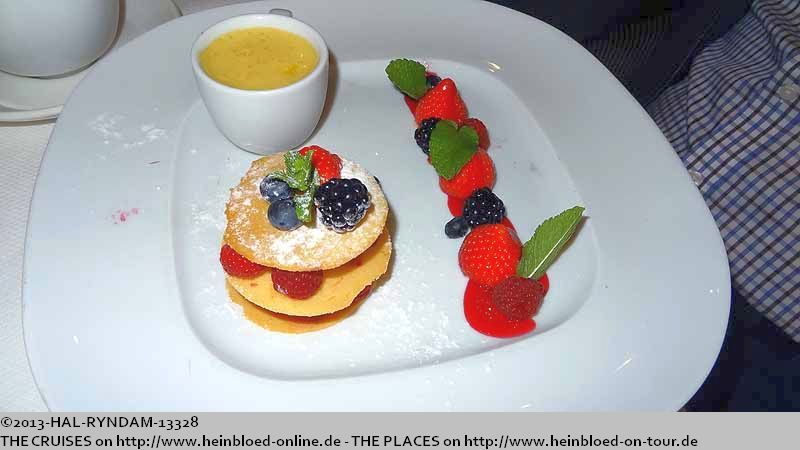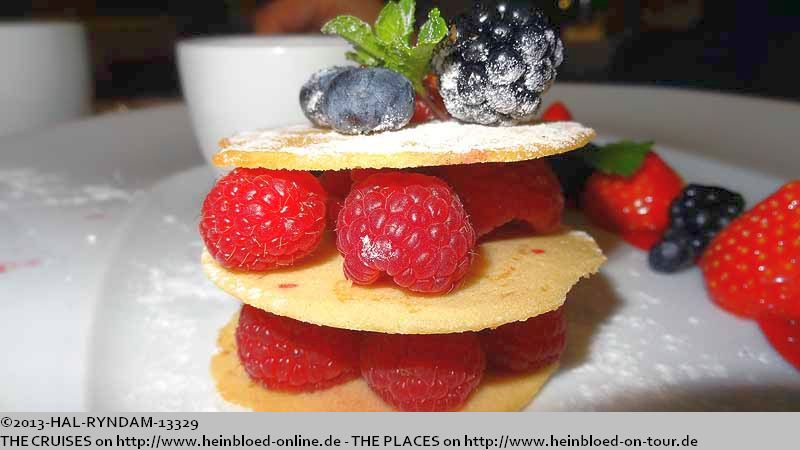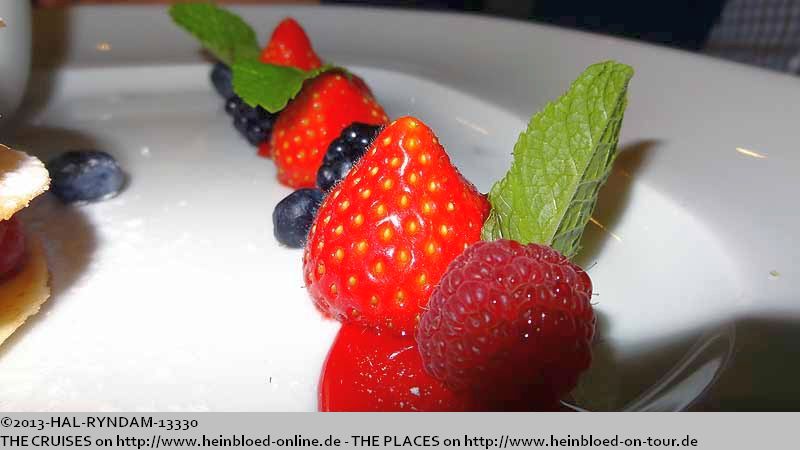 I told them that I would file a claim if the scope of ice would be larger than the truffes... but that was worth to have trouble with your Diabetes doctor: Chocolate ice cream which tasted like chocolate.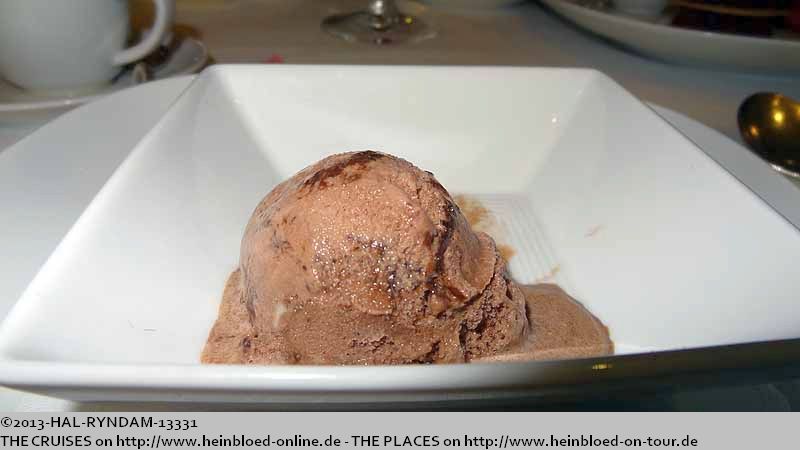 Ich hatte denen gedroht mich zu beschweren, wenn die Eiskugel größer sein sollte als der Trüffel... aber das ist der Ärger mit meinem Diabetologen Wert: Schokoladeneis, das nach Schokolade schmeckt.
Unsere Unterlagen für den nächsten Tag.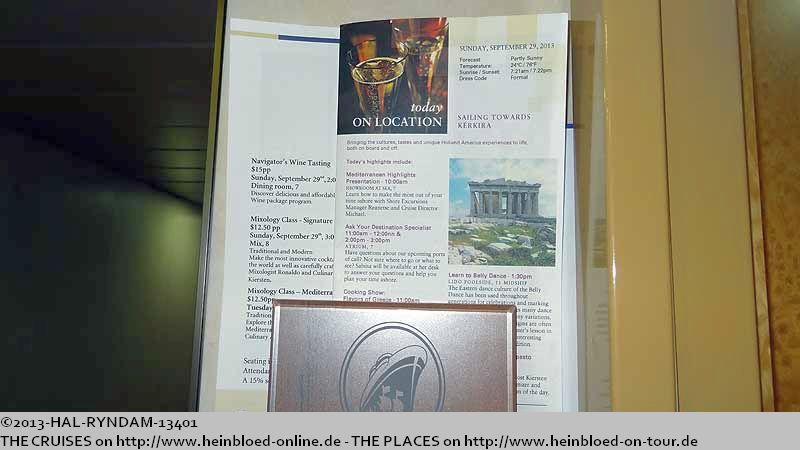 Our information for the next day.

I was not allowed anymore to take slippers home as Bruno refused to finance an annex to our house... as they had no HAL logos. So sad that they did not have the textile fibre bags anymore since we were in a suite. That was nicer with Princess and Celebrity as they had the better bags there.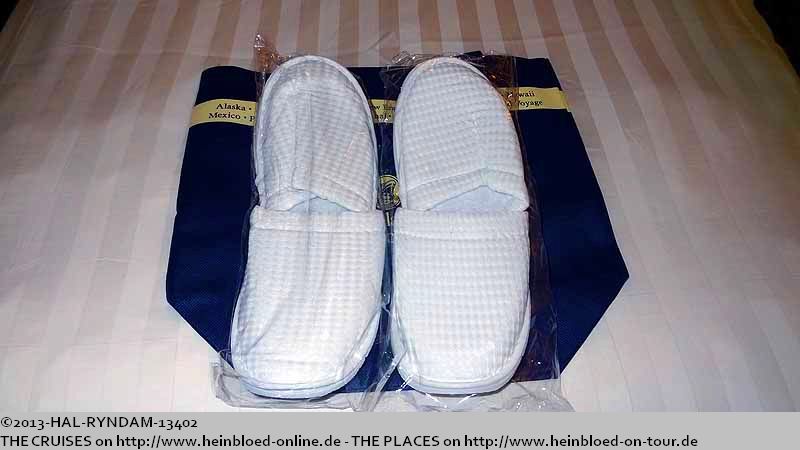 Die Latschen darf ich ja nicht mehr mit nach Hause nehmen, seitdem Bruno sich geweigert hat, einen Anbau zu finanzieren... zumal sie keine HAL-Logos haben. Schade, dass es die echten Stoffsäcke nicht mehr gibt. Zumal wir ja in einer Suite sind, finde ich es bei Princess und Celebrity schöner, dass es dort die besseren Beutel gibt.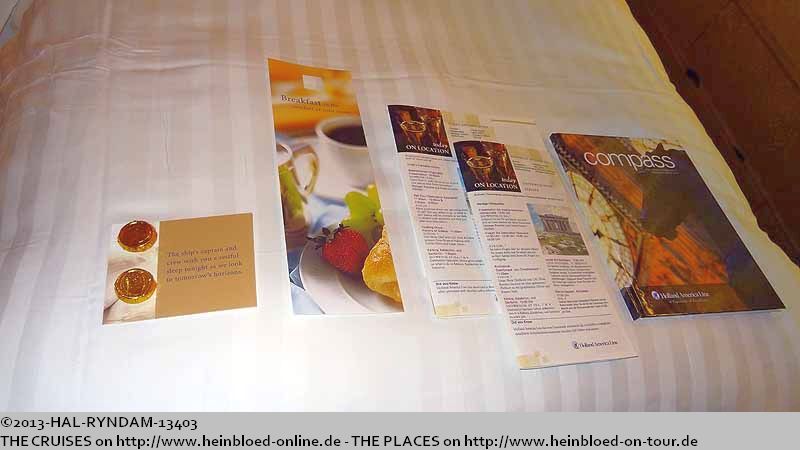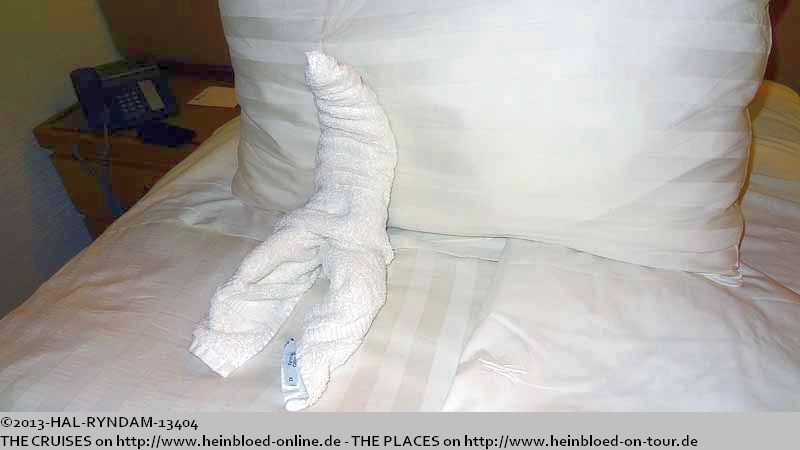 Ich bekomme noch meine Medi-Box für meine Nadeln. Hier wird jedoch auch darum gebeten alle Pens und die Teststreifen auch darin zu entsorgen.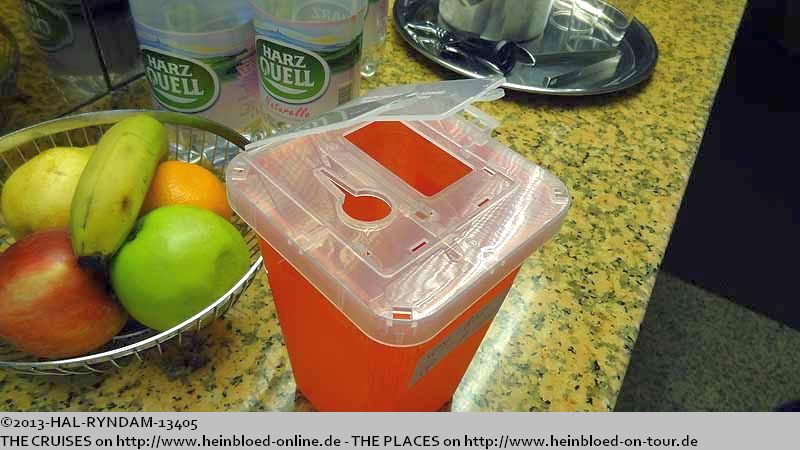 I got my sharp box for my needles. But here they wanted to dispose the pens and test stripes too in this box.

What did not fit would be made fitting... So the air was diverted to the feet and wall instead to the face.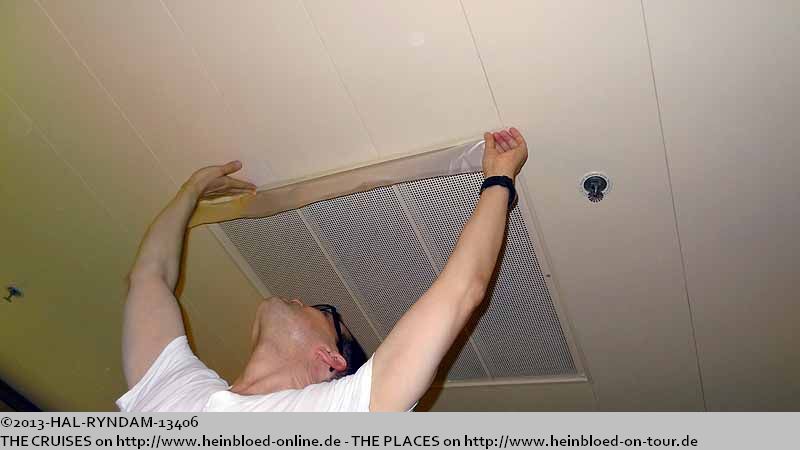 Was nicht passt, wird passend gemacht... So wird die Luft in Richtung Füße und Wand umgeleitet, statt direkt ins Gesicht.