Auf zu den Canapés in der Neptune Lounge.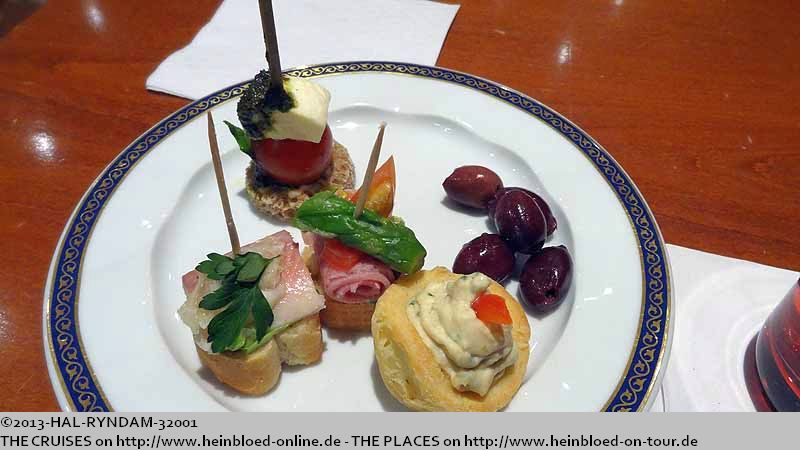 Let us have some canapés in the Neptune Lounge

Mail...

Post...
Einladung zum nächsten Kapitänsempfang.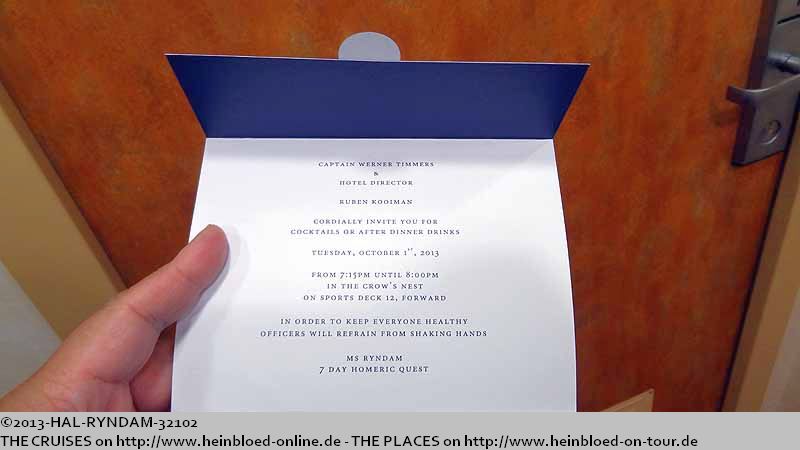 Invitation for the next Captain's Reception.

Our tuxedos were already back.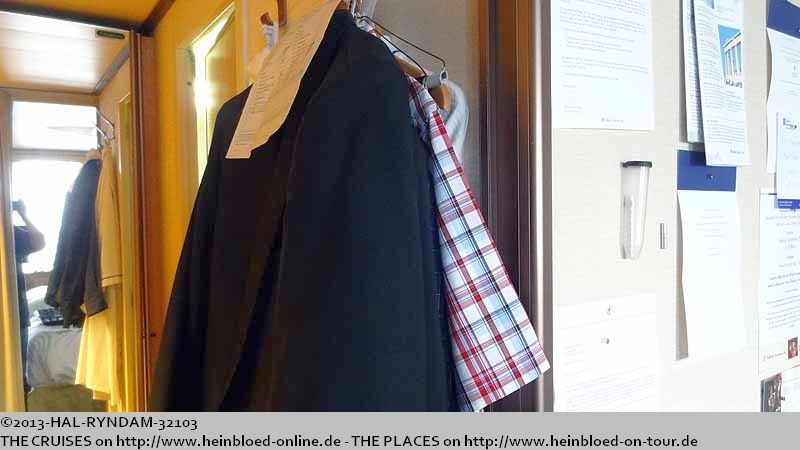 Unsere Smokings sind auch schon zurück.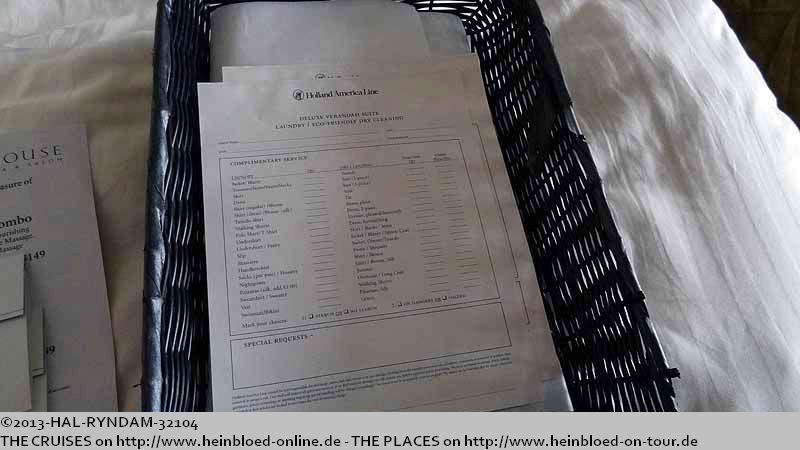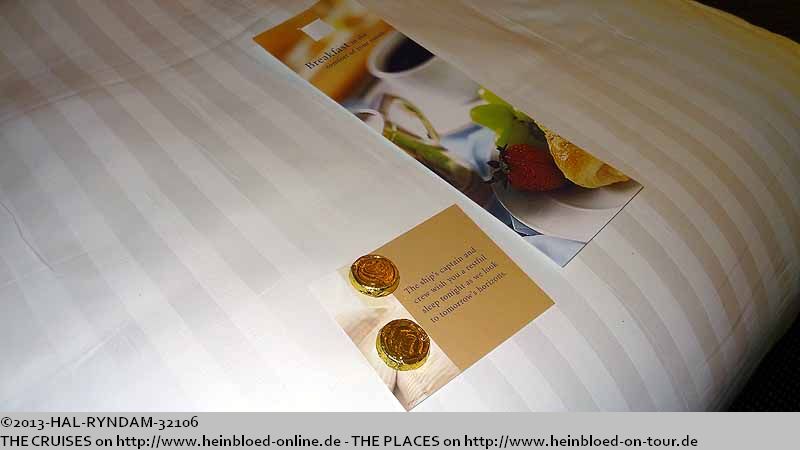 Meanwhile the technicians were back again and take off the foil.

Zwischenzeitlich kamen die Techniker nochmals und haben die Folie entfernt.
Sie haben nämlich noch eine bessere Lösung gefunden: Wir hatten ja zwei Luftausgänge. Man kann die Luft, die über unserem Bett herausgekommen wäre, über den Ausgang über dem Sofa umleiten. Das ist so eine geniale Lösung.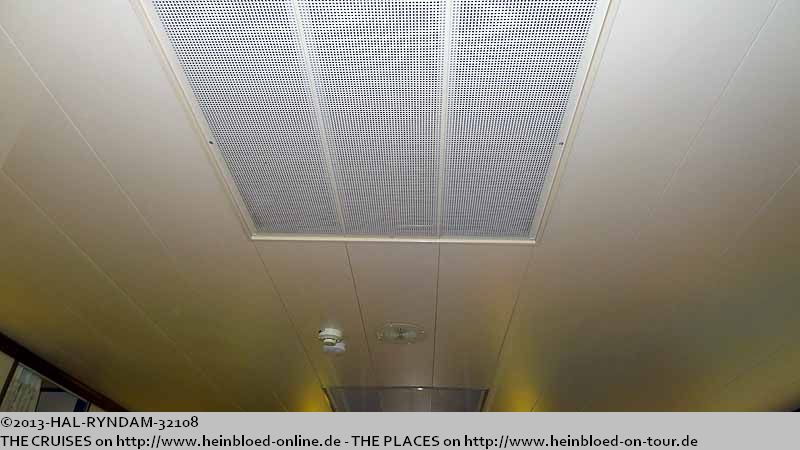 They found a better solution: we had two air outlets. They could divert the air which came out above our bed to the outlet above the sofa. That was a genious solution.

A personal letter from Ruben.

Ein persönlicher Brief von Ruben.
Aber in diesem Fall bitte ich um Entschuldigung, dass er hier im Blog auftaucht. Wie bereits beschrieben, wusste ich ja, dass Jonathan an Bord sein wird und ich wollte einfach mal, dass die Schiffsleitung weiss, dass es eben ein paar etwas mehr leisten als andere. Deswegen hatte ich Ruben einen Brief geschrieben und das ist seine Antwort. Es sind eben die vielen kleinen Schritte mehr, die Jonathan und seine Kollegen machen, dass wir gerne mit Holland America fahren und uns besonders wohl fühlen. Das sollten seine Chefs einfach wissen. Und über Rubens Antwort habe ich mich sehr gefreut und hoffe, dass jeder der hier im Blog mit Bild und Namen erscheint auch in Seattle die Aufmerksamkeit findet, dass sie hinterher hören, dass wir ihre Leistungen entsprechend wahrgenommen haben und entsprechend würdigen.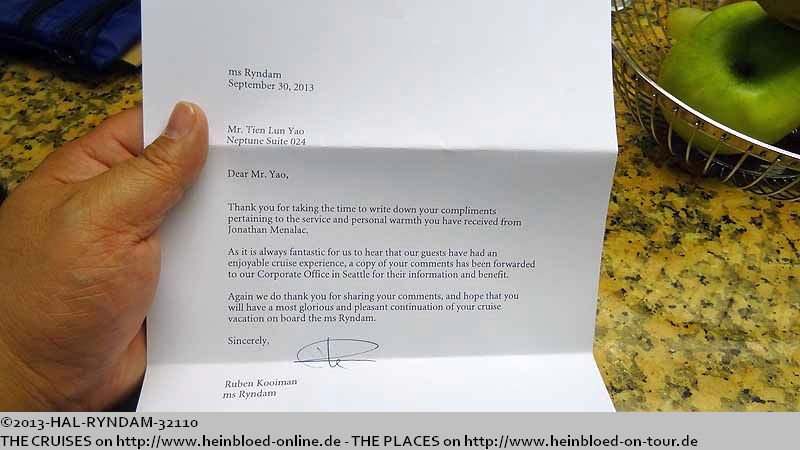 I apology for publishing it here in the blog. As decribed before I knew that Jonathan would be onbard and I wanted to make sure that the ship's management get notice there were some who did a little bit more than others. That was why I wrote Ruben a letter and that was his answer. There were the little more miles Jonathan and other walked for us that we love to come back with Holland America and that we feel very comfortable once we are onboard. I thought that his bosses should know this. And I was very happy to hear from Ruben and I truly hope that each one who was mentioned here by picture and name will find in Seattle the attention that they would listen later how much we appreciated and honored their performance we experienced onboard.

Bruno is happy.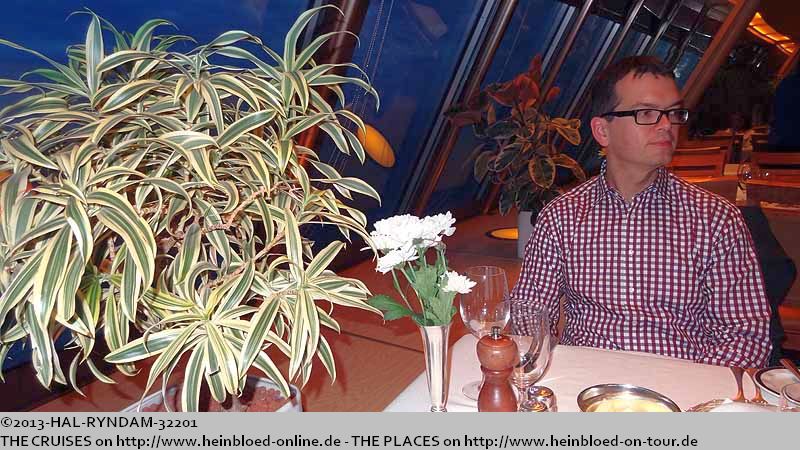 Bruno ist glücklich.
Wir haben einen Tisch ganz hinten in der Ecke. Hier zieht es nicht, weil die Lüftung erst vom nächsten Tisch an bläst...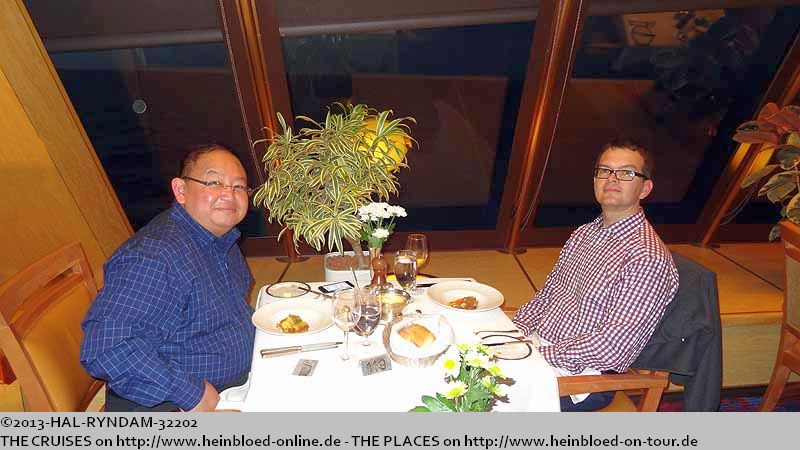 We got the table just in the aft at the corner. Here it was never breezy because the air outlet was placed over the next table...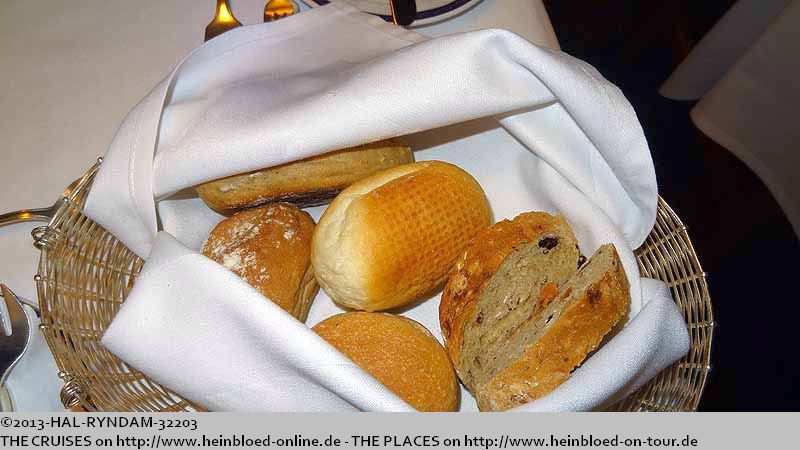 Liebe griechischen Freunde - Erkennt ihr das?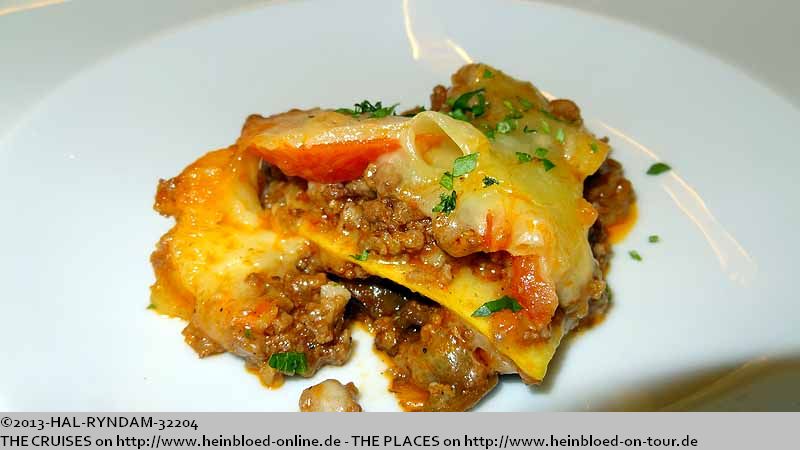 Dear Greek friends - do you identify this?

They had a kind of French Bouillabaise (Fresh Sea Food Soup).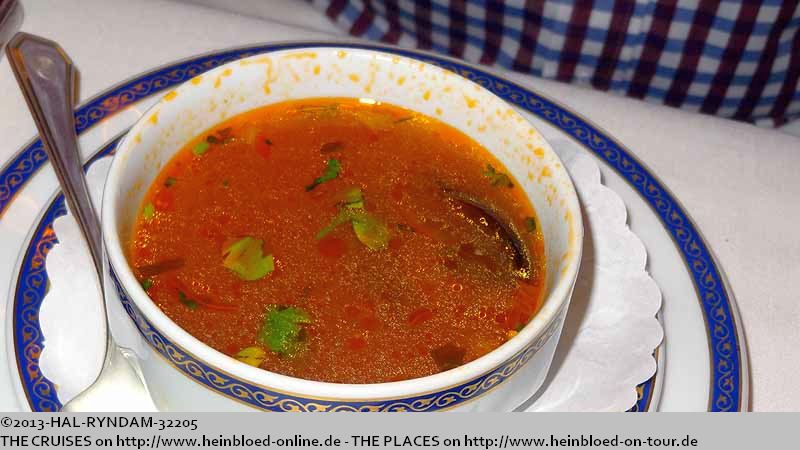 Es gab eine Art Bouillabaise...
Einziges Problem für Bruno: wie bekommt man mit einem Suppenlöffel das Fleisch aus der Muschel?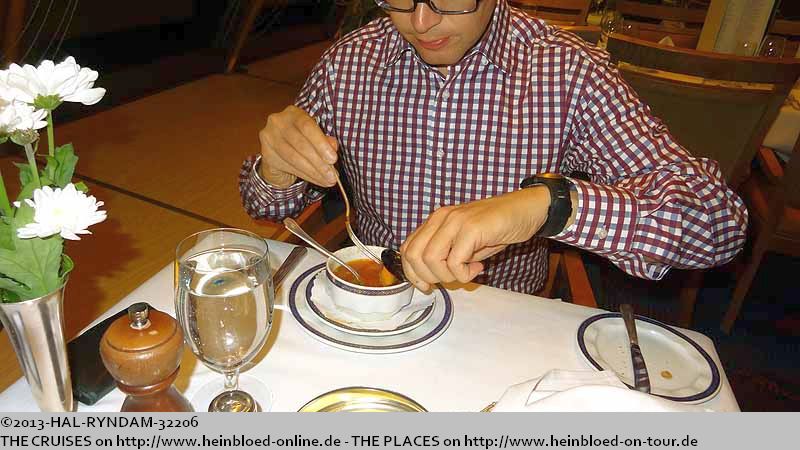 The only problem for Bruno: how do you get with a soup spoon the meat out of the clam?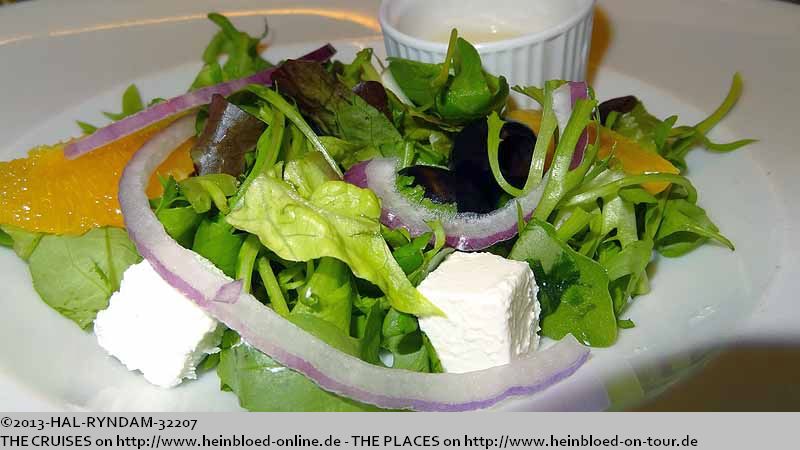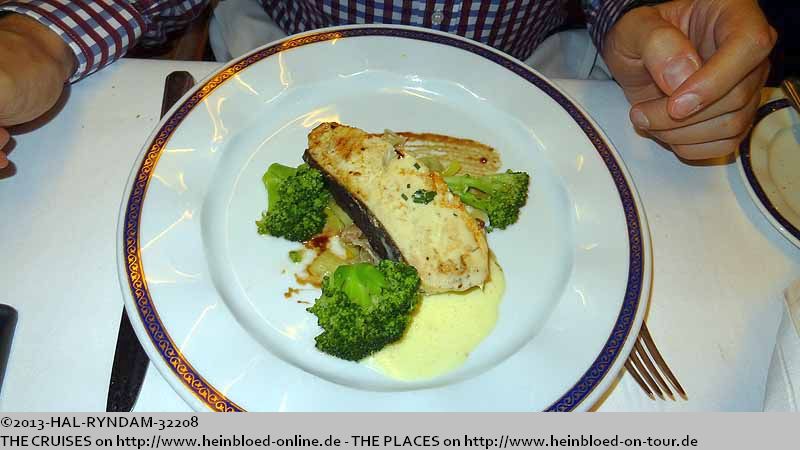 I ordered the everyday available steak as I could not find anything which I really liked to eat.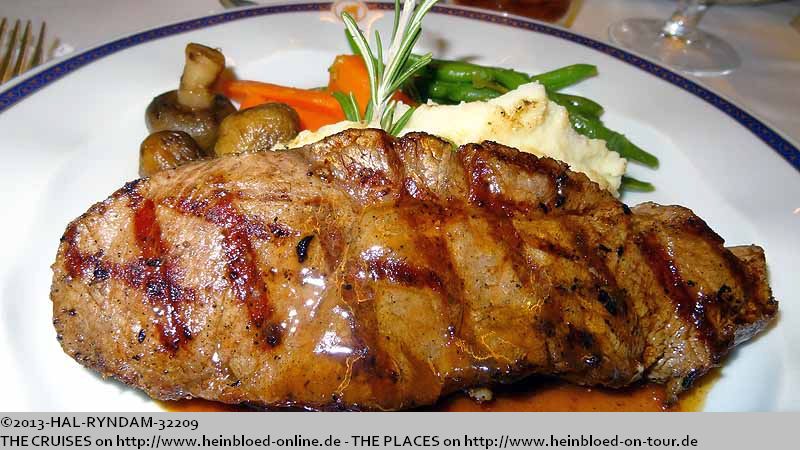 Ich bestelle mir das täglich verfügbare Steak, nach dem ich nichts gefunden habe, was mich wirklich reizt.
Die Versorgung mit Getränken klappt richtig gut. Nur es gibt kein Eis...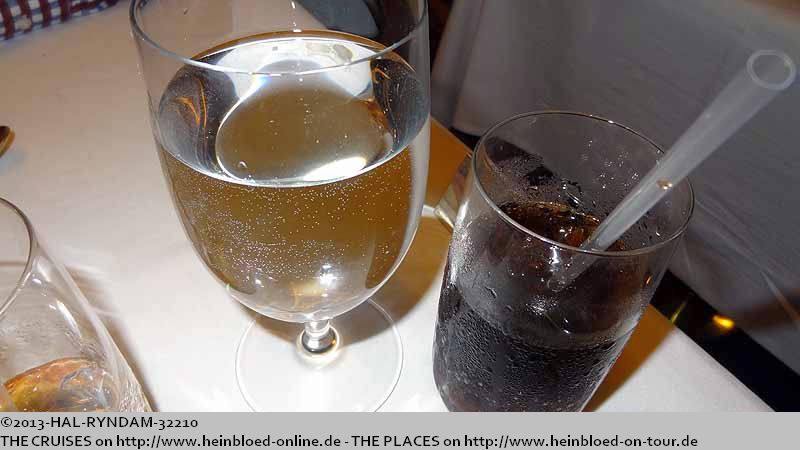 Getting beverages worked quite well. But there were no ice cubes...

The coffee was somehow dry... We wanted to order some espressso but we were told that there was an incident with the desalting device. So there was not any ice-water that day and no espresso (was on charge - but they did not want to charge for anything what was not tasty at all).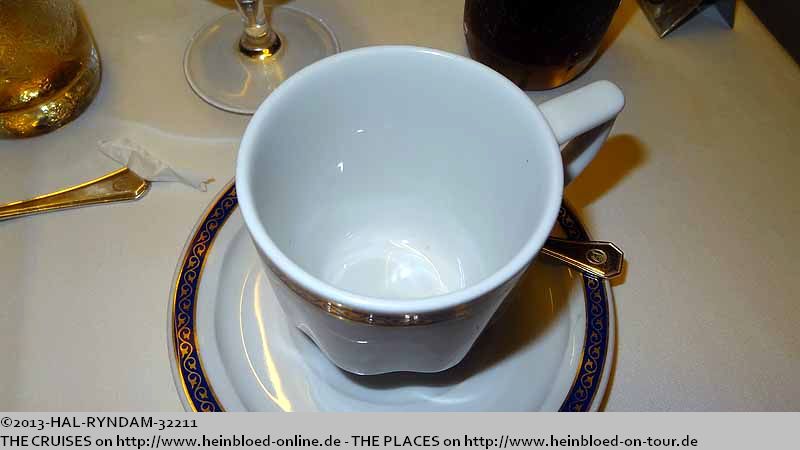 Nur der Kaffee ist etwas trocken... Wir wollten wie üblich Espresso bestellen, aber da ist wohl etwas mit der Meerwasserentsalzungsanlage passiert. Deswegen gibt es heute auch gar kein Eiswasser und kein Espresso (weil der berechnet wird, und man nicht etwas berechnen will, was hinterher nicht schmeckt).
Aber normalen Kaffee könnten wir haben, da wohl in dem Wassertank noch Wasser war, das vor dem Malheur passiert ist.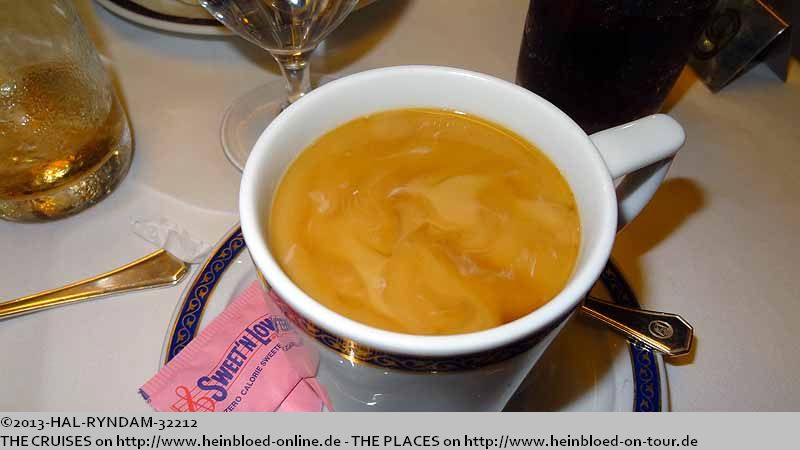 We could have regular coffee as the tank of the coffeemachine was full of water before the incident.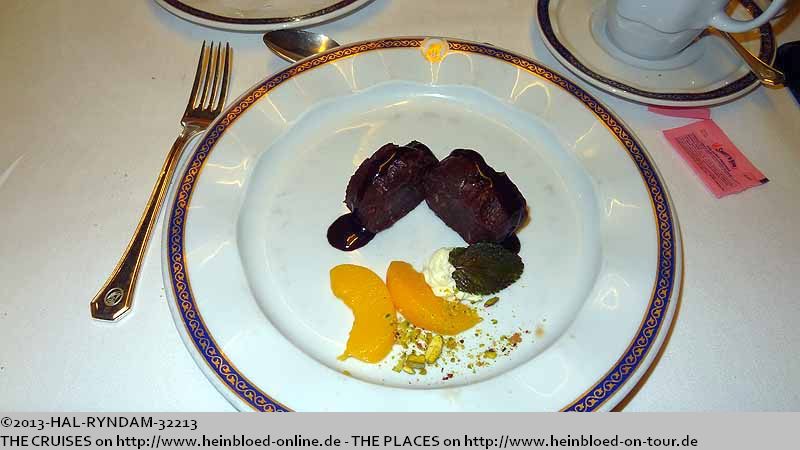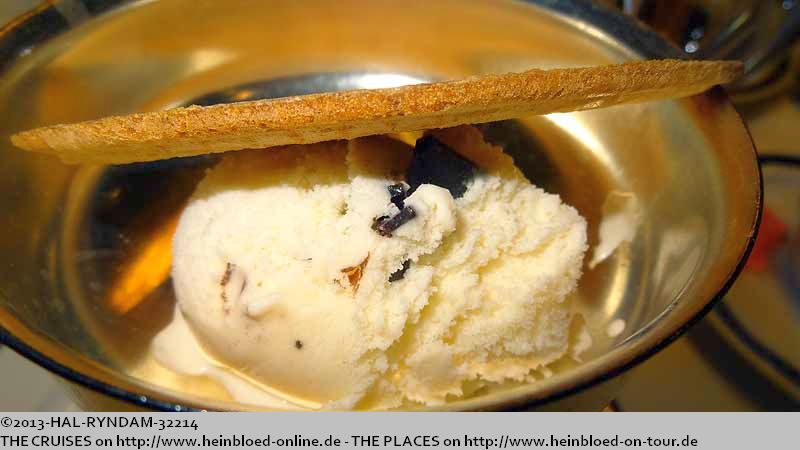 Our two great waiters: Dwipa and ... unfortunately his nametag had few reflexions... Tajunaedi (I apology in case I was not able to identify the name properly).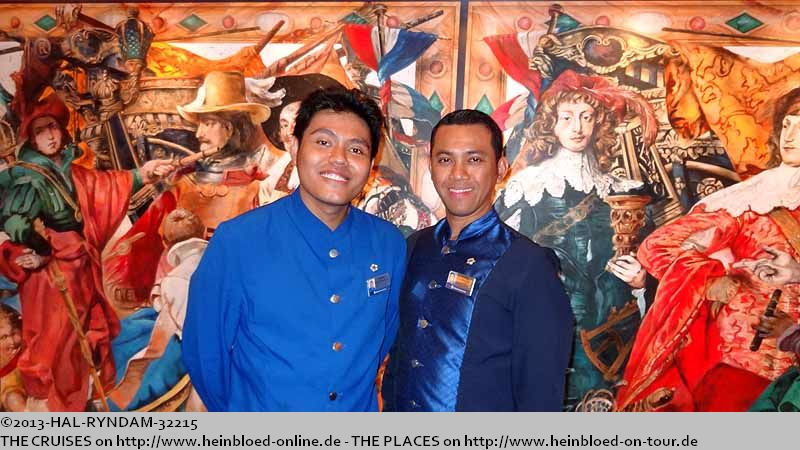 Unsere tollen zwei Kellner: Dwipa und ... leider hat sein Schild reflektiert... Tajunaedi (Ich bitte um Entschuldigung, wenn ich es nicht richtig identifizieren konnte).
Wir laufen hoch zu Angie, um einen Espresso dort zu kaufen. Sie hat wohl auch noch "altes" Wasser im Wassertank und kann daher uns den Espresso hier anbieten.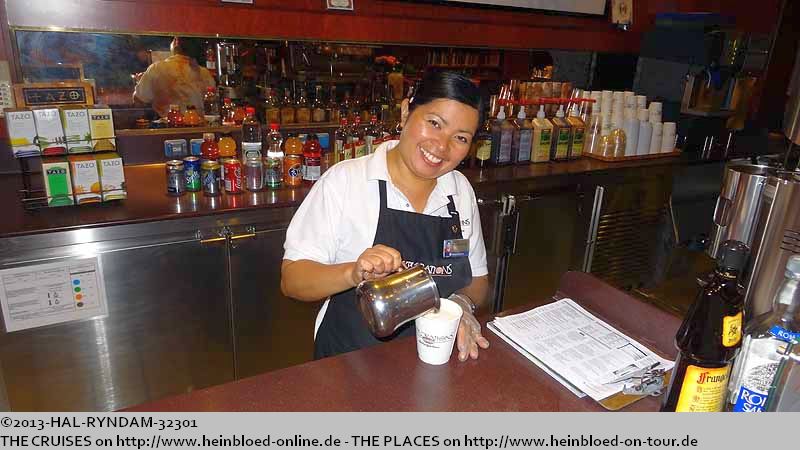 We walked up to Angie to get their our espresso. She still had the "old" water in her water tank and so she could offer us the espresso.

After she went shopping for me on Corfu to get my favourite flavour of VitaminWater (Power-C with dragonfruit) I decided to marry her. Later we were told that marriages on Holland America ships were not possible. So sad...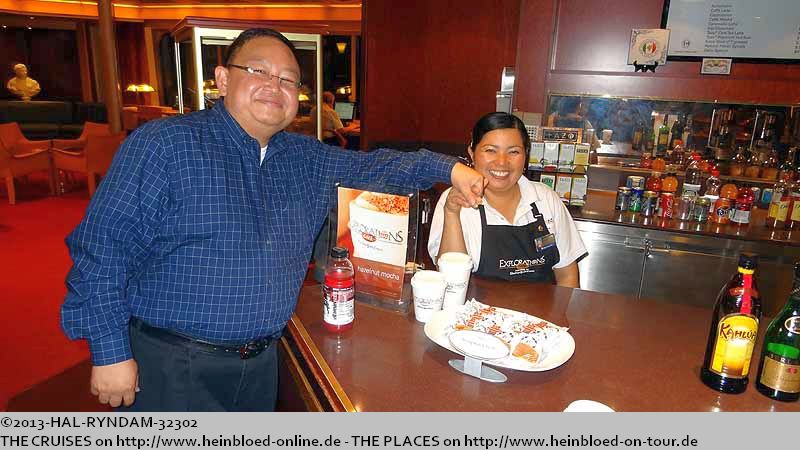 Nach dem sie extra für mich auf Korfu einkaufen war und meine Lieblingssorte VitaminWater (Power-C mit Pittahaya) besorgt hat, beschließe ich die Frau zu heiraten. Hinterher informiert man uns, dass Eheschließungen auf Holland America Schiffen nicht möglich sind. Schade...
So genieße ich einfach mein Power-C...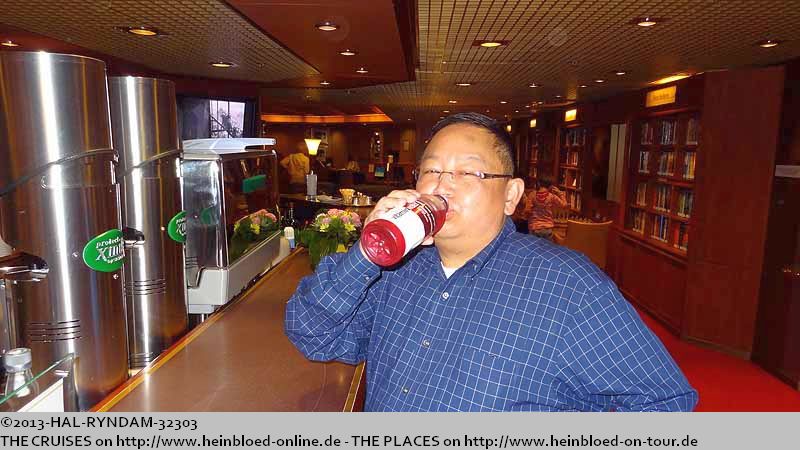 So I only enjoyed my Power-C....

We went to the Lido Café to look around.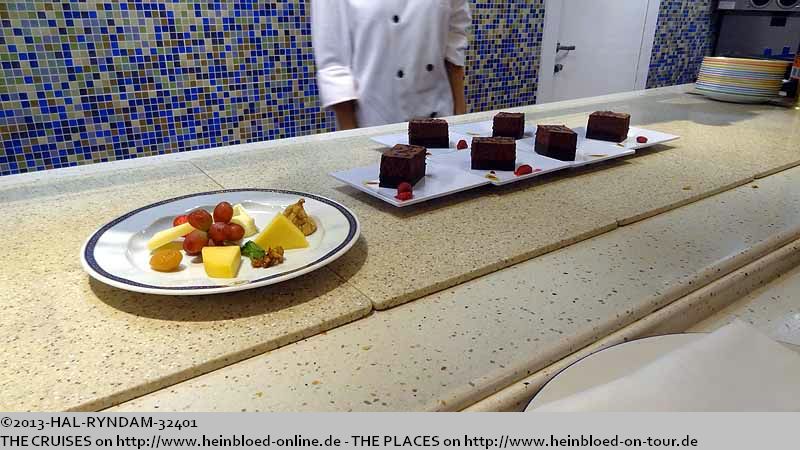 Wir gehen im Lido Café gucken.
Und "Trixie"... hat sie nicht abgedankt?

And "Trixie" (former Dutch Queen Beatrix)... Has not she resigned...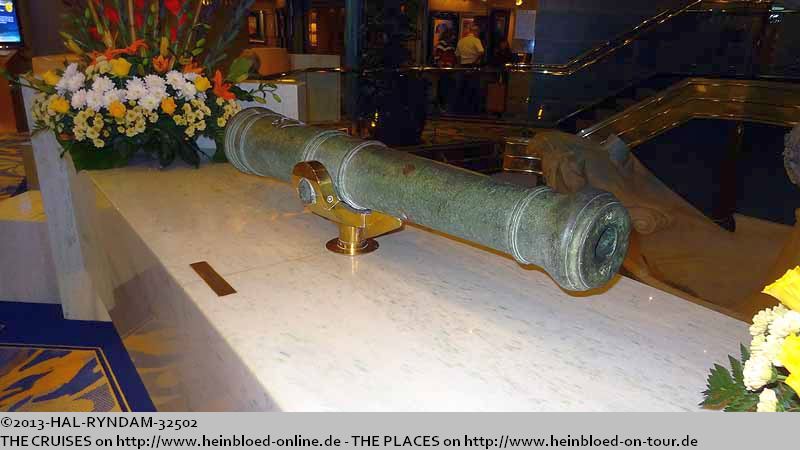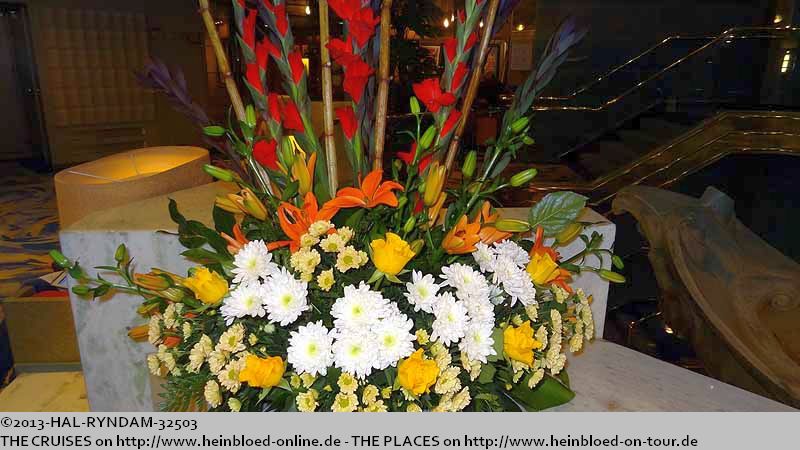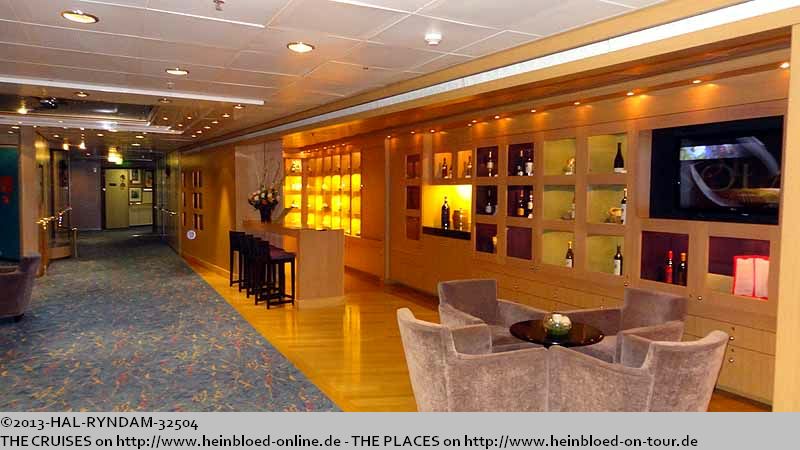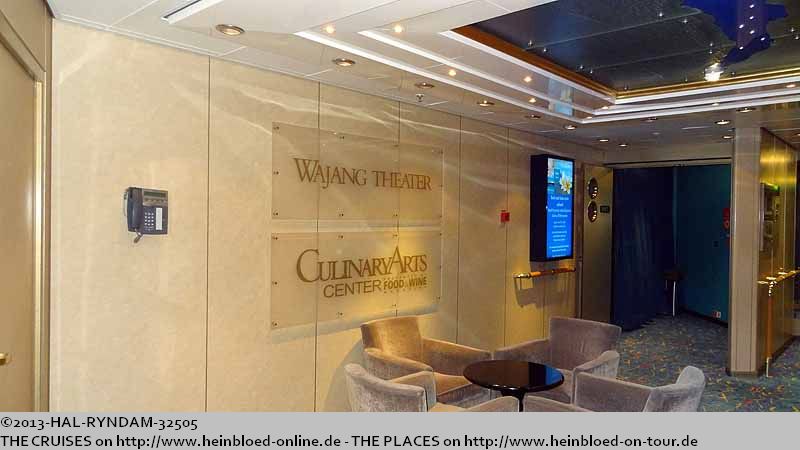 Due to the first class service we enjoyed we need more tips. So we used our travellers checks to get more cash. To get a bundle of singles was no problem at all. For very nice crew-members we had also chocolate.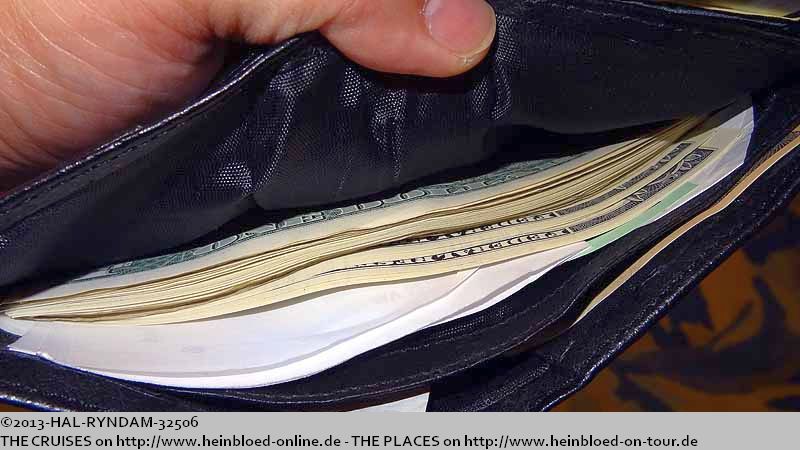 Wegen des erstklassigen Services, den wir genießen brauchen wir mehr Trinkgeld. So lösen wir noch Reiseschecks ein und es ist gar kein Problem eine größere Menge Ein-Dollar-Noten zu bekommen. Für ganz liebe Crew-Mitglieder gibt es auch noch Schokolade dazu.
Heute Abend fiel uns erstmalig ein Sänger in der Mix Martini Bar auf: Jamsheed Master. Leider gab es zwei Gründe, warum wir nicht geblieben sind: 1. es war hier immer viel zu kalt und 2. alle guten Plätze waren eh schon durch diejenigen blockiert, die nichts trinken wollten...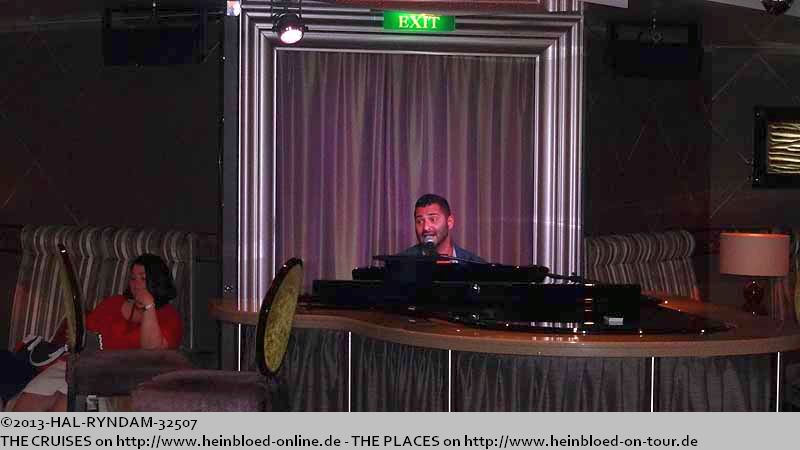 That evening the entertainer Jamesheed Master attracted our attention at the Mix Martini Bar. But there were two reasons not to stay: 1. it was too cold all the time and 2. all good seats were taken by guests who did not want to drink.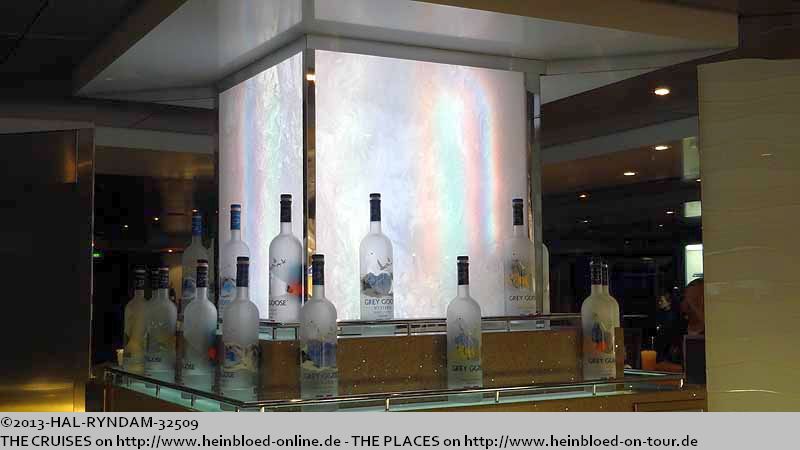 But I bought myself an alcohol-free cocktail.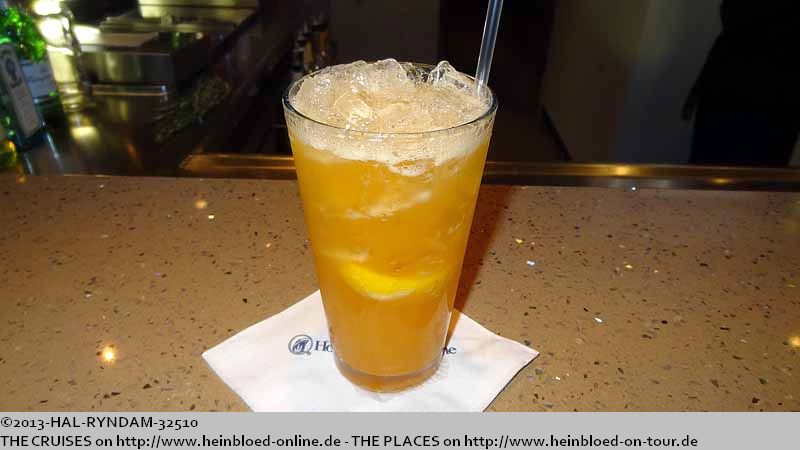 Ich nehme trotzdem einen alkoholfreien Cocktail.
Bei den Streichern bekommt man leider etwas Depressionen. Mein Streichquartett auf der ZAANDAM habe ich geliebt und irgendwie haben die auch nicht immer gespielt, als ob das eine Bestattung war. Einmal habe ich bloß etwas gehört, was etwas fröhlicher war. Deswegen bin ich hier selten lange geblieben. Schade.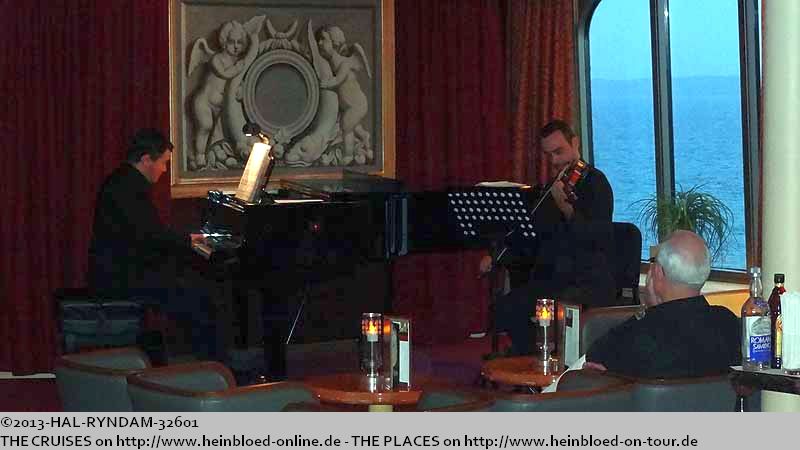 With the strings I got some depressions. I loved my string quartett on ZAANDAM because they never played like this was a funeral service. Only one time I listened something which was more happy. So that was why I never stayed very often there. So sad.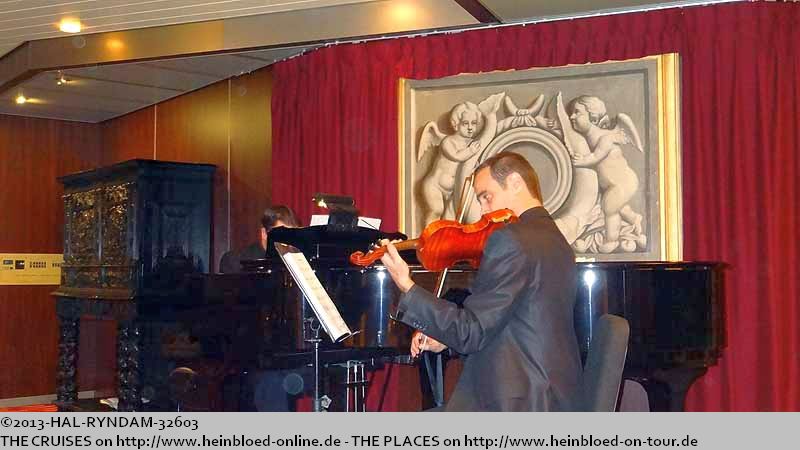 When we were with Jonathan on ZAANDAM he offered us the goodies. This time nobody dared to take some and nobody offered them even you purchased some beverages. But Jonathan was not around actually...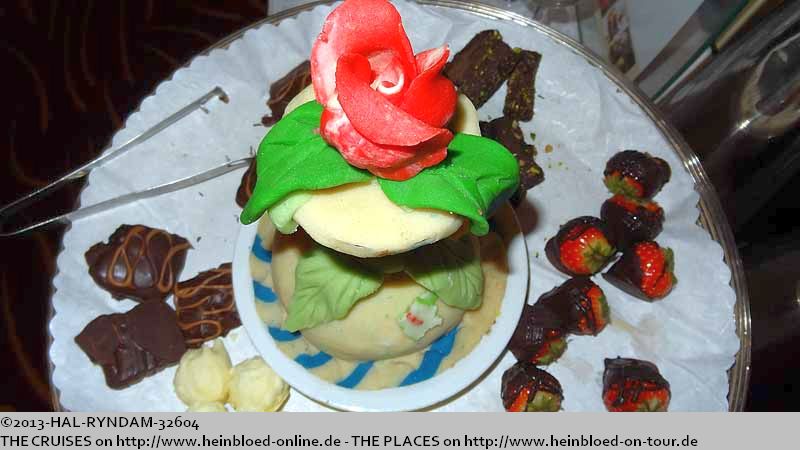 Zu Zeiten von Jonathan auf der ZAANDAM wurden die Leckerlis angeboten. Dieses Mal traut sich keiner ran aber sie werden auch nicht angeboten, auch wenn man etwas zu trinken bestellt. Leider ist Jonathan nicht in der Nähe...