Scroll down for English explanations - alternates with German explanations.

Nun geht es weiter auf den HoHo-Bus. Ich hasse eigentlich die Dinger. Nun haben dafür bezahlt und es geht in einer großen Runde in die Nähe des Hotels zurück.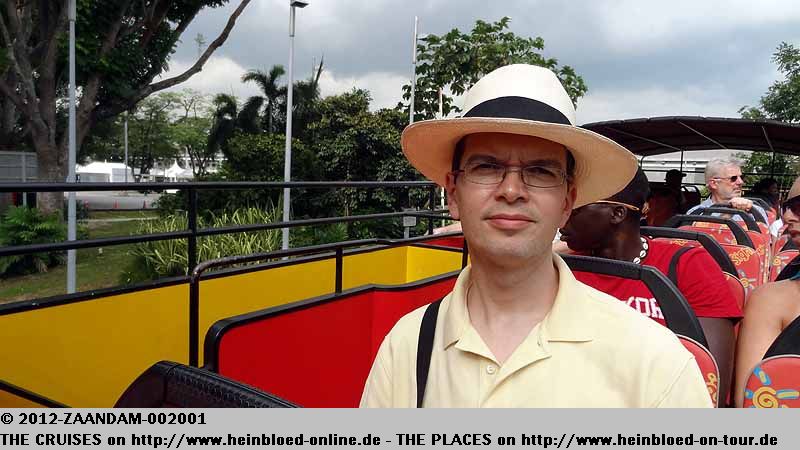 Now a ride on the HoHo-Bus followed. I hate them. But we paid for it. So went in a big loop to get close to our hotel.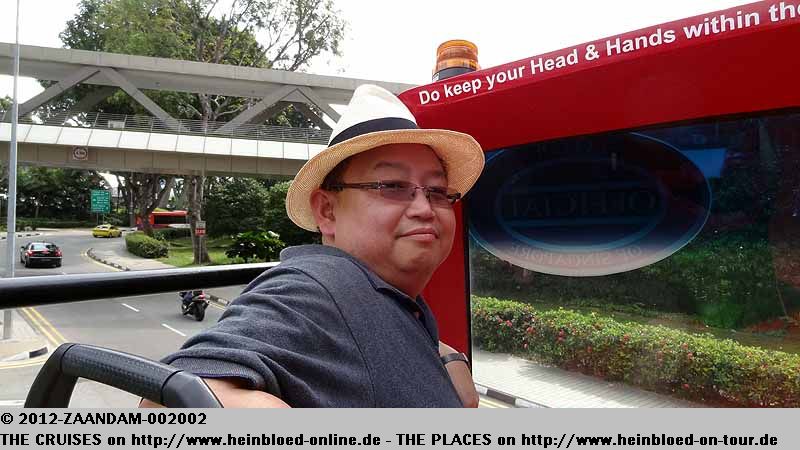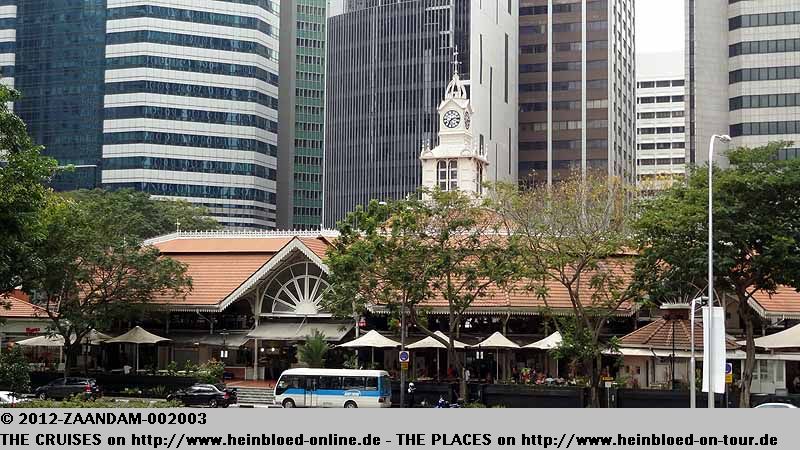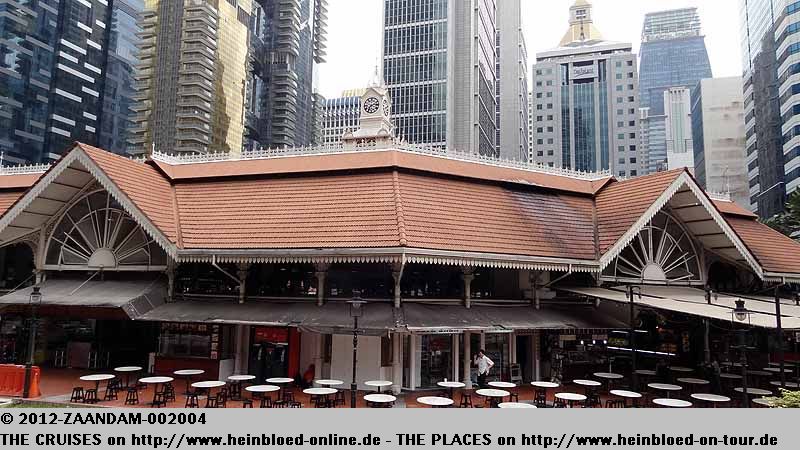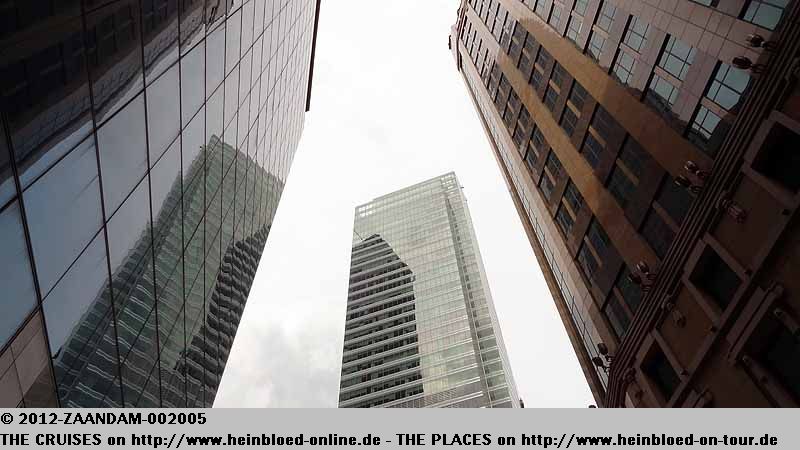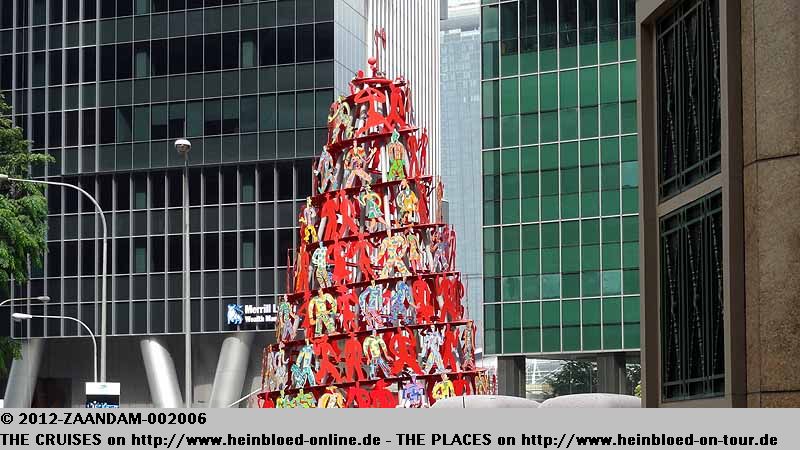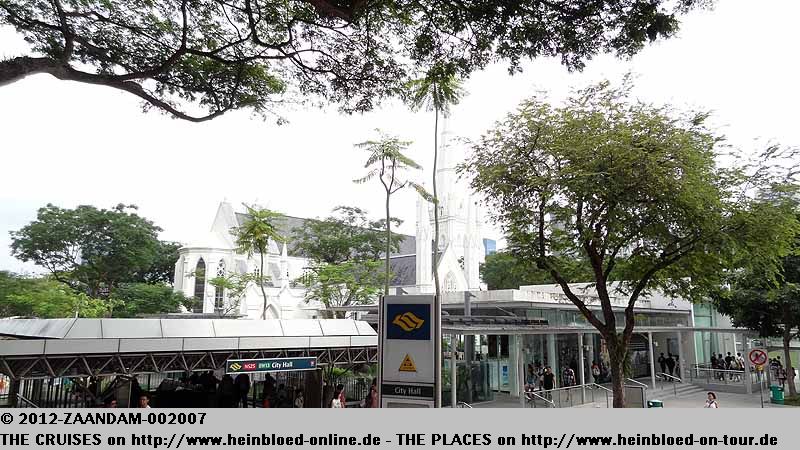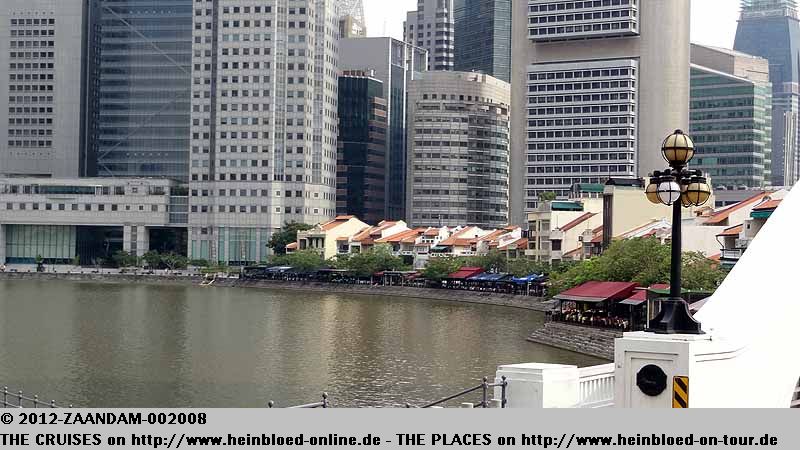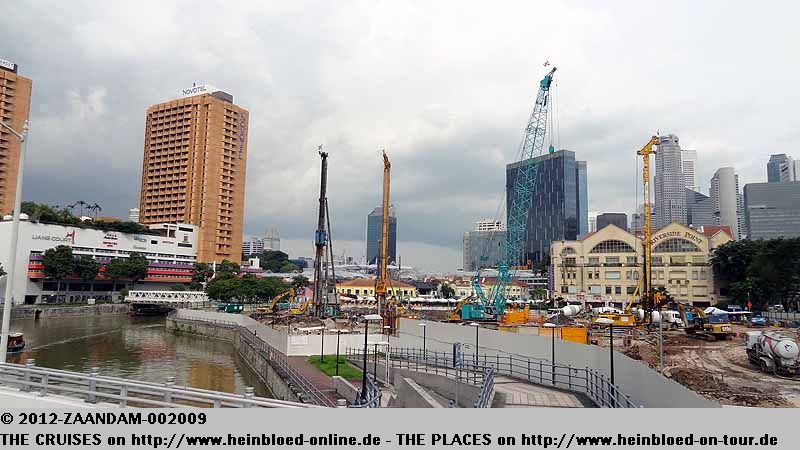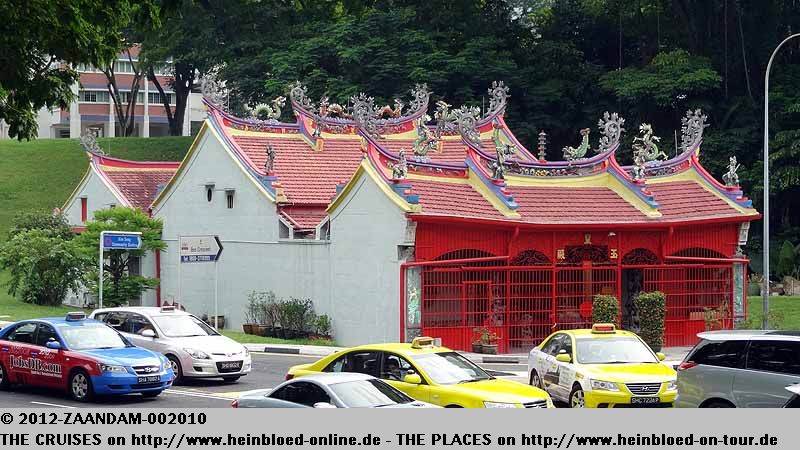 Ich war eigentlich verwundert, dass in Singapur so etwas zugelassen ist, so strikt, wie hier alles kontrolliert wird.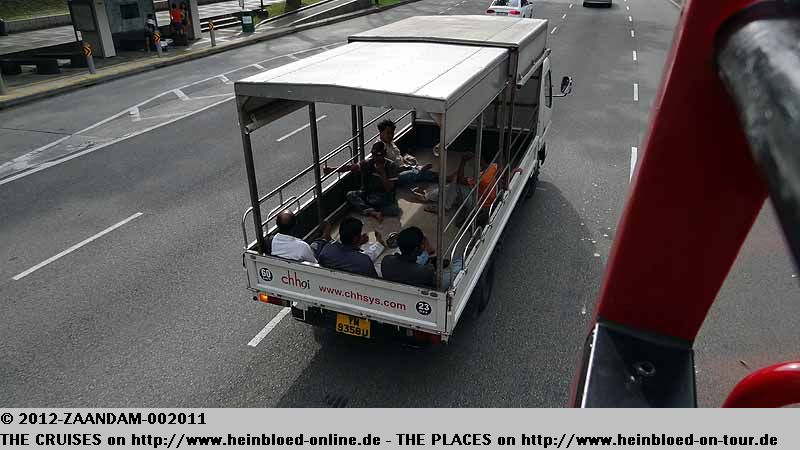 I was very surprised that something like this was allowed in Singapore as everthing is controlled so strictly.

The Botanical Garden and Orchard Garden we want to save for the next morning.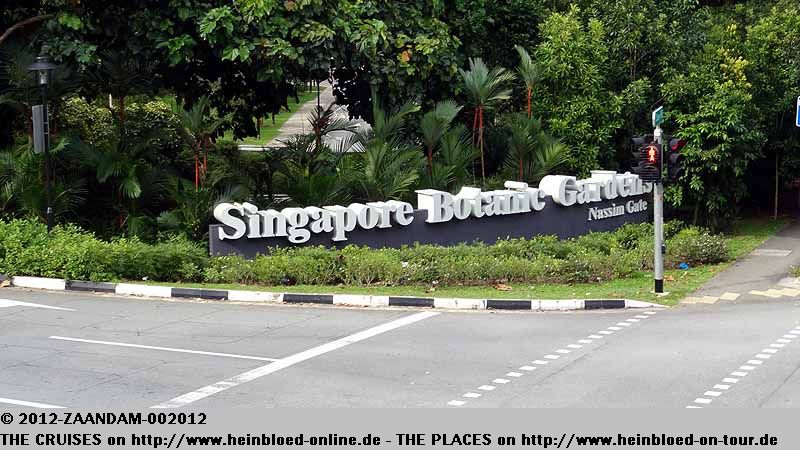 Den Botanischen und Orchideen-Garten heben wir uns für den nächsten Morgen auf.
Selbst am Parkplatz hat man nicht den Eindruck, irgendwo in einer großen Stadt zu sein.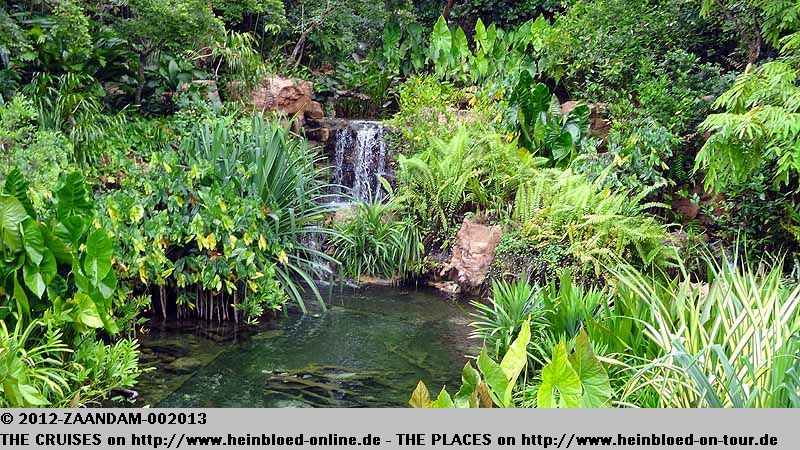 Even on the parking you do not have the impression to be in a big city.

As there were relatively many guests boarding the bus we could spend the time to see the waterfall.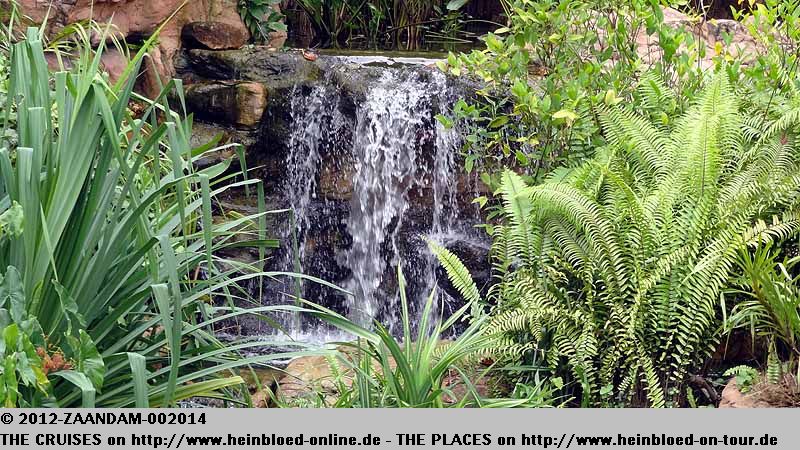 Da verhältnismäßig viele Gäste einsteigen, können wir den Wasserfall in der Zeit vom Bus aus genießen.
Kann man glauben, dass die Verlängerung dieser Straße einmal die berümte Orchard Road sein wird?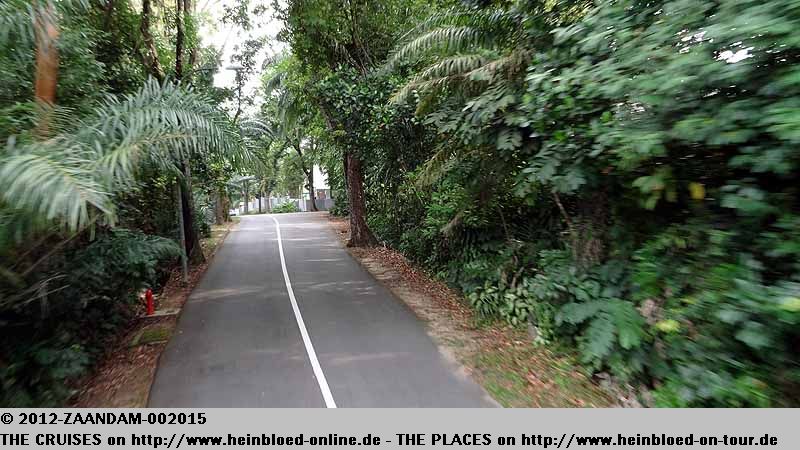 Can you believe that the extension of this narrow road ends later in the world famous Orchard Road.

The beginning of one of the most expensive streets in the world.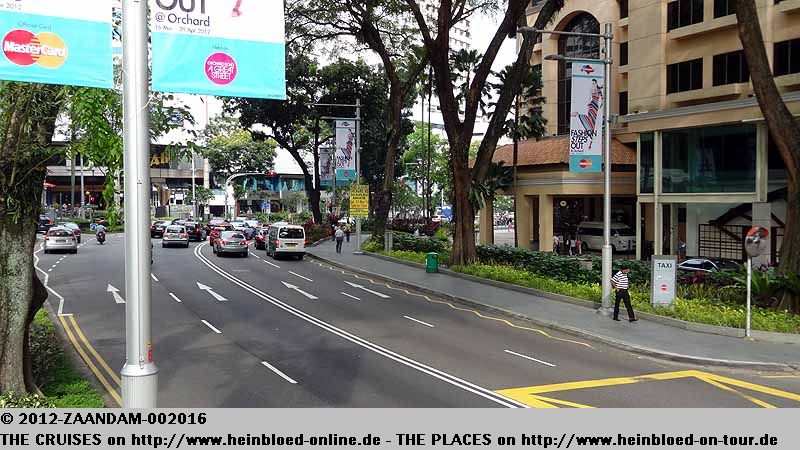 Der Anfang einer der teuersten Straßen der Welt.
Hier der Abschnitt für diejenigem mit eingeschränktem Budget.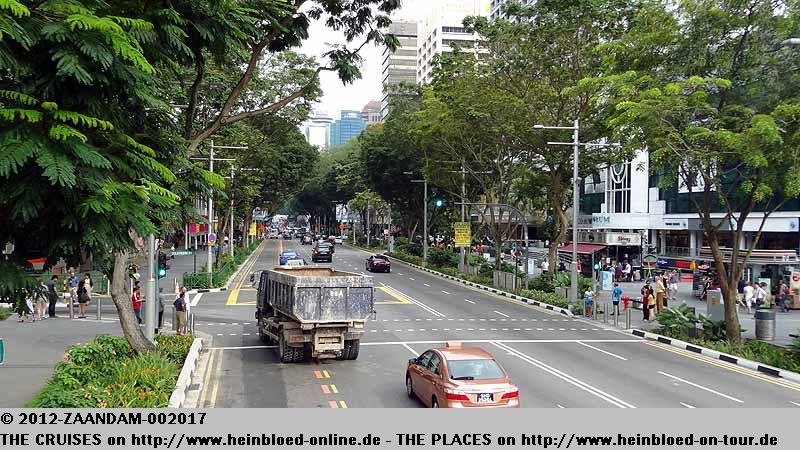 At this part for those with limited budget.

And then all spots followed which need to be close by the most important road of the city.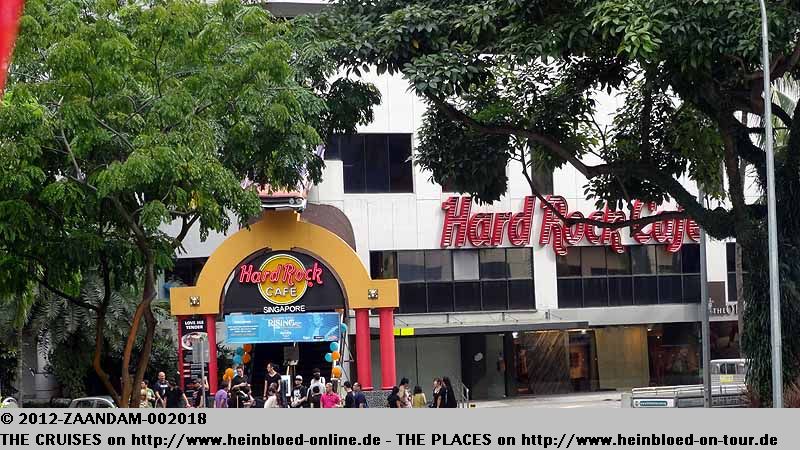 Dann kommen so alle Läden die unbedingt in der Nähe der wichtigsten Straße der Stadt sein müssen.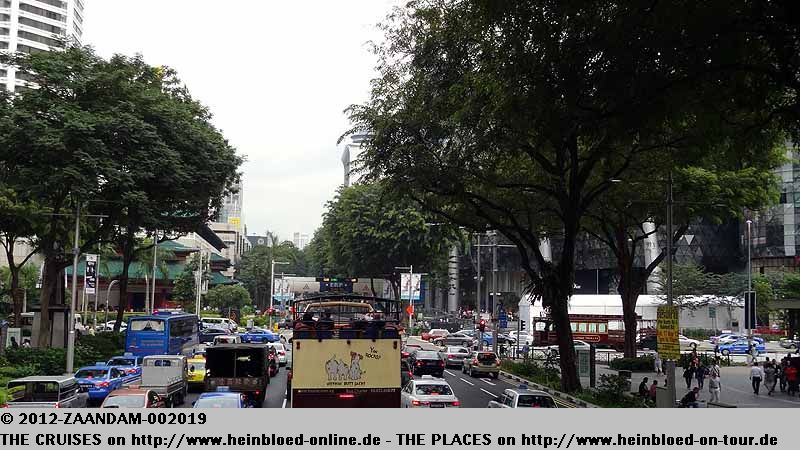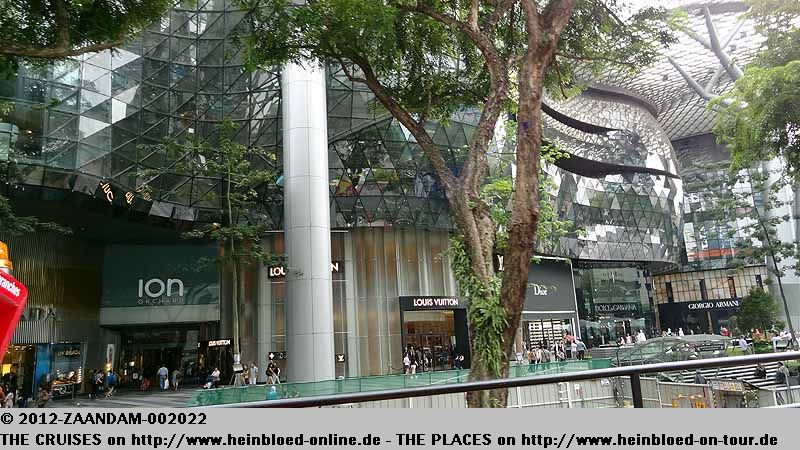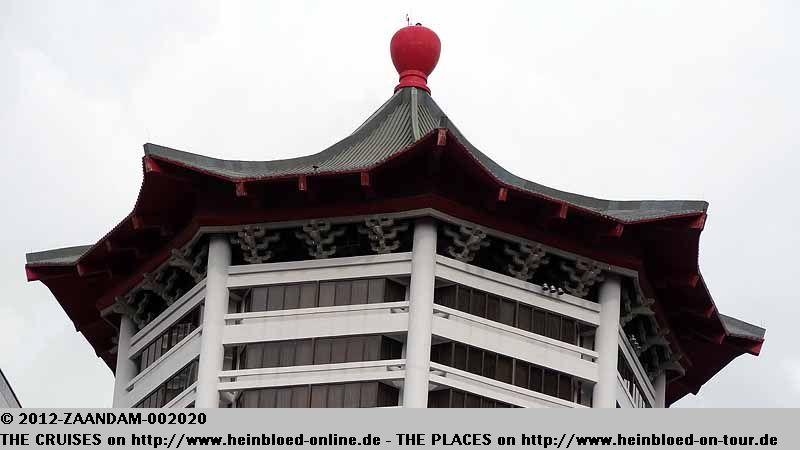 And in the heart of the crowd area: the Marriott.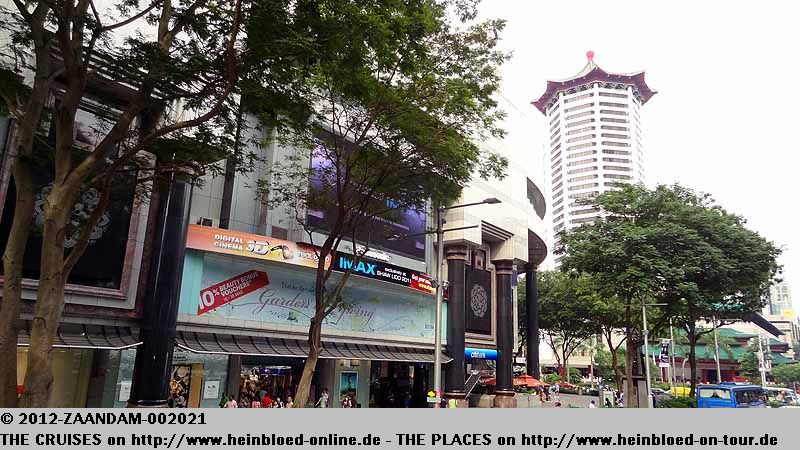 Das Marriott ist mittendrin im Gewühle.
Es war aber wie eine Mega-Disco und unerträglich: überall laute Musik aus den Boxen entlang der Straße.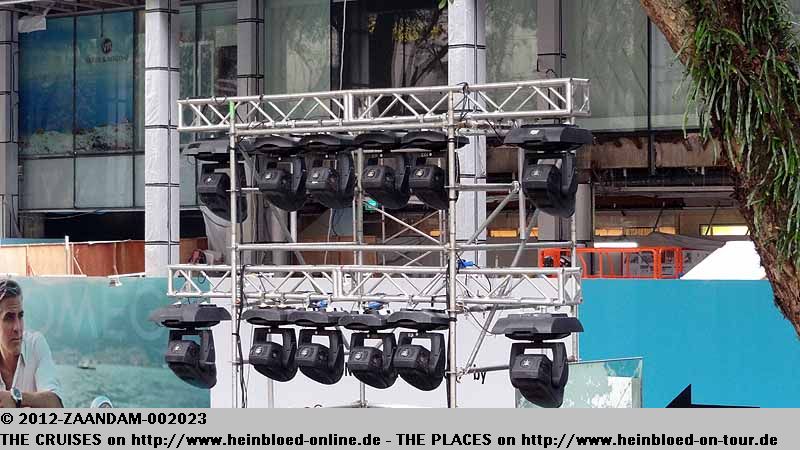 It was like a giant disco and I could not stand it: everywhere loud music out of the boxes along the street.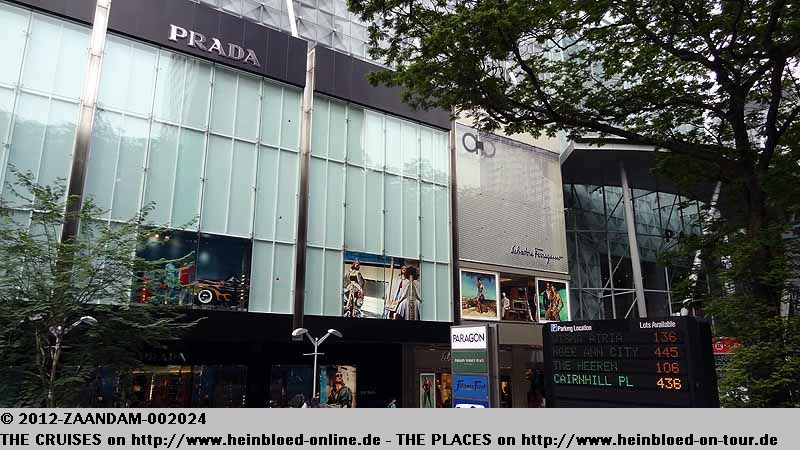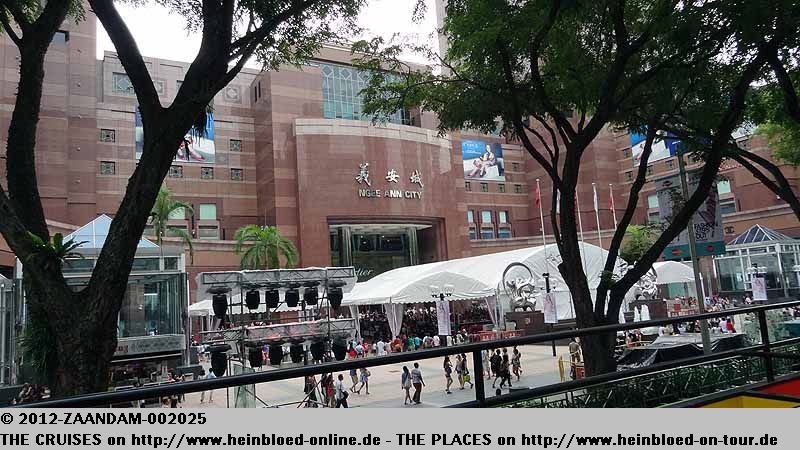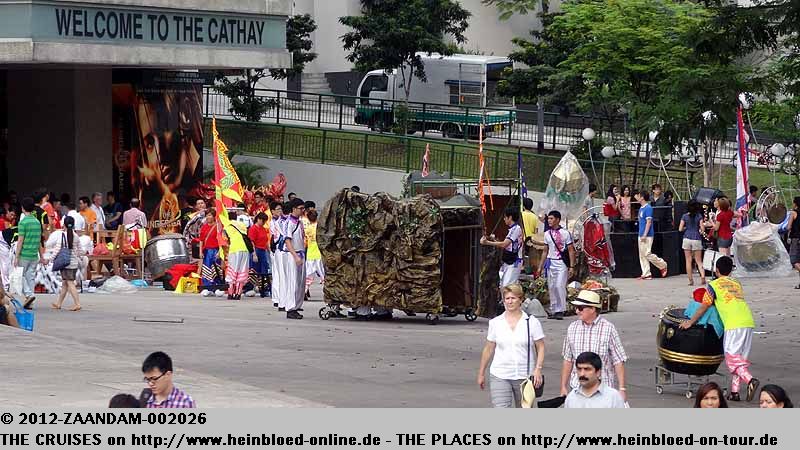 Das sah schon interessanter aus, als die Musik aus den Boxen zuvor.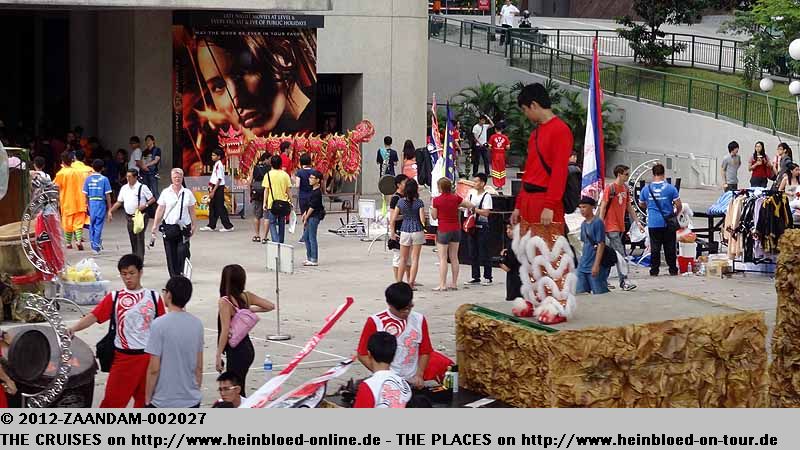 That looked much more interesting than the music out of the boxes before.

But finally we were happy to be back at our hotel to grab a snack.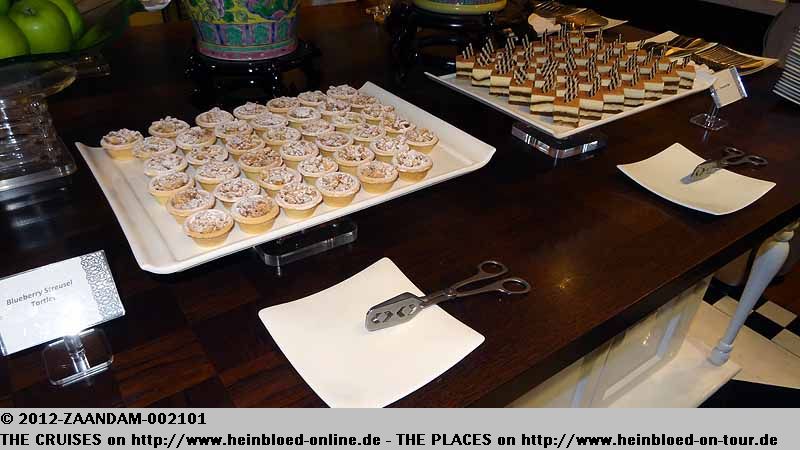 Aber wir waren eigentlich heilfroh wieder im Hotel sein, und uns einen kleinen Snack zu gönnen.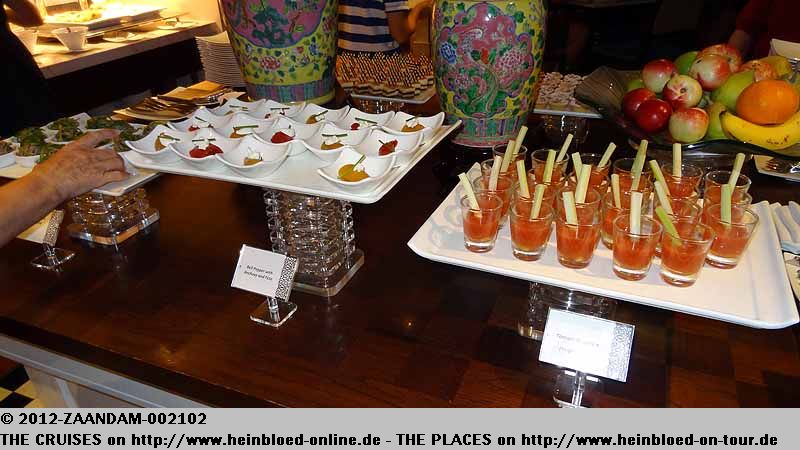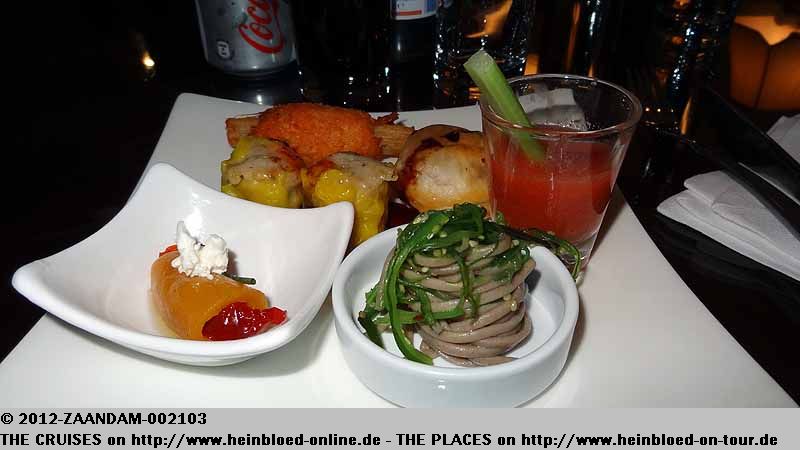 Als wir zum Haus des chinesischen Erbes losziehen wollen, kracht es runter. So verzichten wir darauf.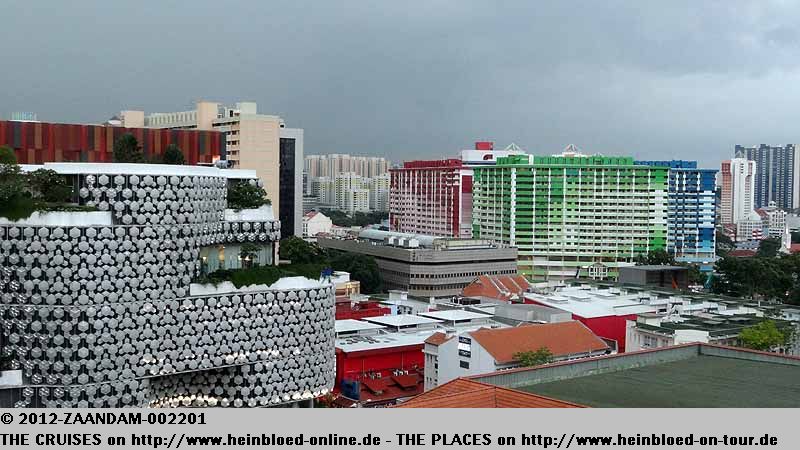 When we wanted to leave for the Chines Heritage Center it started a thunderstorm.

So we stayed until dark and decided to skip this spot.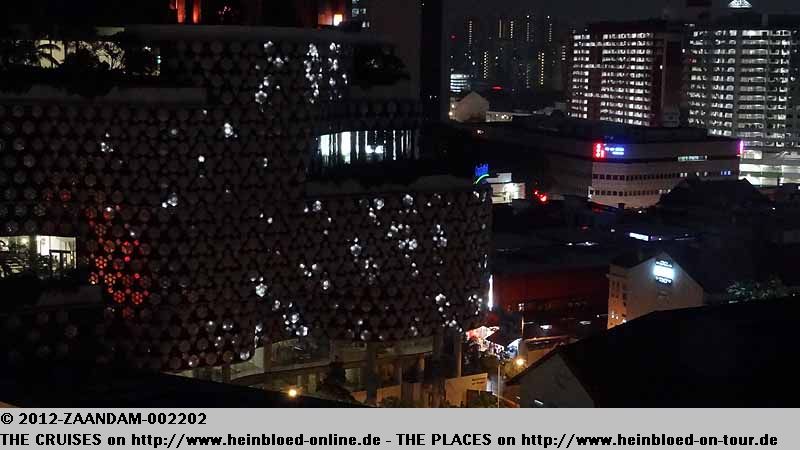 So haben wir gewartet, bis dass es dunkel war und haben diese Sehenswürdigkeit übersprungen.
Stattdessen probieren wir den Wasserapfel. Bio würde sagen: schmeckt interessant...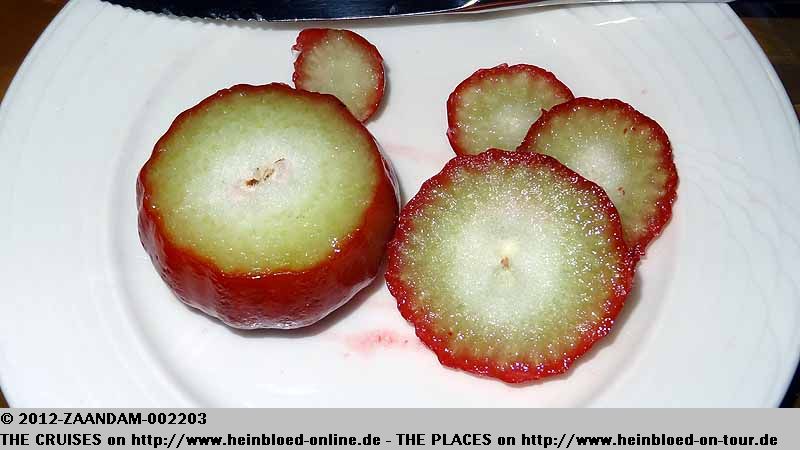 Instead we tried the water apple. A former German journalist and host of a cooking show would say: tasted interesting (for everything he did not know to like or to dislike).

A Greeting to my Swiss readership: of course we love the SKROSS-products. Unfortunately the double-USB-adapter works only 2 x 1.3 Ampere. For the iPhone it's sufficient. But the iPad need aprox. double to time to charge or it does not charge anyway.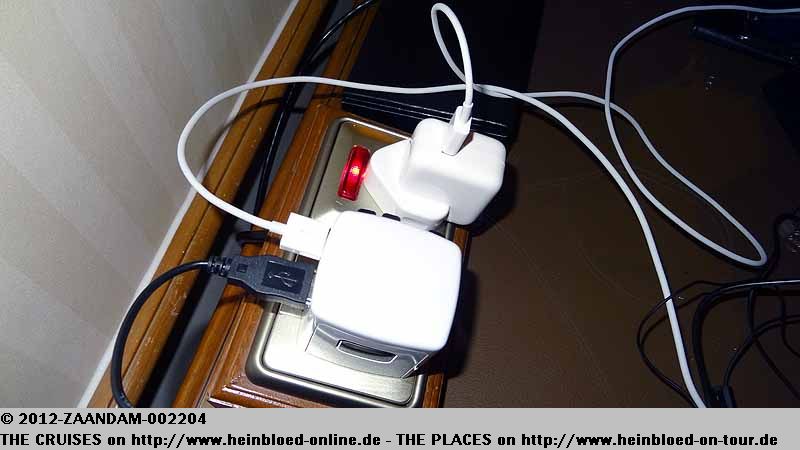 Grüezi an meine Schweizer Leser: selbstverständlich sind wir SKROSS-Produkte-Fans. Leider ist der Doppel-USB-Adapter auf 2 x 1,3 Ampere ausgelegt. Für iPhone in Ordnung. Leider braucht das iPad ein 2,3 Ampere-Gerät, weil sonst das Aufladen etwa doppelt so lange braucht oder das Laden nicht stattfindet.
Da es meinen Eltern zu ungemütlich ist, um noch rausgehen gehen wir zum Conrad Centential.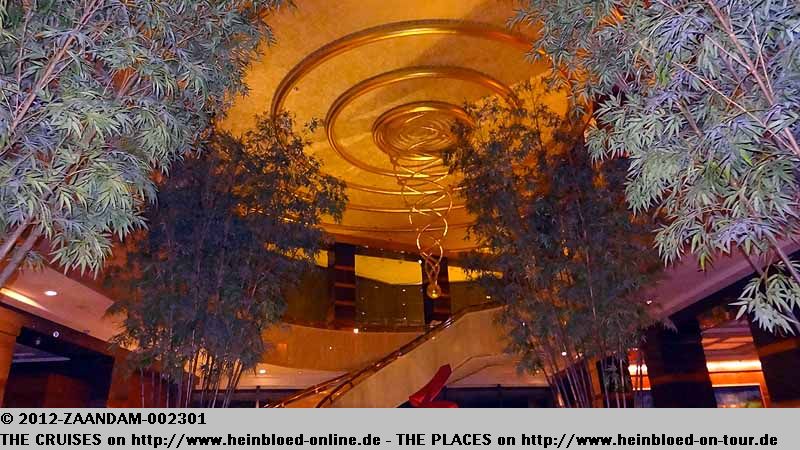 As it was not comfy for my parents to go out we went to the Conrad Centential.

We were surprised how dark it was and everything was illuminated with canles only.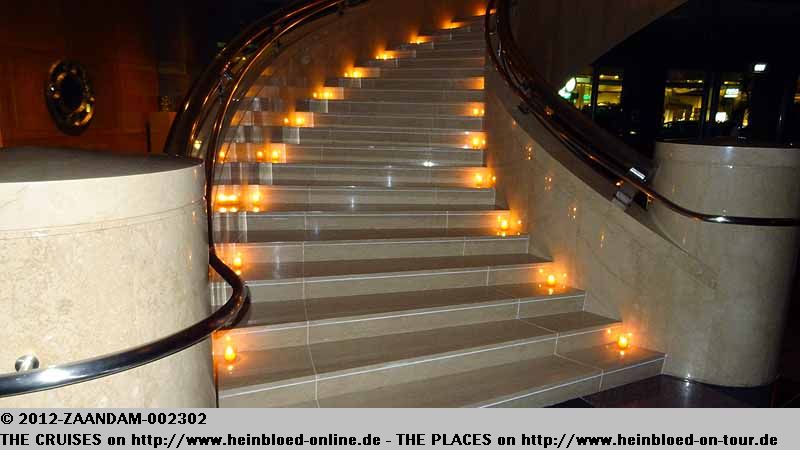 Wir waren überrascht, wie dunkel es dort war und alles nur mit Kerzen beleuchtet war.
Hier warten wir auf gevcruiser (Guenther und BJ aus cruisecritic.com), um mit ihnen zum Abendessen zu gehen.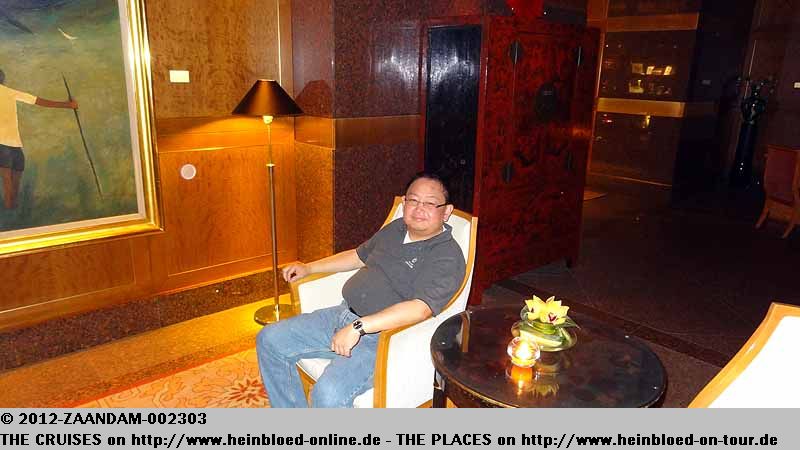 Here we waited for gevcruiser (Guenther and BJ from cruisecritic.com) to go out and have dinner.

Later we learned that it was a rehersal for a worldwide climate-event end of the month.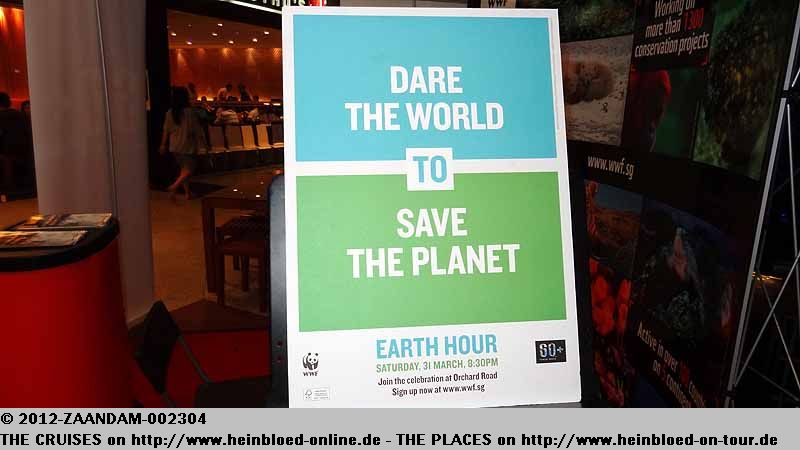 Hinterher erfahren wir, dass es die Probe für eine weltweite Klimaaktion Ende des Monats war.
Aber auch unser Hotel nimmt an dieser Aktion teil.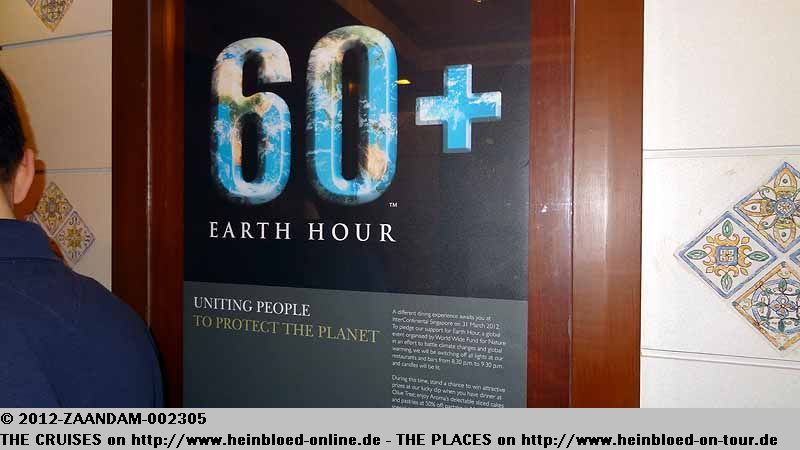 Our hotel participates too.