Scroll down for English explanations - alternates with German explanations.

Wie groß war die Enttäuschung, als die Mitteilung kam, dass wir nicht von Hongkong nach Kobe fahren, sondern von Singapur nach Hongkong. Mit einem Bordguthaben von 100,00 USD/Person wurde uns damals versucht, es schmackhaft zu machen. Unsere Freunde aus Denver (gevcruise = Guenther und BJ), die wir von der
NORWEGIAN JADE
kennen, haben auch nicht storniert und kommen mit.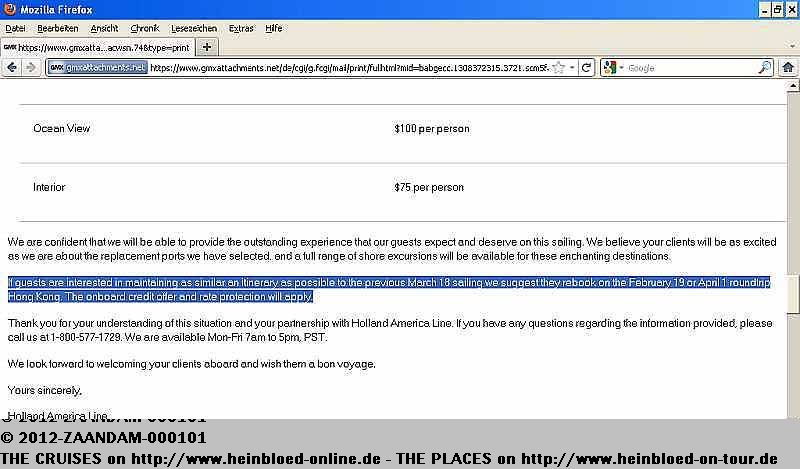 How big was the disappointment when the notice came that we do not go Hong Kong to Kobe but from Singapore to Hong Kong. With a OBC of 100.00 USD they tried to make it more attractive for us. Our friends from Denver (gevcruise = Guenther and BJ) whom we knew from NORWEGIAN JADE did not cancel either and come with us.

That also means that we need to change our preperation. Tropical temperatures. Higher danger of mosquitos and so of Malaria. And maybe a different standard than we might have in Korea and Japan. Now we are waiting for the sun lotion with sun protection factor 50.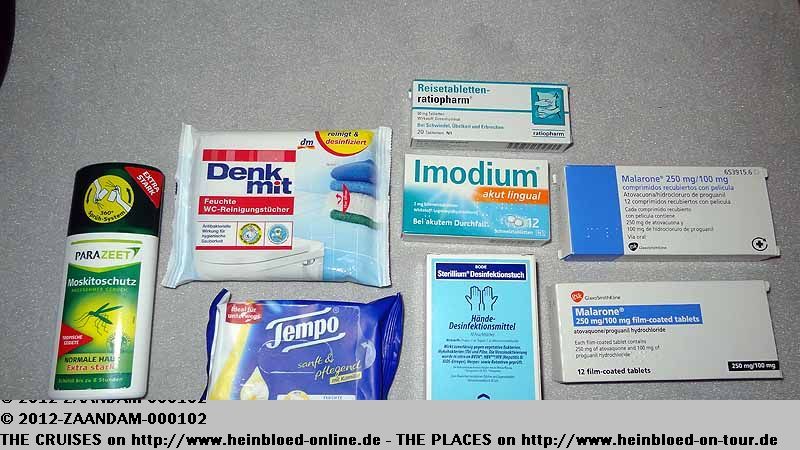 Das bedeutete aber auch, dass wir uns anders vorbereiten müssen. Tropische Temperaturen. Größere Gefahr vor Moskitos und somit vor Malaria. Und evtl. doch noch etwas andere Standards wie in Korea und Japan. Nun warten wir noch auf die Sonnencreme mit Schutzfaktor 50.
Die Mappe mit allen Vouchern und Landkarten wäre dicker geworden, wenn ich kein iPad hätte. Alles eingescannt und so ein paar kg weniger Gepäck. Nur für Singapur werden wir den Reiseführer mitnehmen.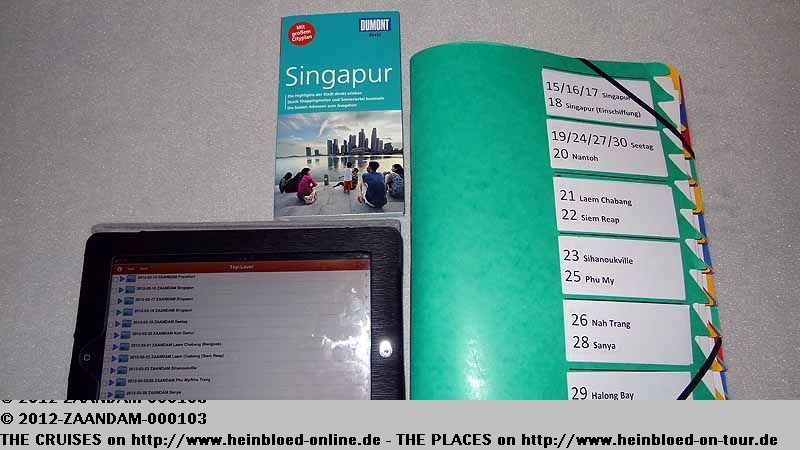 The folder with all vouchers and maps might be much more bigger if I would not have an iPad. Everything scanned and so we have few pounds less in our bags. Only for Singapore we will have a guide book with us.

Our tickets, baggage tags. Luckily I read that you maybe need to fill out all visa forms for Vietnam at the check-in. So we prepared the pictures and maybe we can use the German-Vietnamese forms. We got our Chinese visa already as there were too many contrary information. We had to see anyway the embassy in Berlin. So we could also apply for a visa to be on the safe side.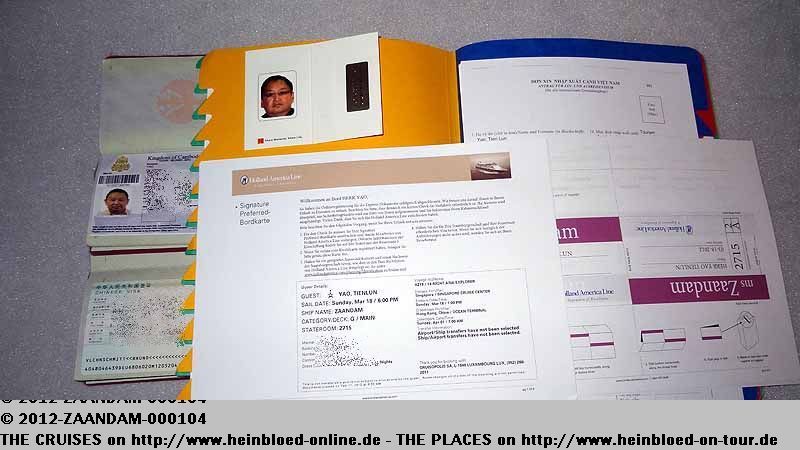 Unsere Tickets, Gepäckanhänger. Zum Glück hatten wir gelesen, dass man evtl. alle Visumformulare für Vietnam beim Check-In ausfüllen muss. So liegen die Bilder bereit und vielleicht können wir das deutschetnamesische Formular benutzen. Das Visum für China haben wir uns besorgt, nachdem es viel zu viele gegensätzliche Aussagen gab. Wir mussten eh in die Botschaft nach Berlin. Daher konnten wir den Antrag stellen. So sind wir auf der sicheren Seite.
Für Angkor Wat in Kambodscha haben wir uns ein sog. e-Visum besorgt. So etwas sollte in jedem Land eingeführt werden.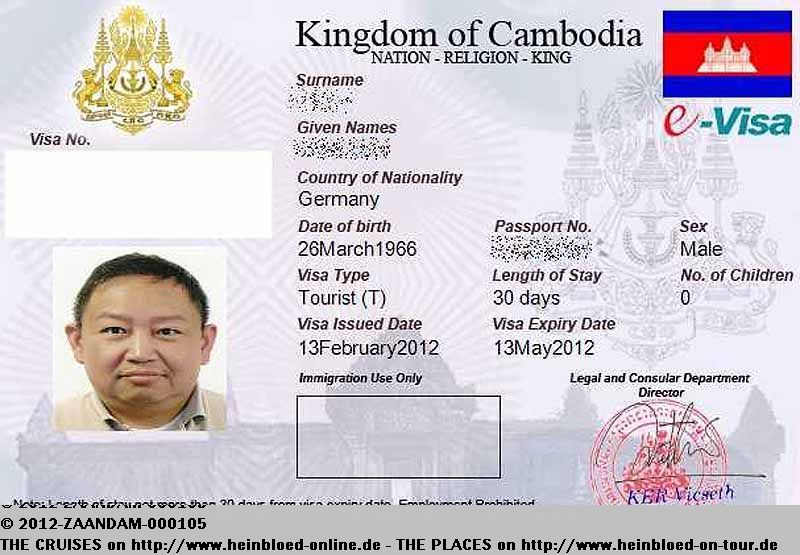 For Angkor Wat in Cambodia we arranged a so-called e-Visa. You should have this in every country.

To be safe we already bought 2,000 THB just in case we have to pay for the visa on arrival for my parents before we reach the first ATM. All the other currencies I need for my business travel. We normally do not re-exchange the left over money and use them for the next cruise. Even the inflation would kill all the value. And because normally with HAL the crew members are outstanding we have our bundle with single Dollars with us. Let's see if we can make it to the bank to collect the travellers checks. We ordered those for which Bruno or I can sign but that makes it necessary to show up together in the bank. But in Vietnam we pay all shore excursions in USD and on board we can cash out the travellers check for free.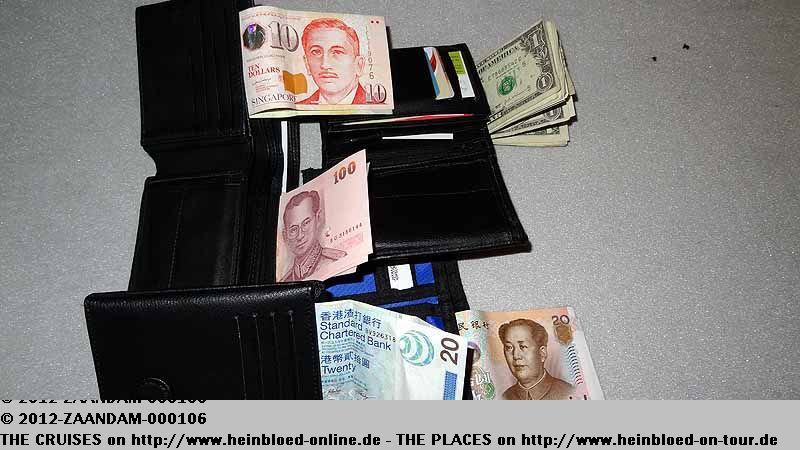 Sicherheitshalber haben wir schon mal 2.000 THB besorgt, falls wir auf Koh Sumai für das Visum bei Einreise für meine Eltern den Betrag zahlen müssen, bevor wir den ersten Geldautomaten erreicht haben. Die anderen Währungen brauche ich auch während meiner Geschäftsreisen. Wir wechseln selten zurück und behalten den Rest für die nächste Reise. Auch wenn die Inflation es alles auffrisst. Und weil bei HAL in der Regel das Personal immer spitzenmäßig ist, haben wir sicherheitshalber schon einen Dicken Bündel Dollar-Noten besorgt. Mal gucken, wann wir es zur Bank schaffen, um die Reiseschecks abzuholen. Wir haben die bestellt, bei denen entweder Bruno oder ich alleine unterschreiben können, dafür müssen wir gemeinsam in der Bank erscheinen. Aber in Vietnam zahlen wir alle Ausflüge in USD und an Bord werden Reiseschecks kostenlos in USD ausgezahlt.
In Singapur und Hongkong brauchen wir britische Stecker. Im Kambodscha: keine Ahnung: drei Mögliche laut
Liste
. An Bord US-Stecker. Aber so sind wir bestens gerüstet. Hilfreich auch die USB-Ladegeräte.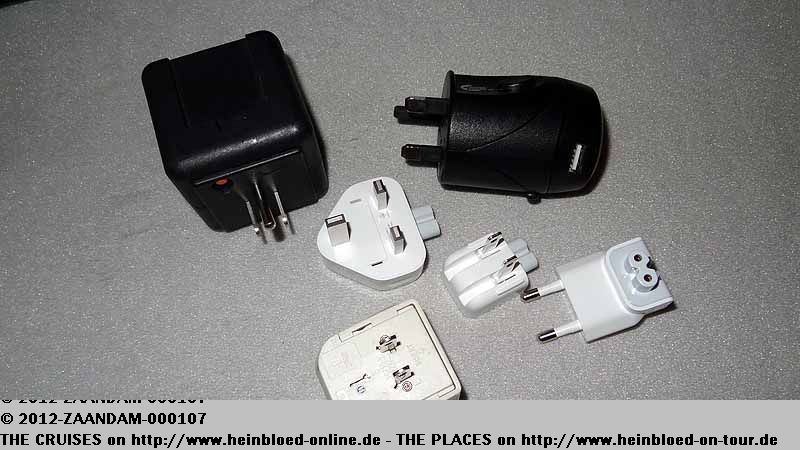 In Singapore and Hong Kong we need British sockets. In Cambodia: no idea: three different options according to this list. Onboard US-sockets. But we are well prepared. Helpful are USB-loading devises.

There are people who said that I am resistent against consultancy and I love to consult myself... But "occassionally" it happens that I accept the tipps of others. Like now the German author Andreas Lukoschik and his recently released book "Does the crew also sleep onboard?" (only available in German). He recommend to use clear tape that the crew cannot see it so quickly. We prefer to use the one for painters as you can easily remove it and the crew love it because you cannot see anything left. We will test it on ZAANDAM. According to the reviews on cruisecritic.com the air condition might be a major challenge.

Es gibt ja Leute, die behaupten, dass ich beratungsresistent sei und mich am Liebsten selbt berate... Aber "gelegentlich" kommt es auch schon mal vor, dass ich mir die Tipps anderer annehme. In dem Fall von Andreas Lukoschik. In seinem Buch
"Schäft das Personal auch an Bord?"
rät er zur Mitnahme von durchsichtigem Klebeband, damit die Crew es nicht so schnell entdeckt. Wir neigen immer zu tesa krepp, weil es so einfach zu entfernen ist, und die Crew es so einfacher hat, da es keine Spuren hinterlässt. Wir werden es ausführlich an Bord der ZAANDAM testen und berichten. Den Berichten auf cruisecritic.com müssen wir uns wegen der Klimaanlage auf einiges gefasst machen...
Bei über 30°C sollte man die richtige Kopfbedeckung mitnehmen...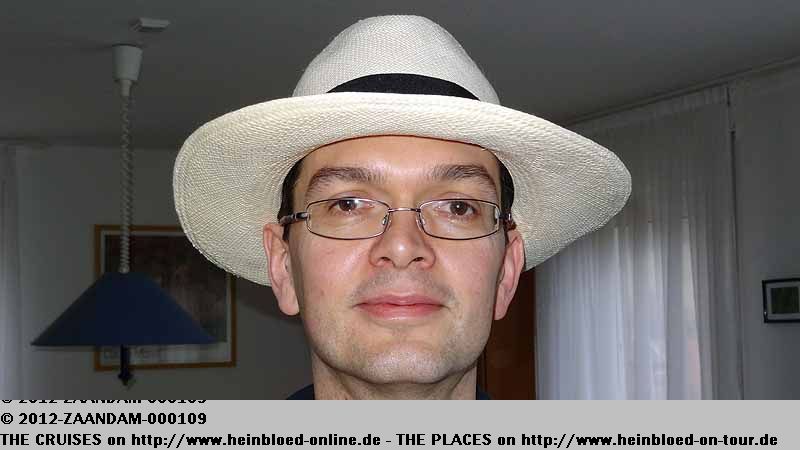 If you have temperatures over 90F you should take care of the correct headgear...

But maybe this one would be the more appropiate to the route...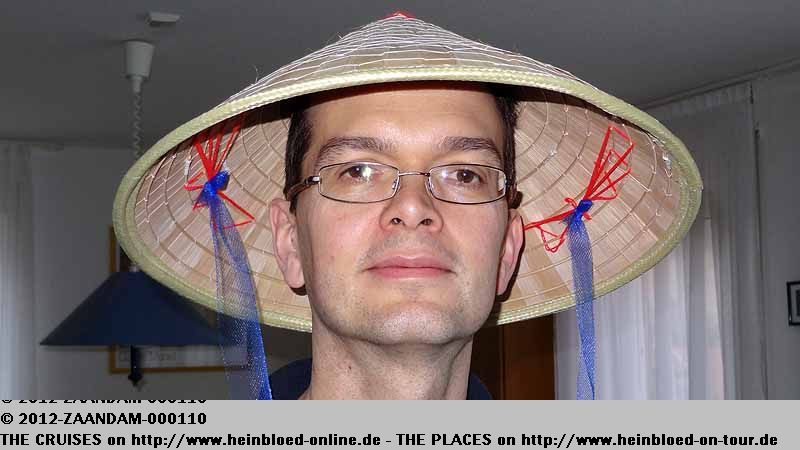 Wobei diese hier vielleicht viel passender zur Route wäre...