Scroll down for English explanations - alternates with German explanations.

Der Tag der Abreise verlief sehr entspannt, weil ich mir doch den ganzen Tag frei genommen hatte. Morgens haben wir noch die Reiseschecks abgeholt und die letzten Besorgungen für die Reise gemacht. Wir buchen ja immer sehr gerne auch das Parkhaus direkt im Flughafen. Aber seit dem sie die Gepäckwagen auf ein Pfandsystem umgestellt haben, waren das die ersten Gepäckwagen, die wir gesehen ab Parkplatz auf Parkdeck 9 entdeckt haben. Zum Glück haben alle Gepäckstücke Rollen. Wenn man übrigens die Kreditkarte für das Pfand nutzt: man bekommt 2 EUR als Münze wieder, wenn man den Gepäckwagen zurückbringt. Nun kenne ich also eine Möglichkeit, wie ich doch kostenlos mit der Kreditkarte Geld abheben kann...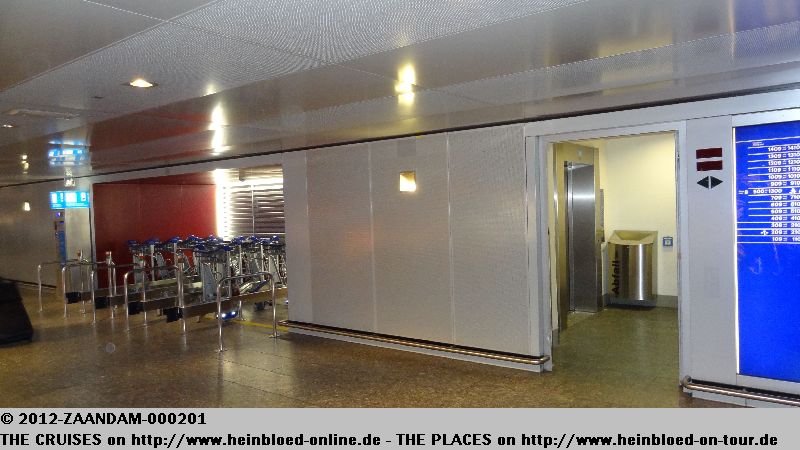 The departure day was very relaxing because I took a day off. So in the morning we had to collect the traveller's checks and to do the last purchases we need for the voyage. We like to book the parking next to the terminal. But since they changed to a deposit depot system with the baggage cart these were the first baggage cart we could find after we parked at parking deck 9. Luckily all bags were wheeled. By the way if you use your credit card to pay the deposit you get a baggage cart you get 2 EUR as change when you return the cart. So you have an option to withdraw money from your credit card without fee...

We checked in at home but the total weight of our bags: 155 lbs in four bags. It might become funny when we fly Economy Class on Singapore Airlines back to Singpore. But many things are for the crew and many paperwork we can dispose as we have it loaded on my iPad.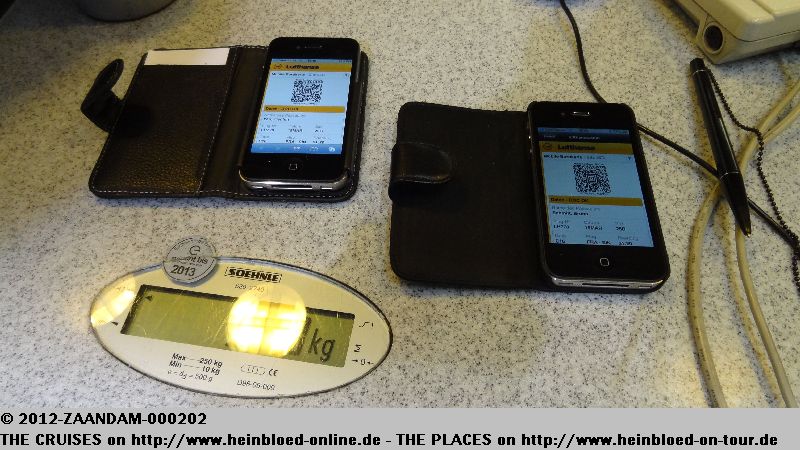 Wir haben zu Hause eingecheckt, aber das Gesamtgewicht liegt bei 70 kg in 4 Koffern. Das kann ja noch heiter in Hong Kong werden, wenn wir mit Economy Class mit Singapore Airlines bis Singapur zurückfliegen. Aber vieles ist eh für die Crew und Papiere, die wir danach entsorgen können, weil es auf dem iPad geladen ist.
Unsere Panama-Hüte sorgen dafür, dass wir für Touristen gehalten werden. So werden wir sofort gefragt, ob man uns weiterhelfen kann. Als wir erklären, dass wir den Weg kennen, kommt die nächste Frage: warum wir die Panama-Hüte auf dem Kopf haben. Wir sagen, weil wir in tropische Gebiete fliegen und Sonnenschutz brauchen. Danach werden wir gefragt, warum wir die Hüte schon jetzt tragen... Unser Angebot, dass sie gerne hinter uns her laufen kann, um unsere Hüte in ihrer Hand zu tragen lehnt sie ab. Dafür bekommen wir jedoch jeder einen 2-EUR-Gutschein für den Duty Free Shop.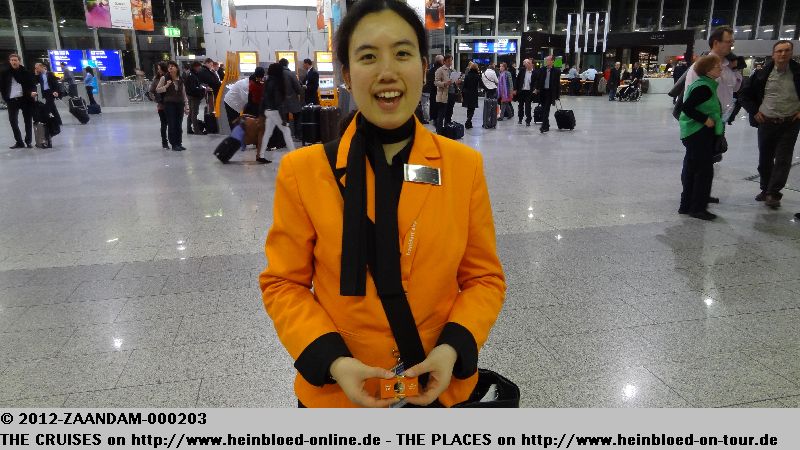 Our Panama-Hats made us suggesting that we are tourists. So we were asked immediately if they can help us. When we explained that we knew our way the next question came: why we had our hats on our heads. We explained that we fly to tropical areas and need sunprotection. The next question followed: why we were wearing them now... Our offer: she may carry for us the hats in her hands and follow us to our gate. But she denied and we got a 2-EUR-discount-voucher for the Duty Free Shop.

The check-in was in terminal area A...but we need to go to C16... an endless long way... you can use also a caddy service but due to the long flighttime we expected we were quite happy to walk a little around.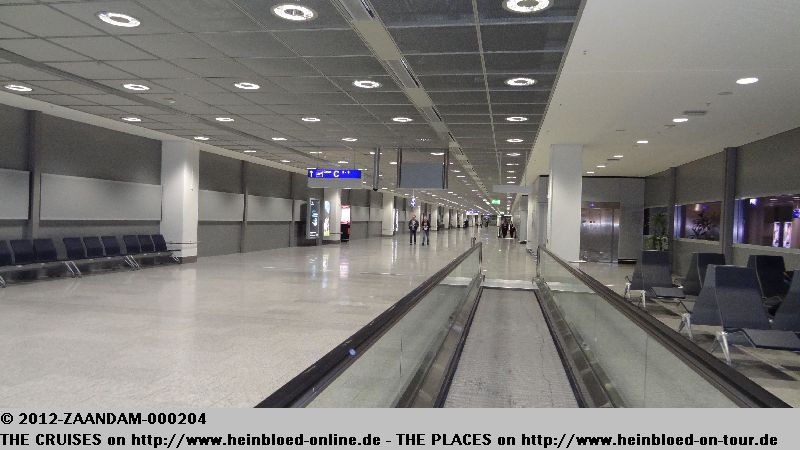 Die Gepäckabfertigung ist bei A... und wir müssen nach C16... ein endlos langer Weg... zwischendurch könnte er auch mit einem Caddy zurückgelegt werden. Aber angesichts der langen Flugzeit, die uns noch bevorsteht, sind wir froh, dass wir ein bisschen herumlaufen können.
Am 11.11.2011 gab es für 1.111,00 EUR Business Class bei Lufthansa. Eigentlich hatte ich
Emporium Travel
bereits für 2.300,00 EUR mit Turkish Airlines gebucht. Aber als ich um 08.00 Uhr herum in Facebook die Meldung las, und um 08.30 Uhr anrief, bestätigten sie mir um 08.45 Uhr, dass ich die letzten vier Tickets nach Singapur für das Reisedatum ab Frankfurt bekommen hätte. Die Stornierung der bisherigen Tickets lief unkompliziert.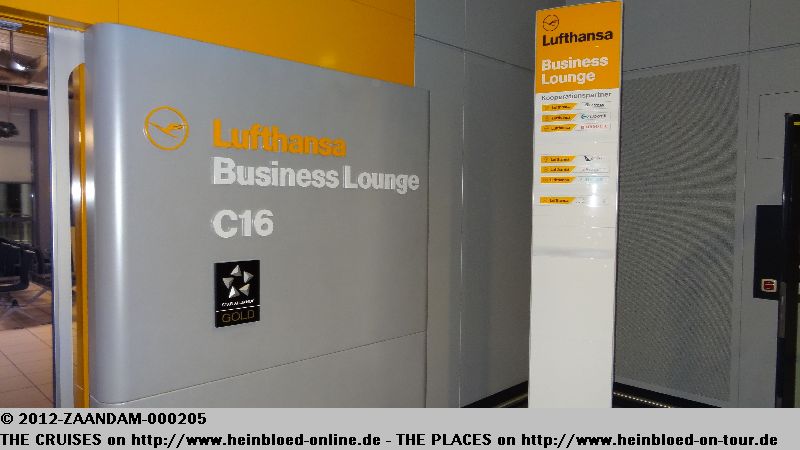 On November 11, 2011 Lufthansa sold Business Class tickets for 1,111.00 EUR. Originally I booked with Emporium Travel tickets with Turkish Airlines for 2,300.00 EUR. But when I got the notice on Facebook and called them at 08.30 hrs they told me at 08.45 hrs that I got the very last four tickets on the departure date from Frankfurt to Singapore. The cancellation of the tickets went quite easy.

The good thing with this lounge that you can enter directly the plane.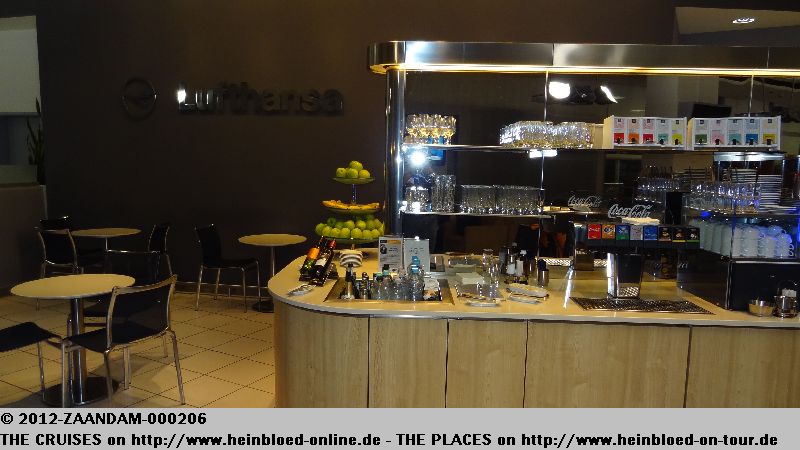 Das Gute an der Lounge ist, dass man von hier aus direkt ins Flugzeug steigen kann.
Da wir bestimmt vor 23.00 Uhr nichts zu Essen bekommen, stärken wir uns mit ein paar Sandwiches.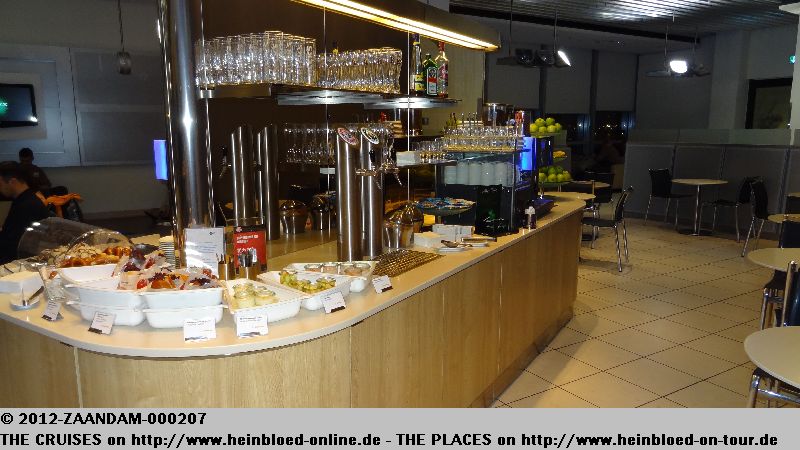 As we will not get before 23.00 hrs something to eat we took some sandwiches.

They also had some cup noodles.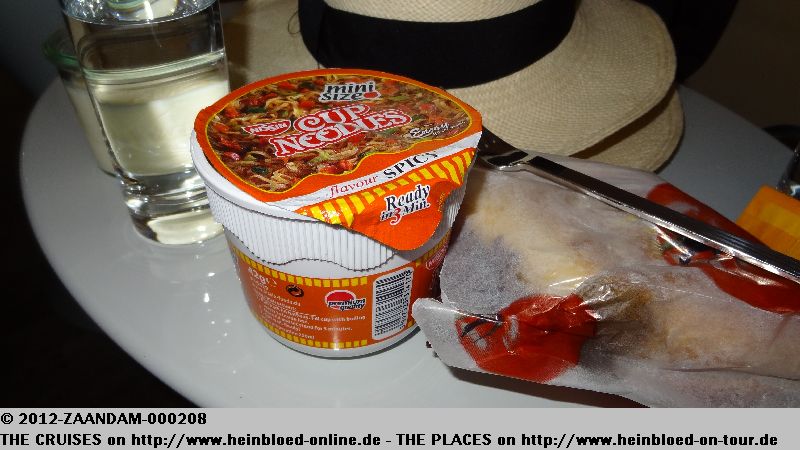 Und es gab sogar Instant-Nudeln.
Keine Verspätung.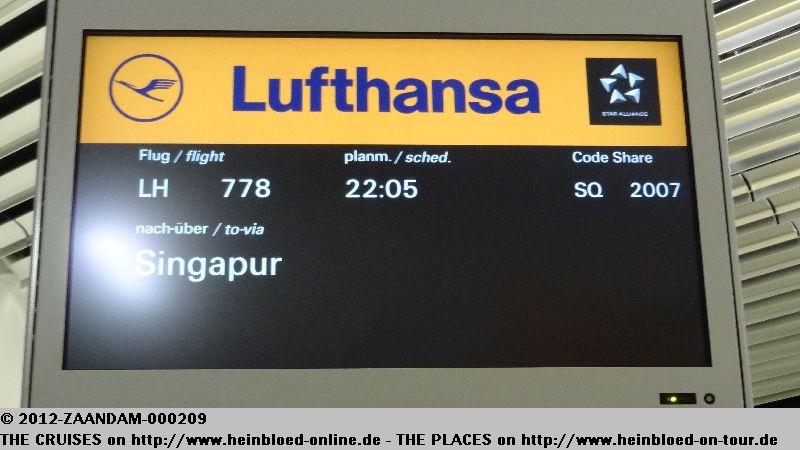 No delay.

Aha - they inform you already on the order of boarding.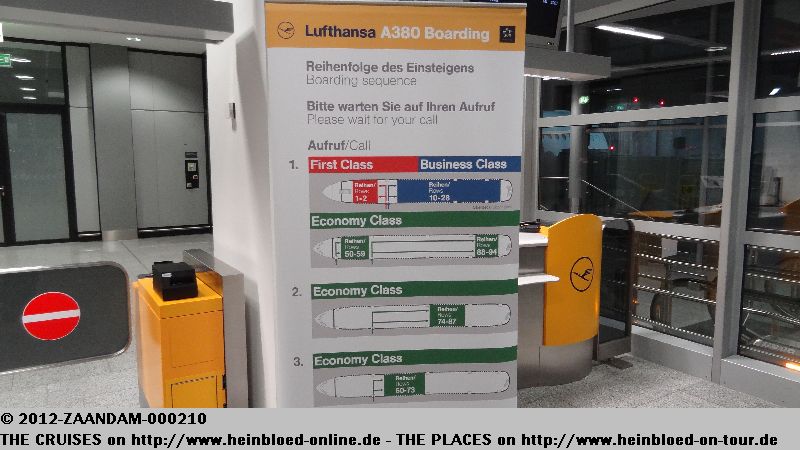 Aha - man wird schon vorab über die Einsteige-Reihenfolge informiert.
Dann geht alles sehr schnell und wir können direkt auf der oberen Ebene zusteigen.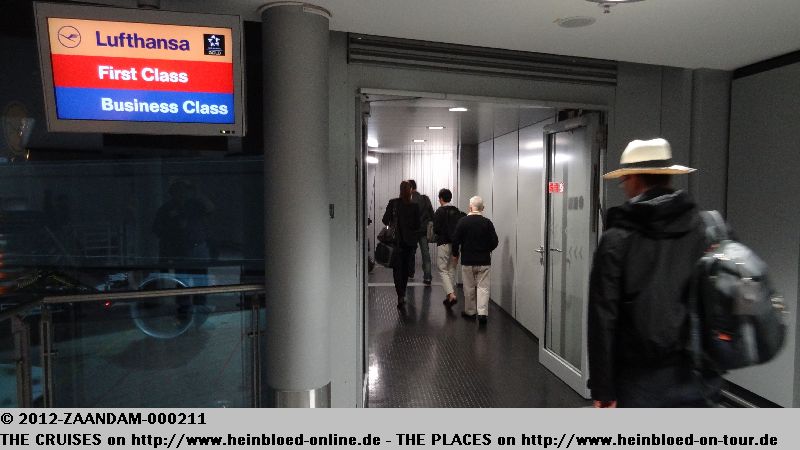 Then everything went quickly and we could enter the plane on the upper deck.

This time again my parents joined us. Bruno's parents could not join us. Very sorry.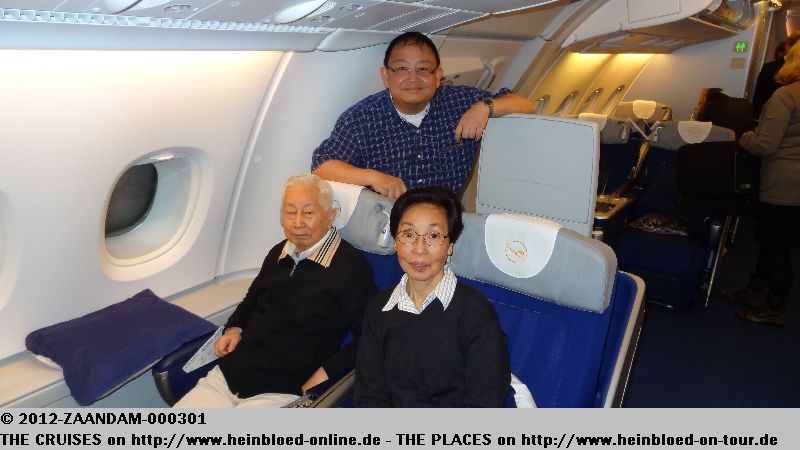 Auch dieses Mal begleiten uns meine Eltern. Brunos Eltern können leider nicht mit dabei sein. Schade.
Bruno gefällt es im Airbus 380 überhaupt nicht. Es zieht wie Hechtsuppe.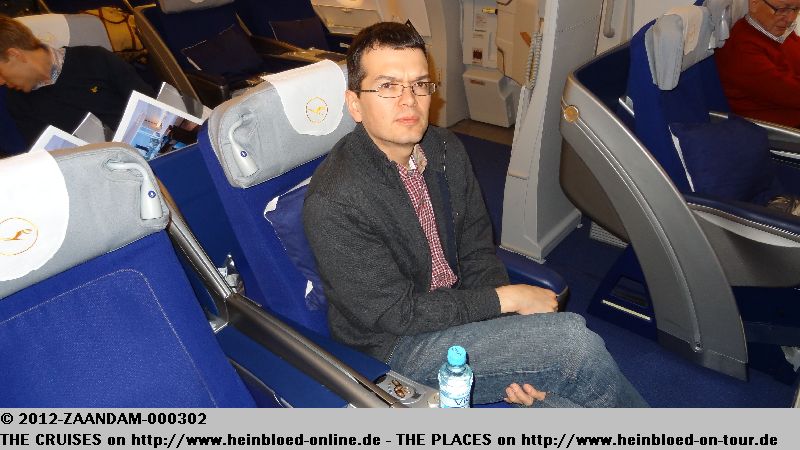 Bruno disliked the Airbus 380 as it was breezy and chilly.

There I could take a shot of another Airbus 380.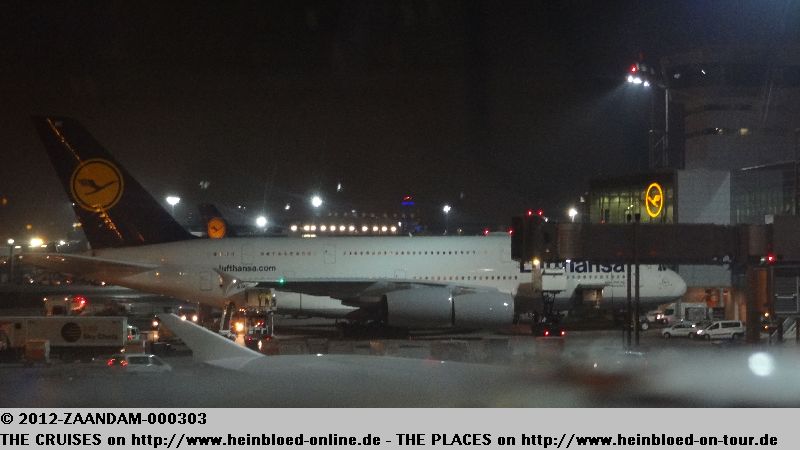 Dort kann ich eine andere Airbus 380 aufnehmen.
Über die Kamera beobachten wir das Geschehen. Eigentlich sieht es ja wie ein großer Albatros aus der Perspektive aus.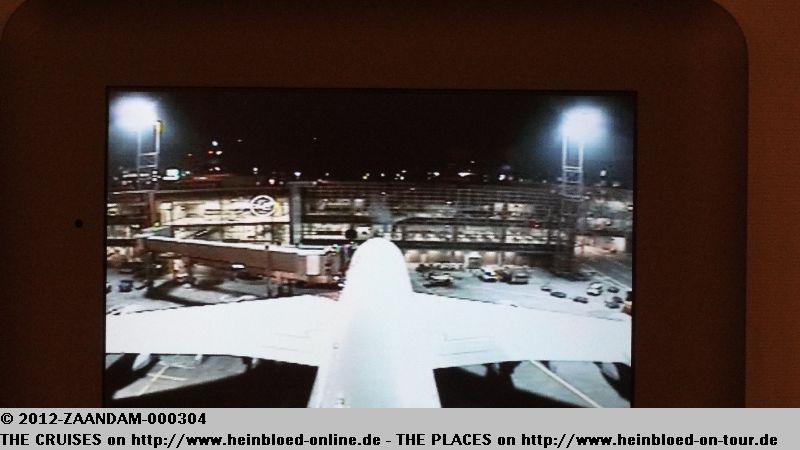 By this camera we could observe what happened. Looked like a giant albatross from this point of view.

In a magazine I discovered something for bananenboot (banana boat - Ivo from the German cruisers' forum). Maybe it could become his new talisman.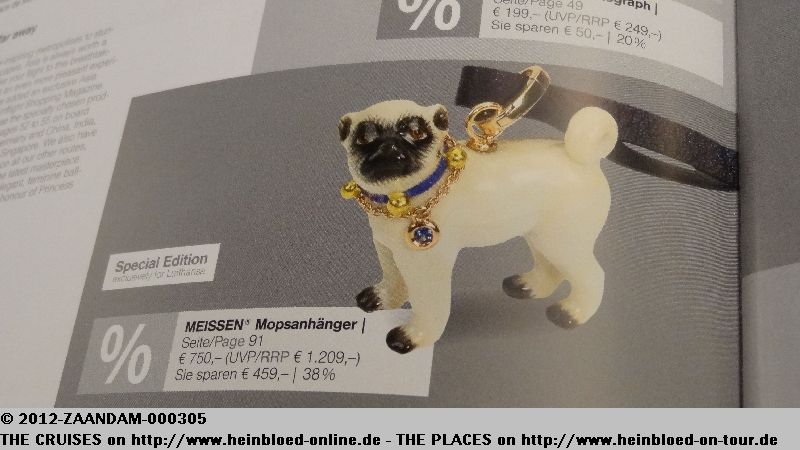 In der Zeitschrift entdecke ich etwas für bananenboot (Ivo aus
kreuzfahrten-treff.de
). Das könnte doch sein neuer Talisman werden.
Bruno ist es immer noch zu kalt. Der Abflug verzögert sich... 15 Minuten länger am Boden und wir wären ins Nachtflugverbot reingerutscht.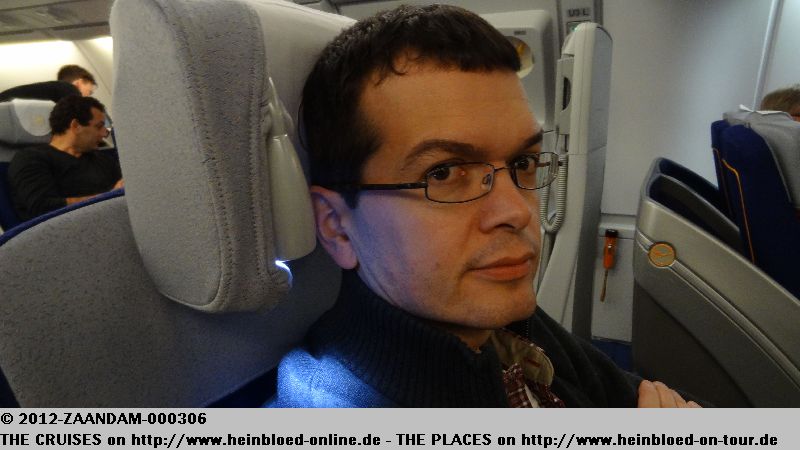 Bruno found it was still too cold. Our departure was delayed... 15 minutes grounded longer and we would hit the night flight probibition in Frankfurt.

Somehow the tomato juice in the air is more tasty.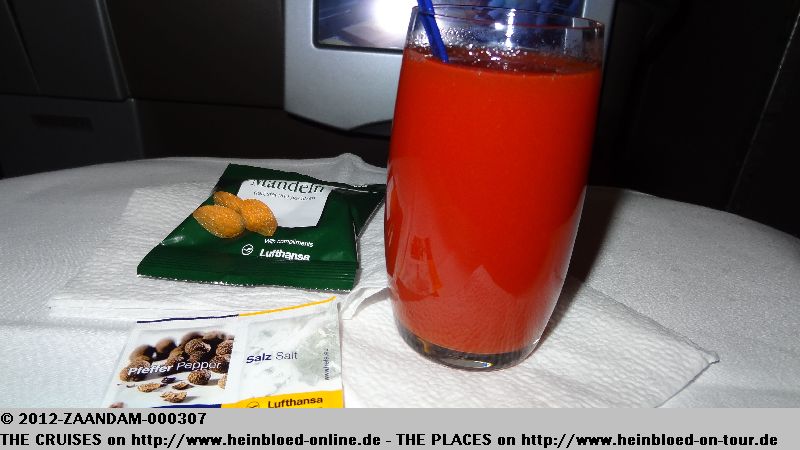 Im Flugzeug schmeckt der Tomatensaft nun mal am Besten.
Ich verstehe nicht, warum Lufthansa bei solch späten Flügen immer das "volle" Programm durchzieht und man vor 01.00 Uhr dann nicht zum Schlafen kommt.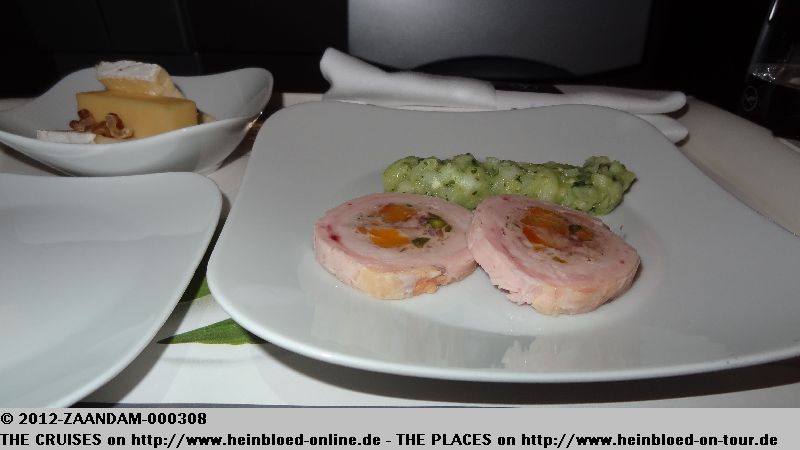 I really do not understand why Lufthansa always had the "full" service that you cannot get your sleep before 01.00 hrs.

I told Bruno that I got some special meal with TWA (once upon a time...) and everybody else was jealous. So due to special reason I booked him special meal. What Lufthansa cannot organize: They serve special meal first - no matter your travel mate will get his food an hour later. Same with the rolls and beverages: an hour later.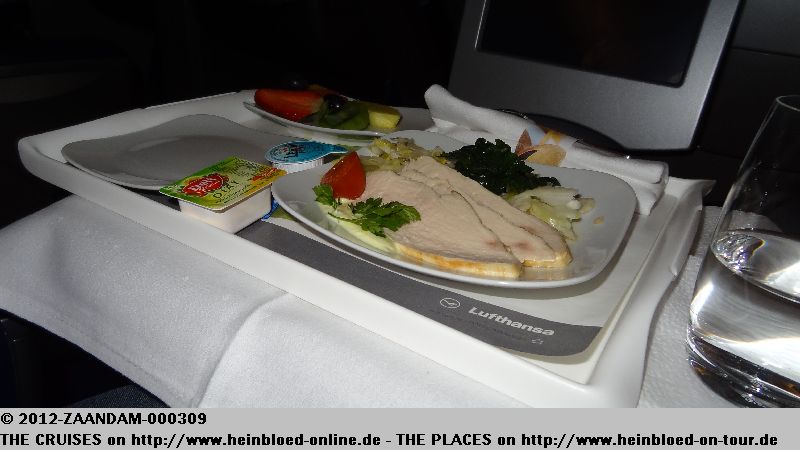 Ich hatte Bruno mal erzählt, dass ich mal ein Sonderessen damals bei TWA (damals noch...) bekommen habe, worauf alle anderen Passagiere neidisch waren. Aus gegebenem Anlass habe ich ihm daher auch Sonderessen bestellt. Was Lufthansa nicht hinbekommt: der mit dem Sonderessen bekommt immer sein Essen als erster, egal ob er Mitreisende hat, die erst Stunden später das Essen bekommen. Meist gibt es auch Getränke und Brötchen Stunden später.
Eigentlich hatte ich gehofft, dass Bruno auch den gedünsteten Fisch mit der furchtbaren Tomatensoße und Fenchel bekommt, den ich drei Mal hintereinander auf einer Reise mit vier Segmenten bekommen habe, als ich mal ein Sonderessen bestellt habe. Seit dem nie wieder.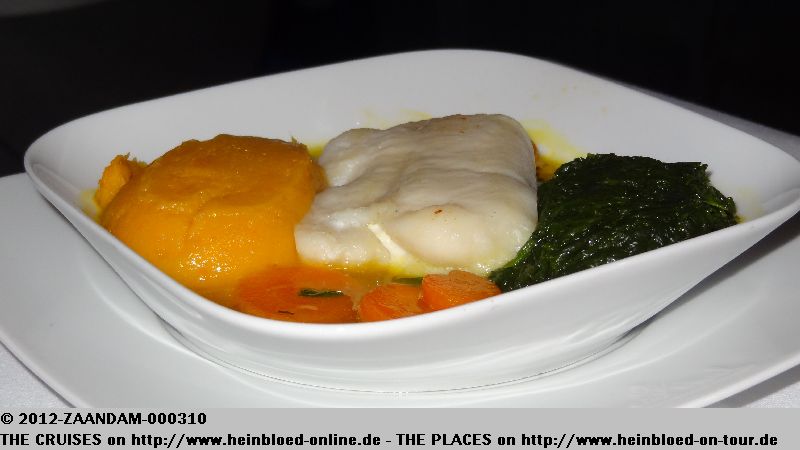 I really hoped that Bruno get the fish with the terrible tomatol juice and fennell which I ordered special meal and got on three consequetive segments of the 4-segments flight.

The fish "normal" guests had it too. I took the veal roast with some dumplings. But the dumplings must be made in a factory for tennis balls. Unfornately the cook felt in love (German expression to be polite and to express that everything was salty). The third choice was shrimps with lemon sauce but we could not get it because there were too many Senators (higher tear on Lufthansa Frequent Flyer programme) were onboard and they choosed them all away.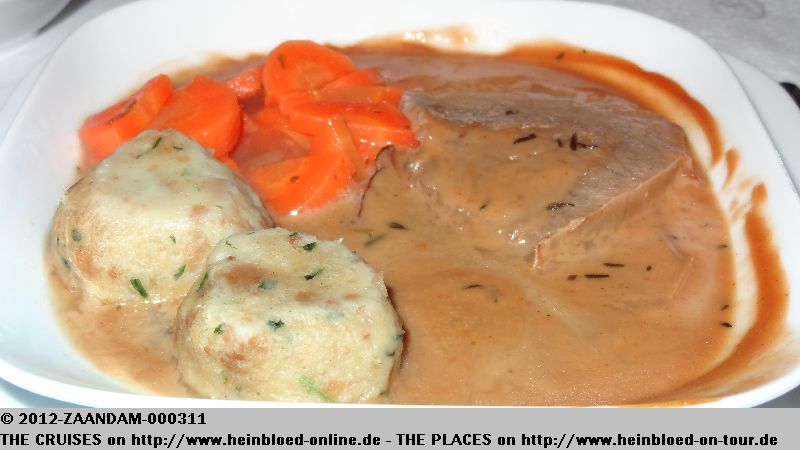 Den Fisch hätte es für die "normalen" Gäste auch gegeben. Ich nehme Kalbsbraten mit Semmelknödel. Die Knödel müssen sie aus einer Fabrik bezogen haben, die sonst Tennisbälle herstellt. Leider ist der Koch verliebt. Die dritte Option Garnelen mit Zitronensauce bekommen wir nicht mehr, weil zu viele Senatoren an Bord sind, die sich vorher schon ihren Hauptgang aussuchen können.
Bruno hatte mit seinem Sonderessen einen viel schöneren Obstteller bekommen.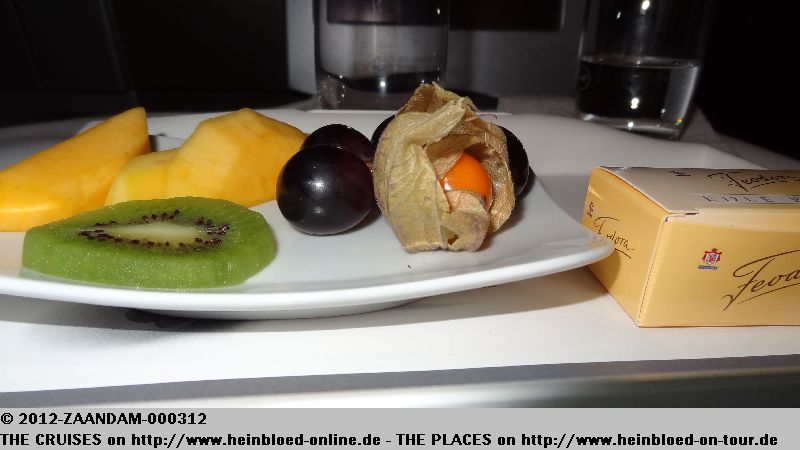 Bruno got a much nicer fruit plate with his special meal.

At 15.00 hrs (local time Singapore - 08.00 hrs in Frankfurt) we got a full breakfast while other airlines try to adjust your stomach to the new local time. Bruno got a nice apple pancake with some milk rice pudding so I was jealous now but 30 minutes before he could get some coffee and bread... They were nice... but the service conception was somehow quite weak...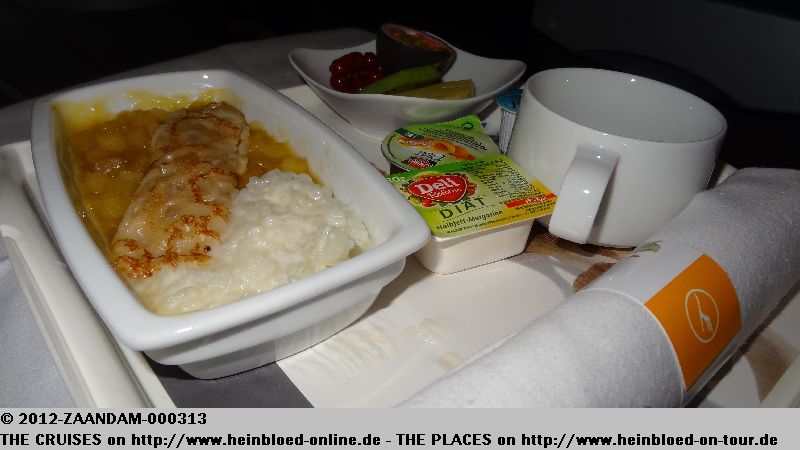 Um 15.00 Uhr (Ortszeit Singapur - 08.00 Uhr in Frankfurt) serviert man uns ein Frühstück. Andere Fluggesellschaften passen einen vom Magen her schon an die neue Ortszeit an. Bruno bekommt seinen leckeren Apfelpfannkuchen mit Milchreis, auf den ich richtig neidisch war, so 30 Minuten vor dem Kaffee und Brötchen... Nett waren sie trotzdem... auch das Servicekonzept meines Erachtens nicht stimmig ist...
Ich bekomme wieder etwas versalzenes (Das Würstchen...). Direkt danach gibt es Turbulenzen bis zur Ankunft in Singapur und dazu die Einreisekarte, die man jetzt ausfüllen soll... Mit einschlägigen Hinweisen zu Drogen-, Zigaretten-, Kaugummi- und Pornodelikten, die einem in Singapur drohen.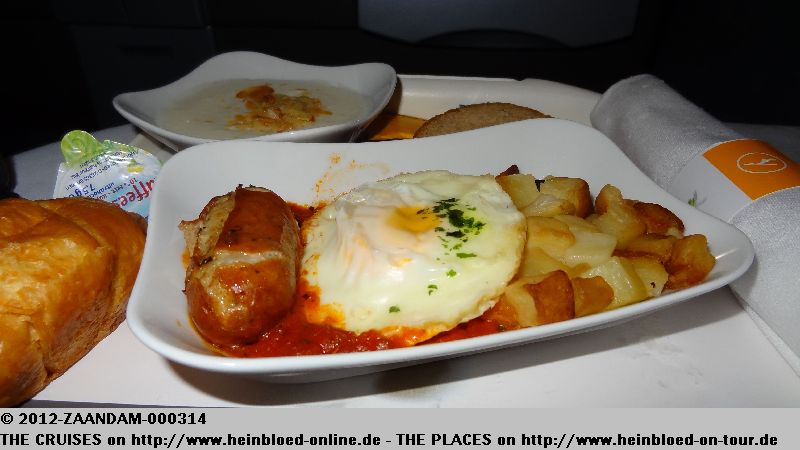 I got again something oversalted (the sausage...). Just after turbulences followed until arrival in Singapore and the right time to distribute the arrival record cards which you should fill out now... with important information on crimes because of drugs, cigarettes, chewing gum and porns...