Scroll down for English explanations - alternates with German explanations.

Wir treffen uns mit meinen Eltern, um die Stadt zu erkunden.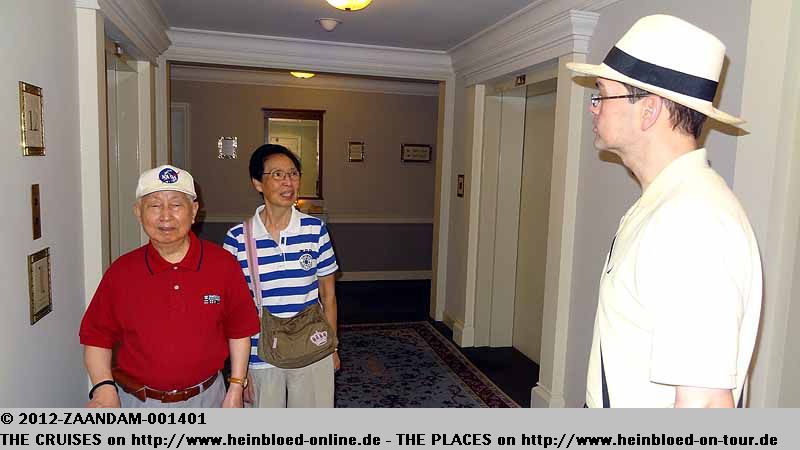 We met our parents to discover the city.

Panama-Hat was a must.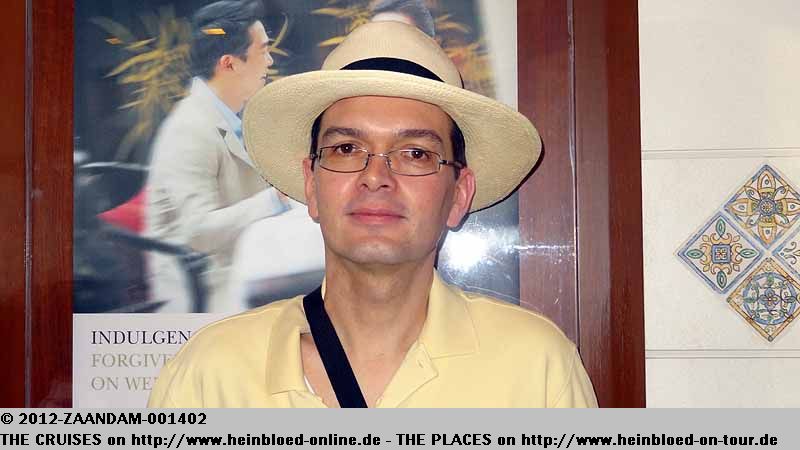 Der Panama-Hut muss ein.
Ein Gebäude steht mitten im Weg, aber ein Hinweis gibt es auf unser Ziel: Suntec City.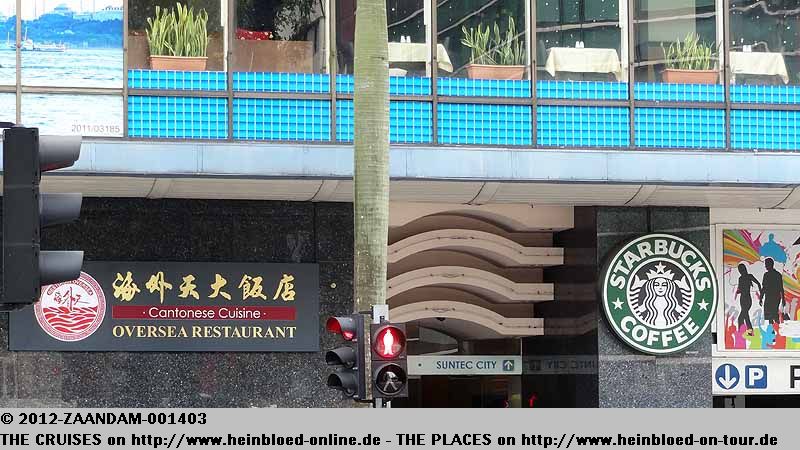 One building was just blocking our way to our destination but we could find a sign: Suntec City.

Unfortunately there was no even street crossing so we had to force my father to walk up the stairs.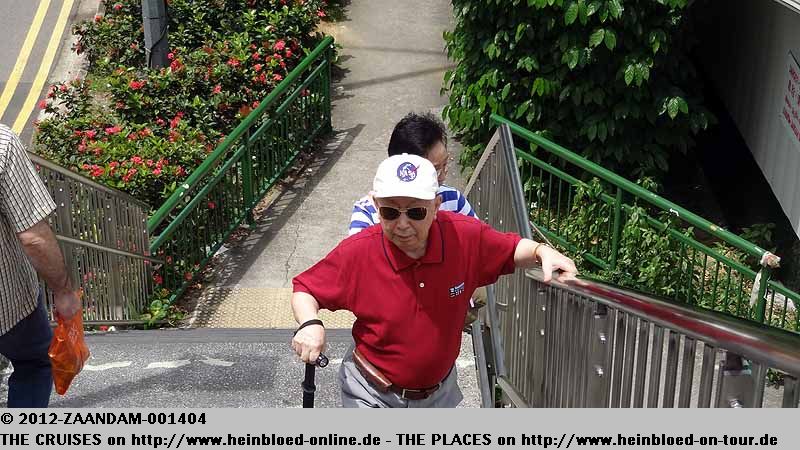 Leider fehlten dann oft ebenerdige Straßenübergänge, so dass wir meinen Vater die Treppen hochjagen mussten.
War hier mal eine Kläranlage?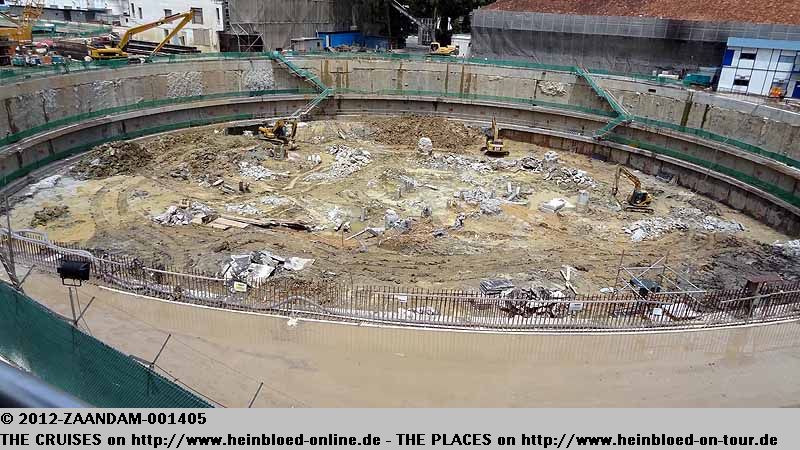 Looks like sanitization of water - or?

After few minutes we arrived already in the Suntec City Mall.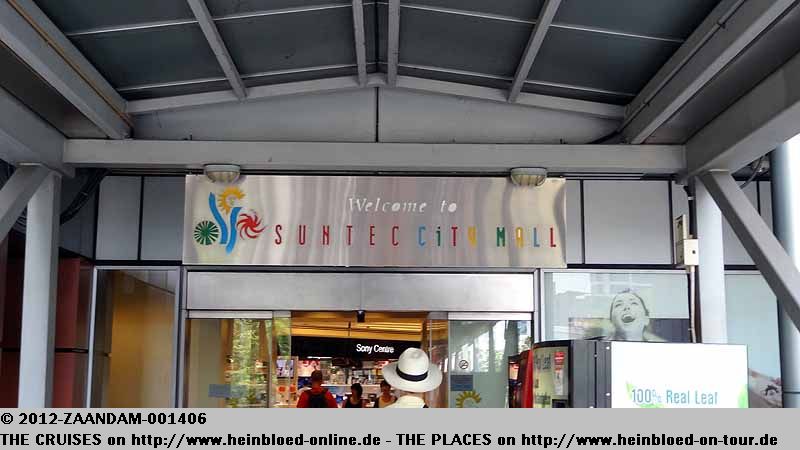 Wir kommen aber nach wenigen Minuten schon im Suntec City Mall an.
Hier sollen wir zum Convention Centre.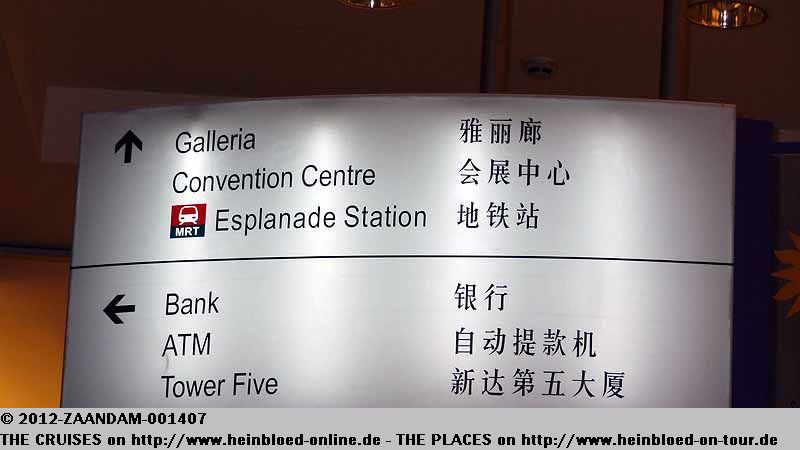 Here we should follow to the Convention Centre.

We ordered some tickets with Duck- and Hippotours which we need to exchange against our voucher.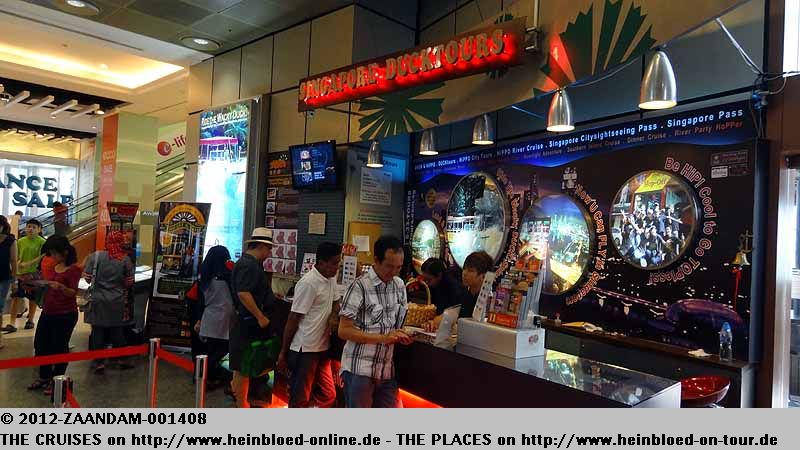 Wir haben bei Duck- und Hippotours Tickets bestellt, die wir hier gegen unseren Gutschein eintauschen müssen.
Wir haben den Singapore Pass bestellt. Aber da war ich zu optimistisch, dass wir alles in 48 Stunden schaffen würden.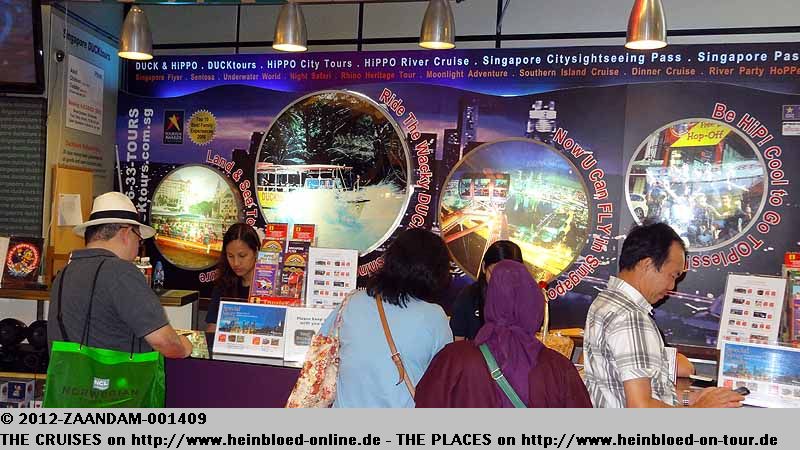 We ordered a Singapore Pass. But I was too optimistic that we can handle most of the attractions in 48 hours.

So we got the option to use the HoHo-Buses for 48 hours and tickets for some attractions of the town.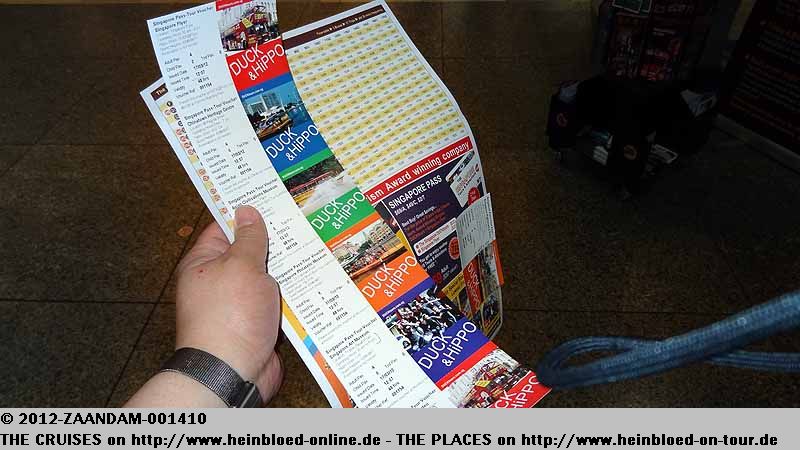 So bekommen wir neben der Möglichkeit die HoHo-Busse für 48 Stunden zu benutzen, bereits Tickets für einige Attraktionen der Stadt.
Die Wartezeit bis zum Treffpunkt um 12.50 Uhr verbringen wir am Brunnen des Reichtums.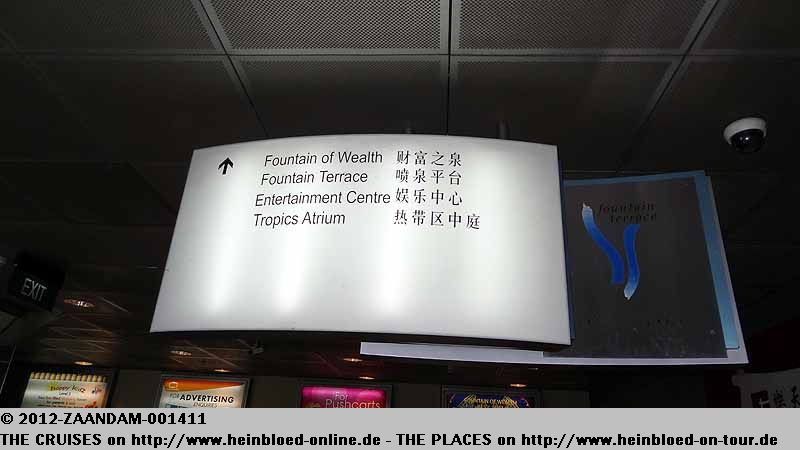 The waiting time we spent until meeting at 12.50 hrs we spent at the Fountain of Wealth.

By coincidence we discovered the hotel of our friends from Denver gevruise (Guenther and BJ) whom we knew from NORWEGIAN JADE 2011.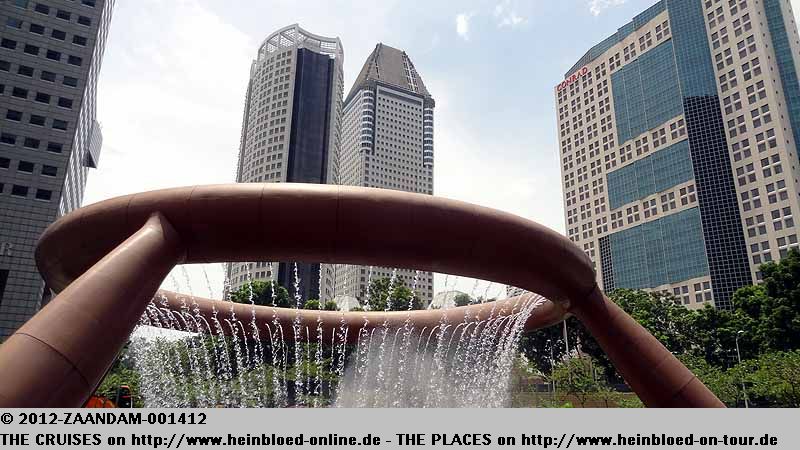 Zufällig entdecken wir Hotel unserer Freunde aus Denver gevcruise (Guenther und BJ), die wir von der NORWEGIAN JADE 2011 her kennen.
Aha... muss man das Wasser trinken?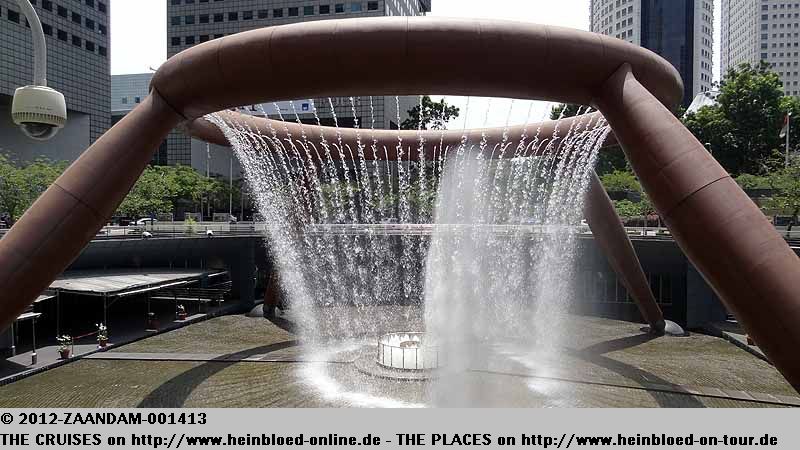 Ah... do you need to drink this water?

Or do you need to take a shower?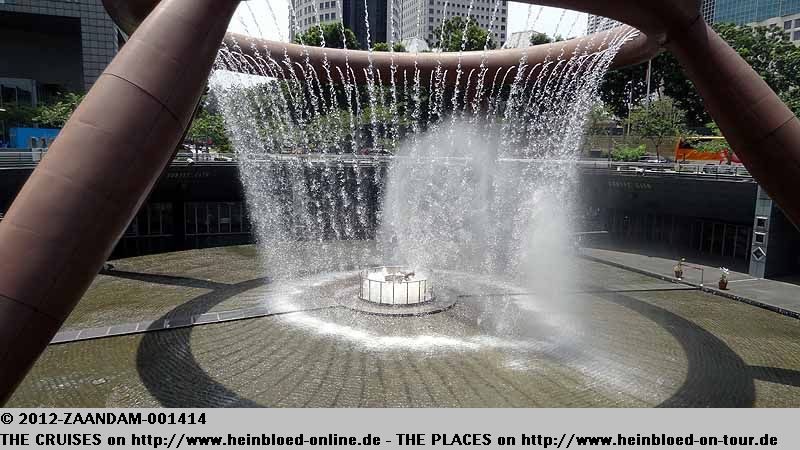 Muss man darin duschen?
Später finden wir die Anleitung, was zu tun ist, um reich zu werden.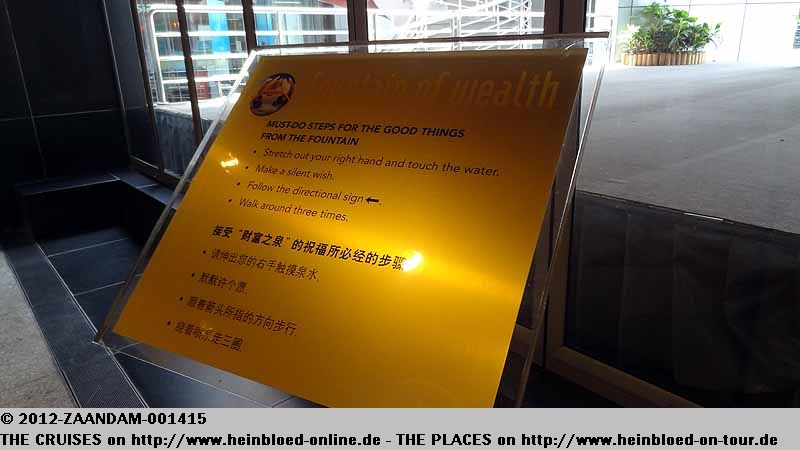 Later we found the instructions how to become rich.

But neiter Bruno nor my parents were really interested to try it.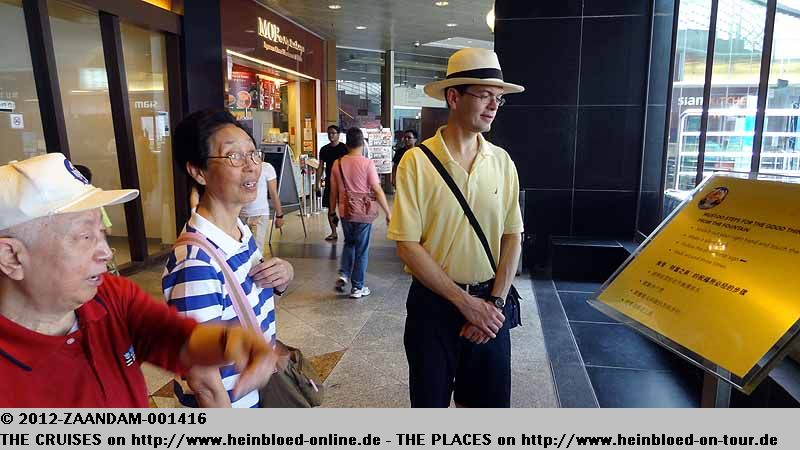 Aber weder Bruno noch meine Eltern haben sonderlich Lust, es auszuprobieren.
Wir gehen lieber noch zum Koi Garten.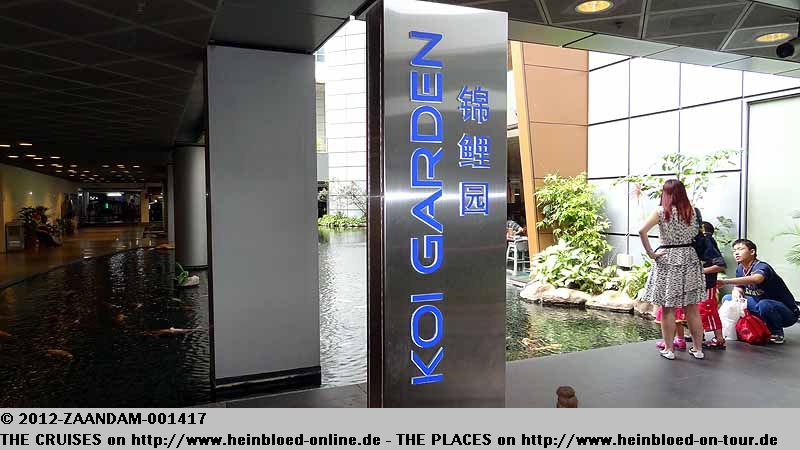 We preferred to see the Koi Garden.

I remember the stories that the Chinese triads were renting Kois - or?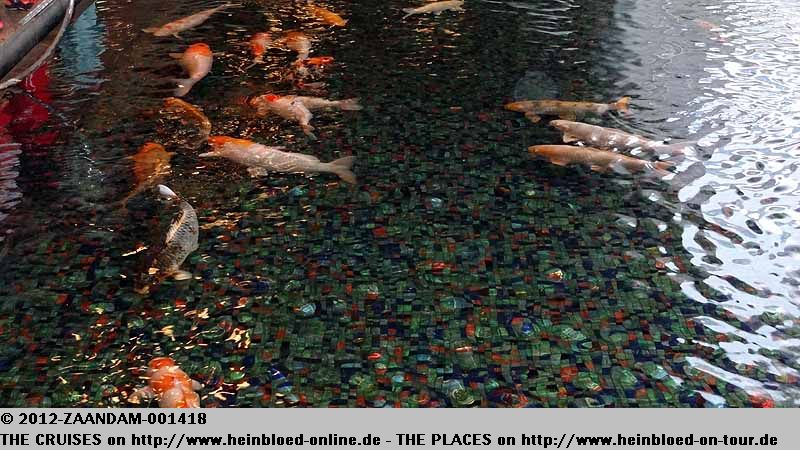 Waren das nicht die chinesischen Triaden, die ihre Kois verleihen?
Aber andererseits bedeutet es auch Reichtum und Glück und so lassen wir uns mit ihnen zusammen fotografieren.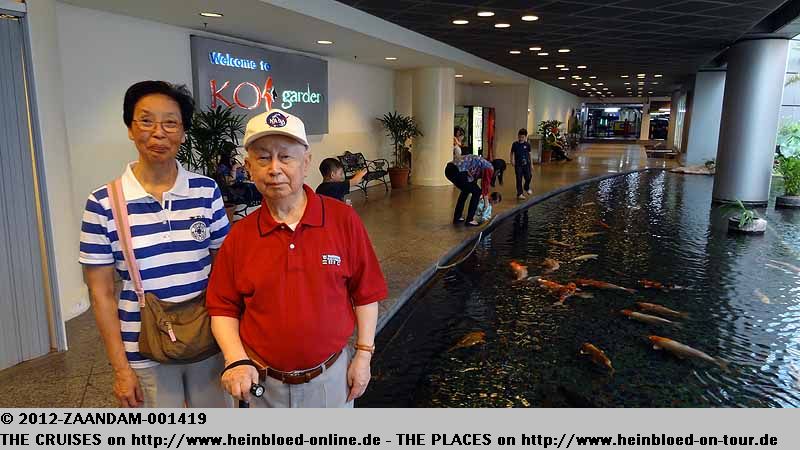 But it also means wealth and luck and so we took the occasion to take some pictures together with the Kois.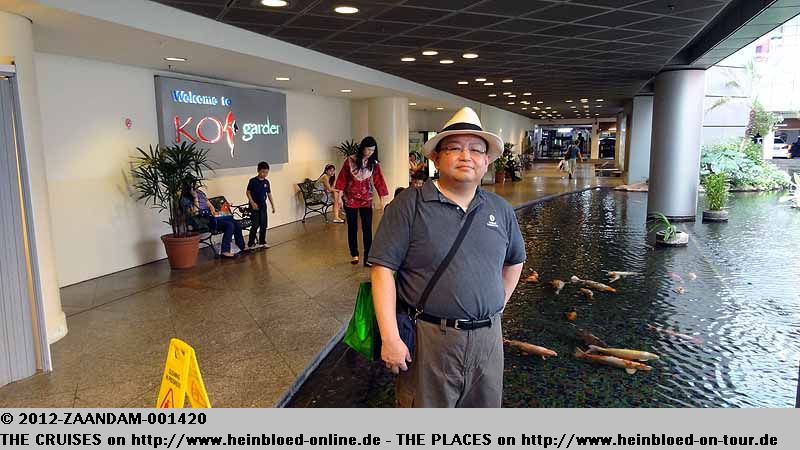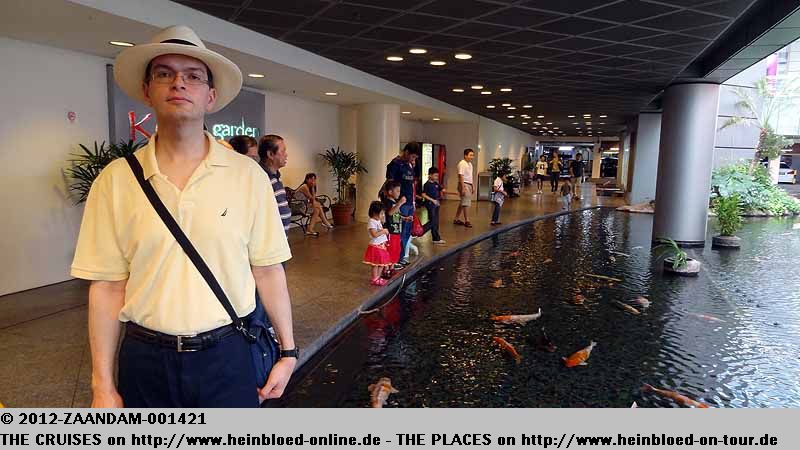 At 12.50 hrs we had to see a safety demonstration. But it was not so extreme strickly like we knew from the cruise ships.

Um 12.50 Uhr müssen wir uns eine Sicherheitsdemonstration ansehen. Zum Glück nicht so extrem, wie auf einem Kreuzfahrtschiff.
So sieht unsere Tour aus. Man muss keine Angst haben, dass eine Tour ausverkauft ist. Es werden einfach mehr Fahrzeuge eingesetzt und die Gruppen gleichmäßig verteilt.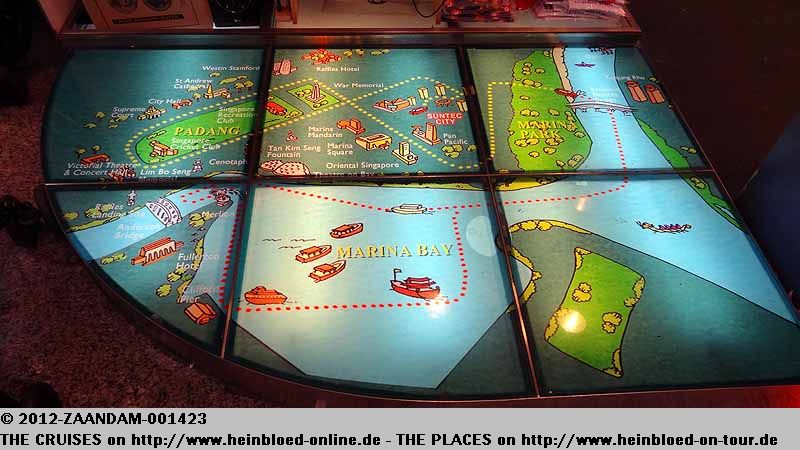 That was our tour looked like. You need to be afraid that tour was sold out. They can use more vehicles and the groups are allocated to the different vehicles.

Never it was more comfortable to board.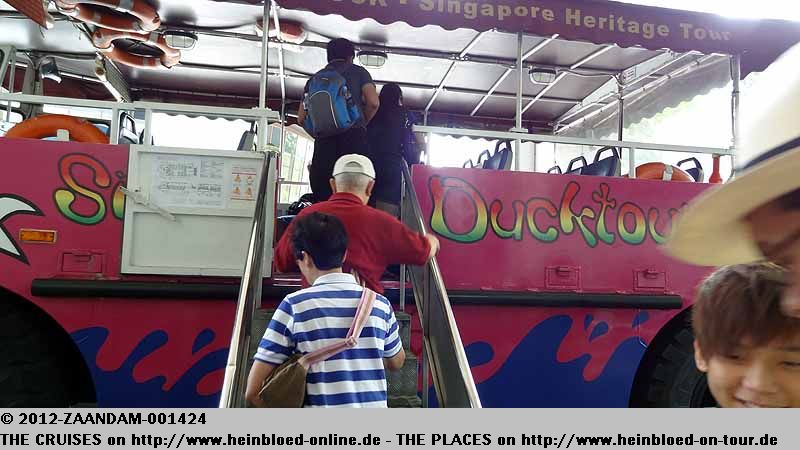 So bequem sind wir noch nie eingestiegen.
"No restroom onboard..." - Also vorher auf Toilette gehen...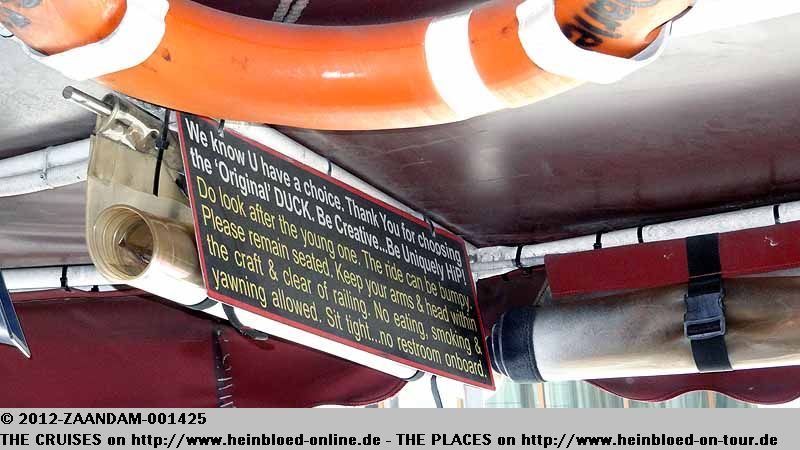 "No restroom oboard..." - So see the restrooms first...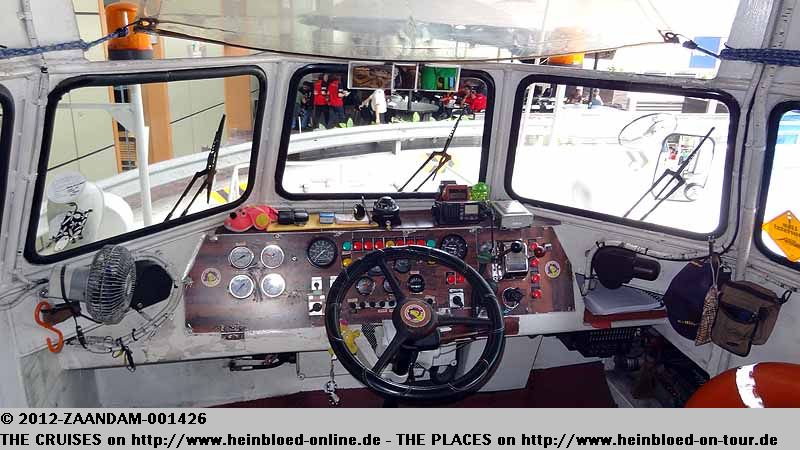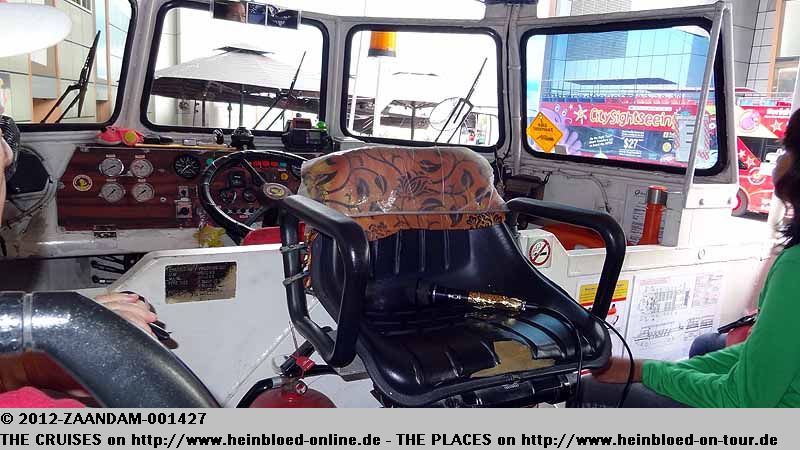 Now it went to the water.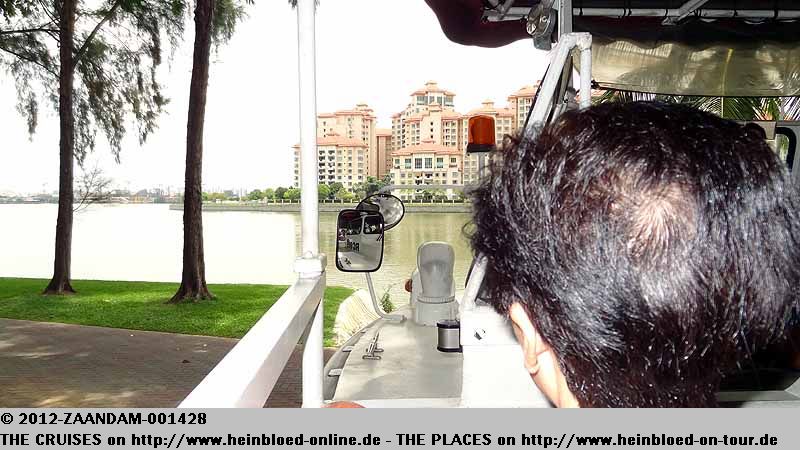 Hier geht es schon direkt ins Wasser.
Und kein Splash oder Quak wie in Boston. Dort hat es mehr gespritzt und es wurde mehr geflucht, weil jemand nass geworden ist. Ganz unspektakulär.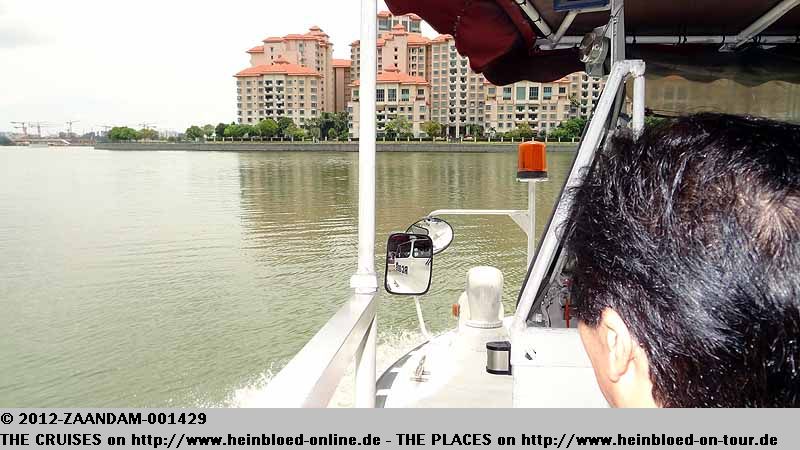 No splah or quak like in Boston. We had more water and more people who were upset because they got upset. Very unspectular.

Our tour guide was very nice because she took pictures with our camera.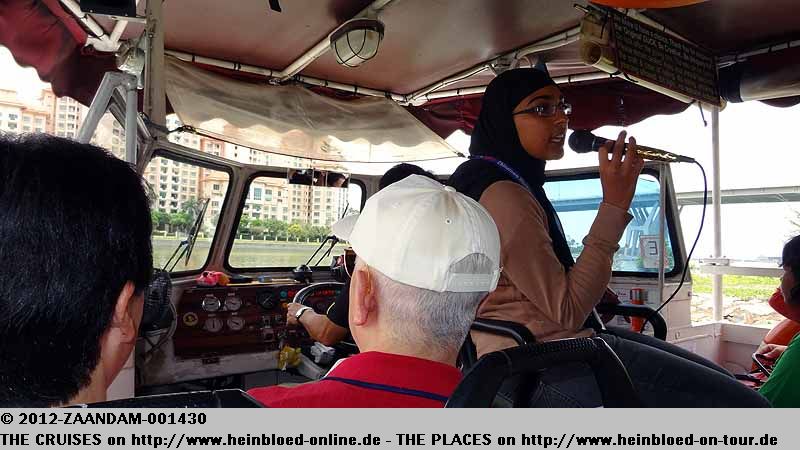 Unsere Führerin war sehr nett, weil sie auch mit unseren Kameras Bilder von uns gemacht hat.
Das ist in der Tat gut gelungen.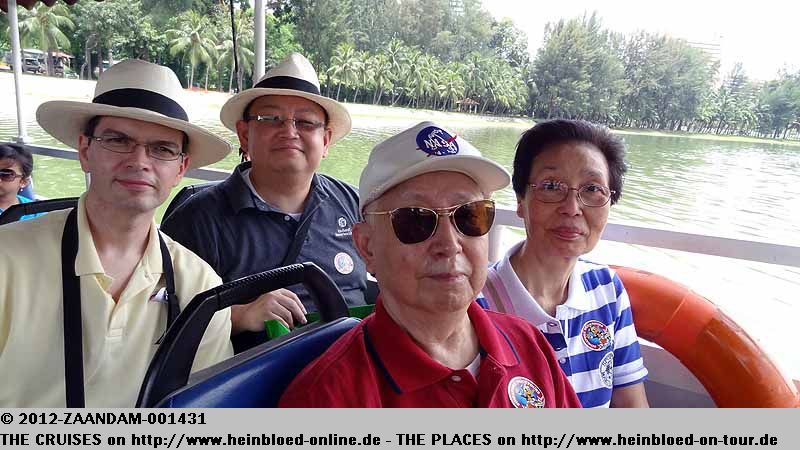 And it was a great shot.

Exercising for a dragon boat race.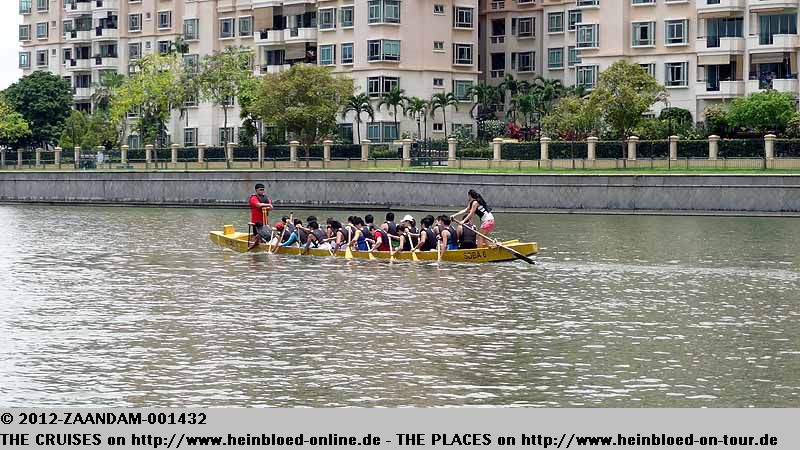 Training für ein Drachenbootrennen.
Ich habe eh nicht alles verstanden und versuche daher auch nichts widerzugeben. Der besseren Übersicht wegen, sind manche Bilder nicht in diesem Kapitel zu finden, sondern folgen in weiteren Kapiteln.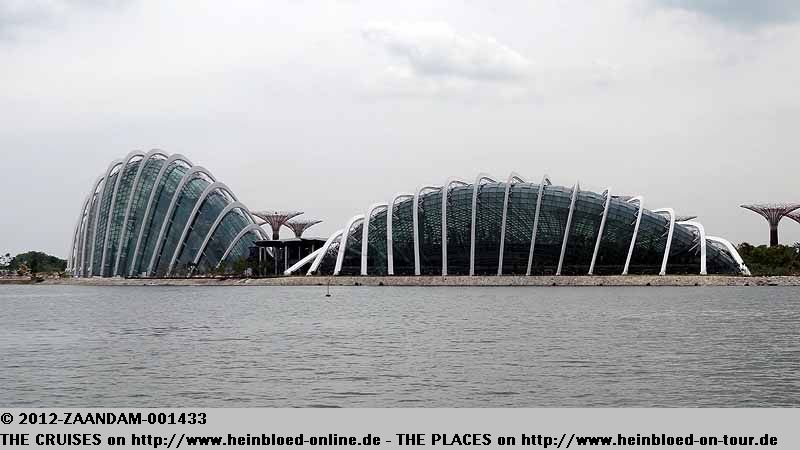 I did not understand everything at all and so I do not try to repeat. To have a better overview you find some pictures in the next chapters instead of here.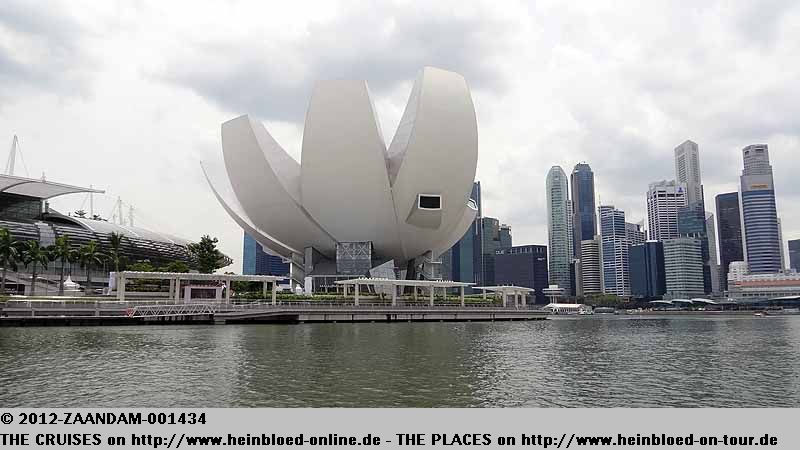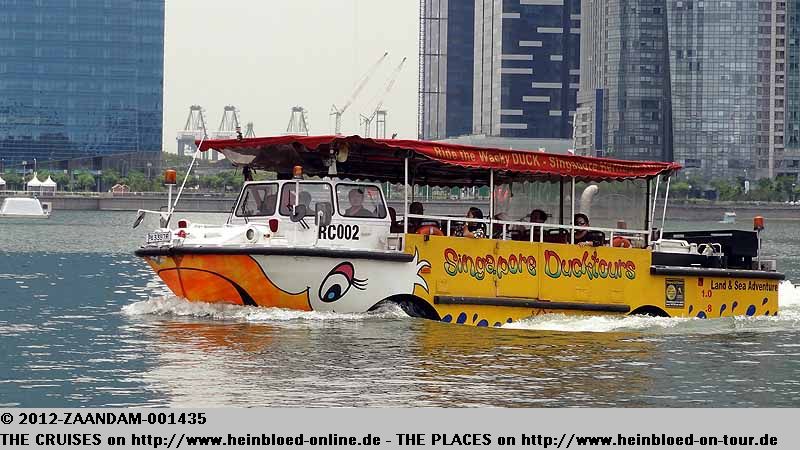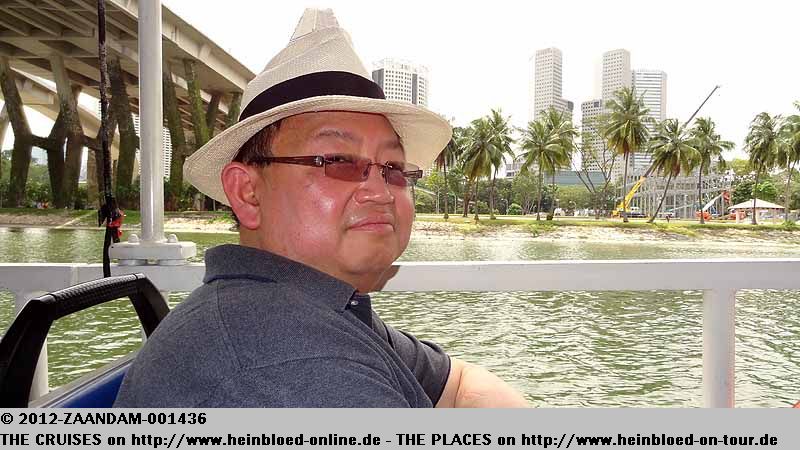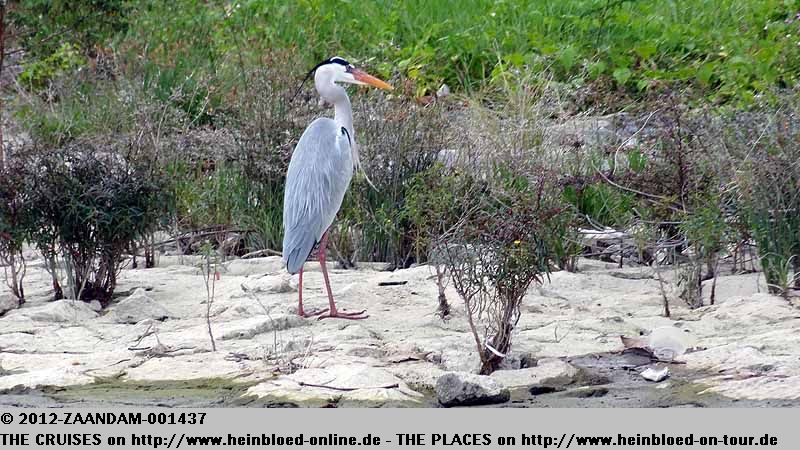 After half an hour we went out again for the shore tour.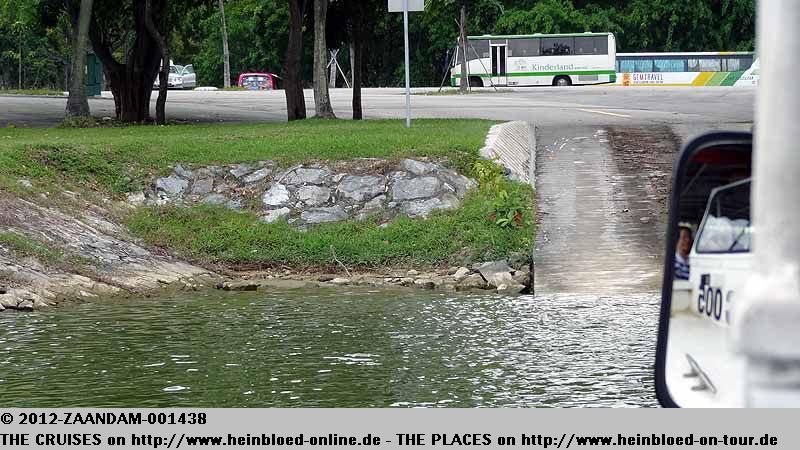 Nach einer halben Stunde ging es auch schon wieder raus aus dem Wasser.
Weiter geht es nochmals 30 Minuten durch das Verwaltungsviertel.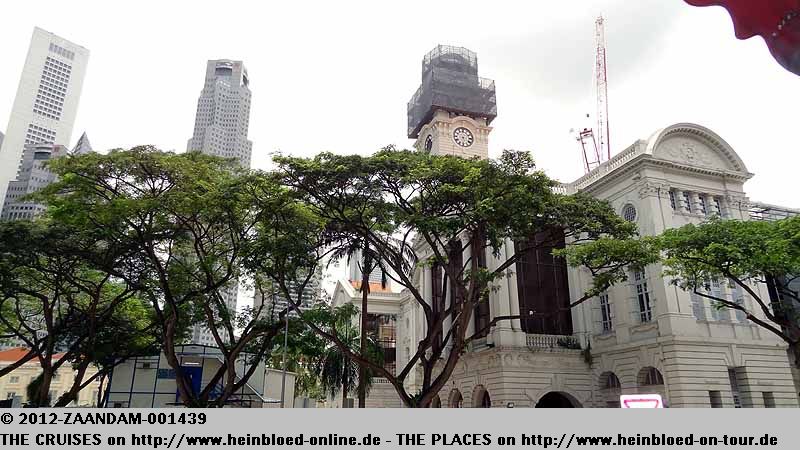 For another 30 minutes we saw the Civic Quarter.

I knew from the Roll-Call on Facebook that some had their pre-cruise stay at the Swissôtel The Stamford.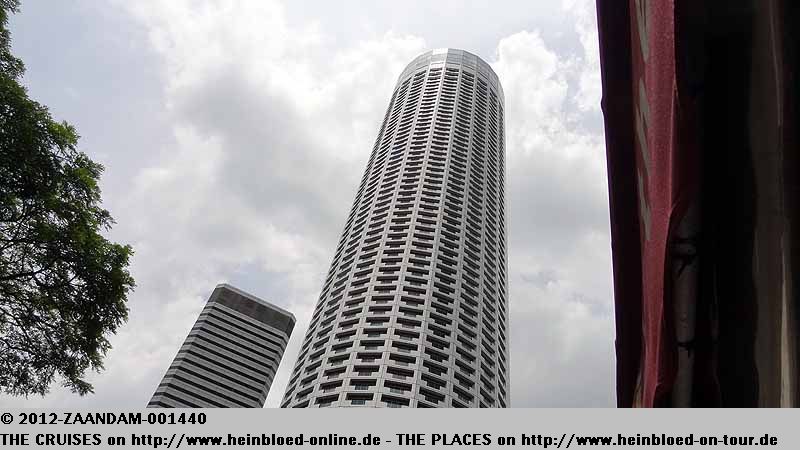 Vom Roll-Call aus Facebook, weiss ich, dass manche hier im Swissôtel The Stamford abgestiegen sind.
Keiner hatte jedoch gemeldet, dass er im Raffles (das Traditionshotel in Singapur) abgestiegen sei.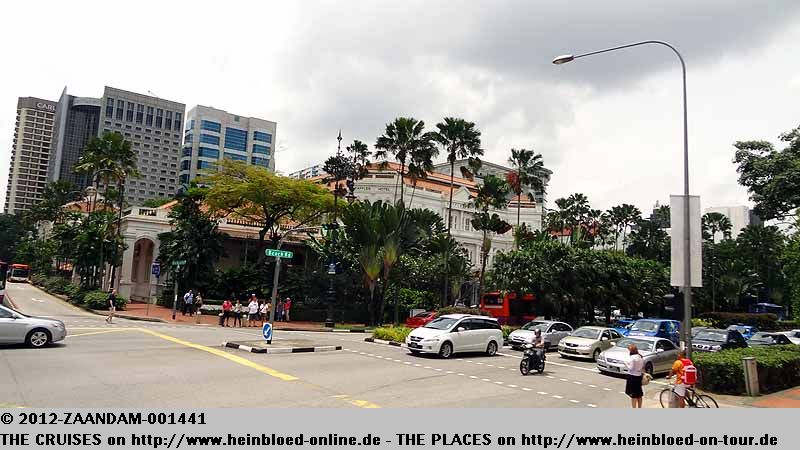 But none had reported to stay in the Raffles (the tradional hotel in Singapure).