Scroll down for English explanations - alternates with German explanations.

Grundsätzlich: es kann sein, dass vielleicht nicht alles so ist, wie man sich es vorgestellt hat. Wichtig: nicht nach Hause fahren und erzählen, dass es einem nicht gefallen hat, sondern was nicht passend ist, wird passend gemacht. Deswegen zunächst mal zur Rezeption und alle Punkte abarbeiten. Auch wenn sich andere in der Schlange darüber ärgern, dass man den Betrieb aufhält. Auf jeden Fall die Bordguthaben sind korrekt gebucht.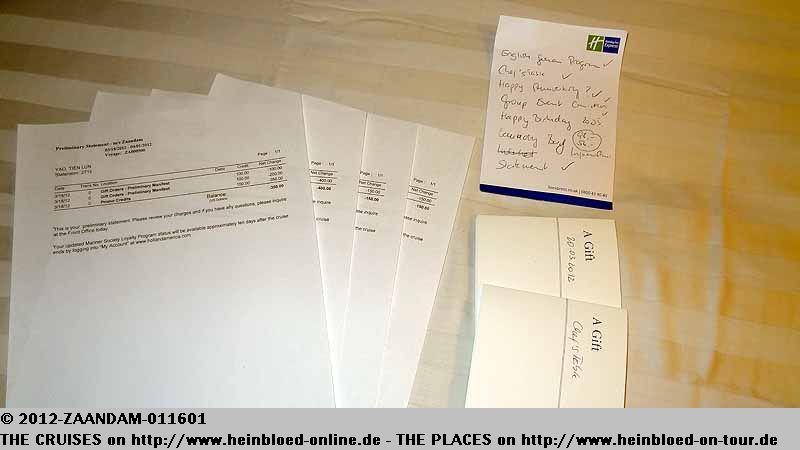 Generally: It might happen that not everything meet your expectations. Important: Do not go home and tell it was bad but let them make it fit to your expectations. So I went with a list with all single points to the front desk. Even the queue became more and more upset that I blocked one agent. But it was great to learn that all on-board-credits were booked correctly.

Great were 1,000 Minutes for 250.00 USD.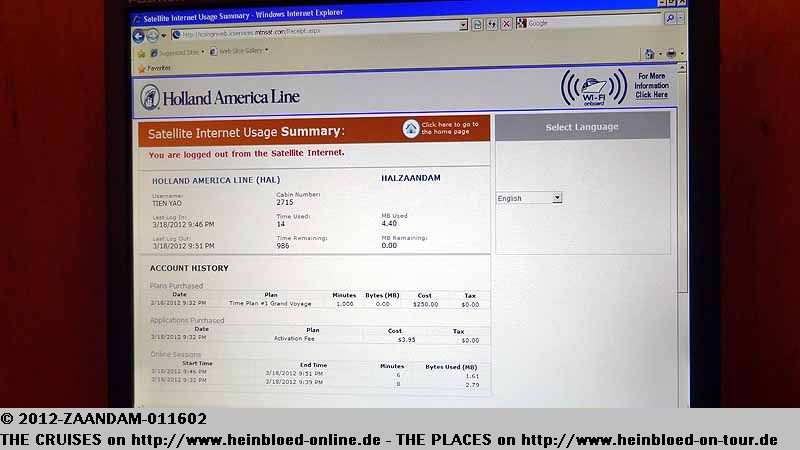 Gut sind die 1000 Minuten Internet für 250,00 USD.
Eine der Fragen bei der Rezeption, ob mein Raum für den Empfang für
cruisecritic.com
und
Facebook
steht: ja - er steht.

One of my questions with the front desk was if my booked room for the Meet & Greet with cruisecritic.com and Facebook was fixed: yes - it was.

We went to the first dinner onboard. Of course you get ice water. If we would like something else we were not asked. The wine steward did not feel responsible for all tables but for few single selected.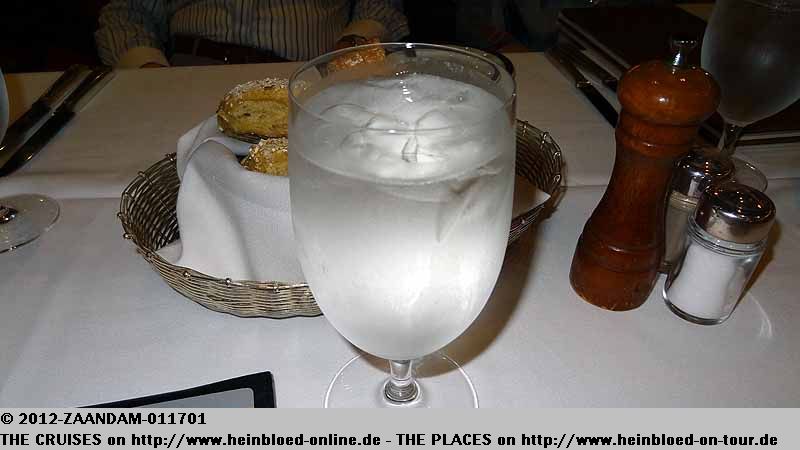 Es geht zum ersten Abendessen an Bord. Selbstverständlich gibt es Eiswasser. Ob wir etwas anderes wollen wird nicht gefragt. Der Weinkellner fühlt sich nicht für alle Tische verantwortlich und fragt nur selektiv.
Brot ist sehr gut.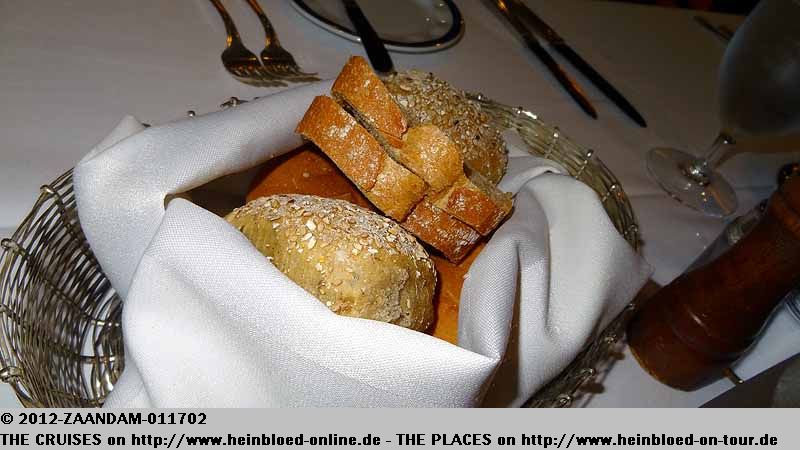 Bread was very good.

Neither the beverage card nor the soda card was any kind of animation for our waiters or wine steward to ask if we want something else.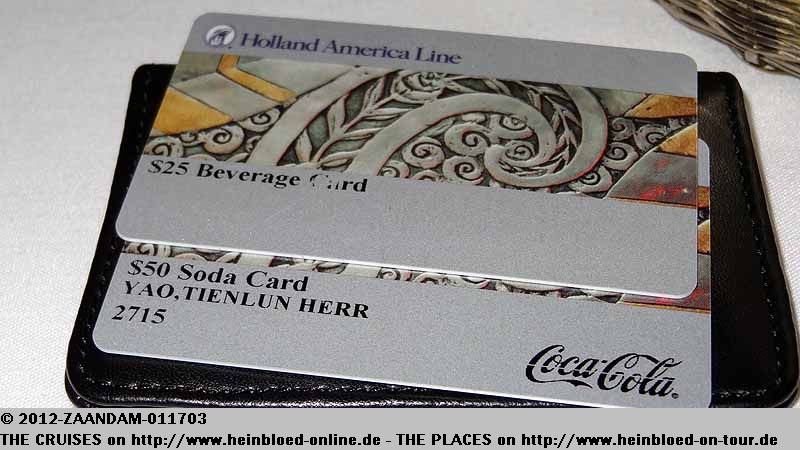 Die Beverage Card noch die Soda Card sind keine Animation für Kellner oder Weinkellner nachzufragen, ob wir etwas anderes wollen.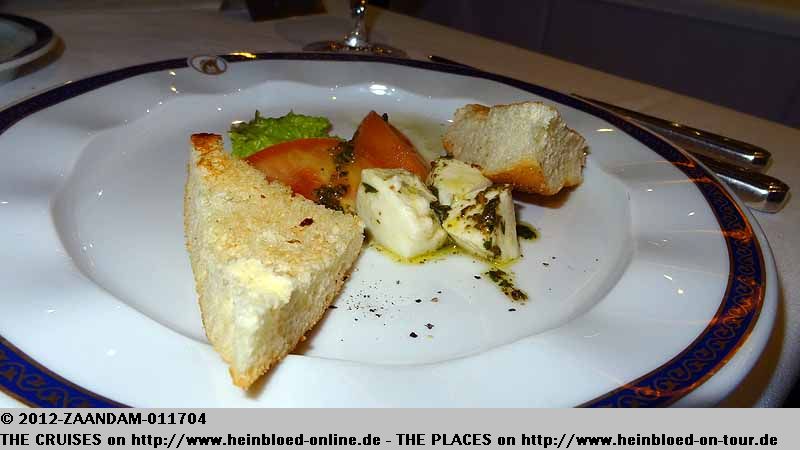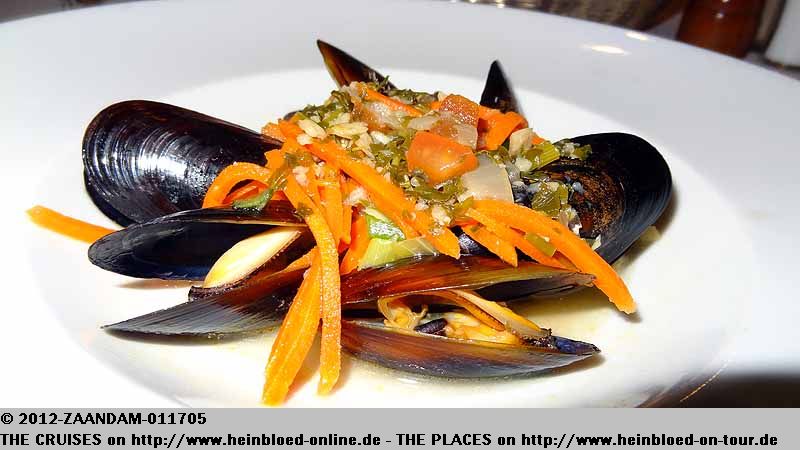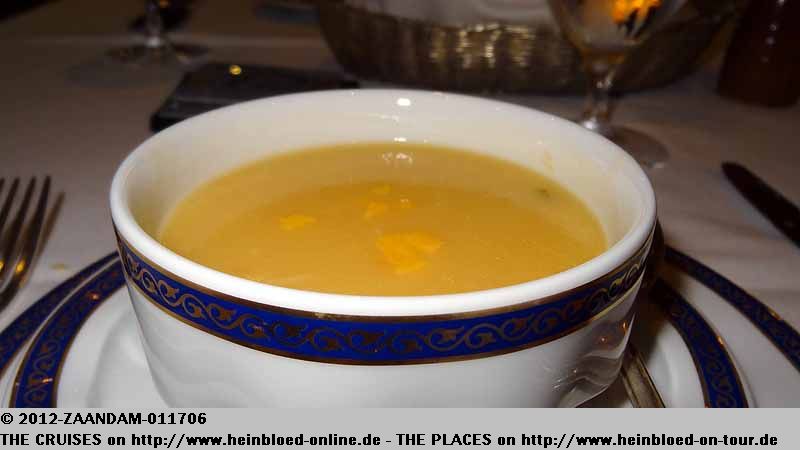 We could see that other table got the peppermill service. We did not get it in the same quantity.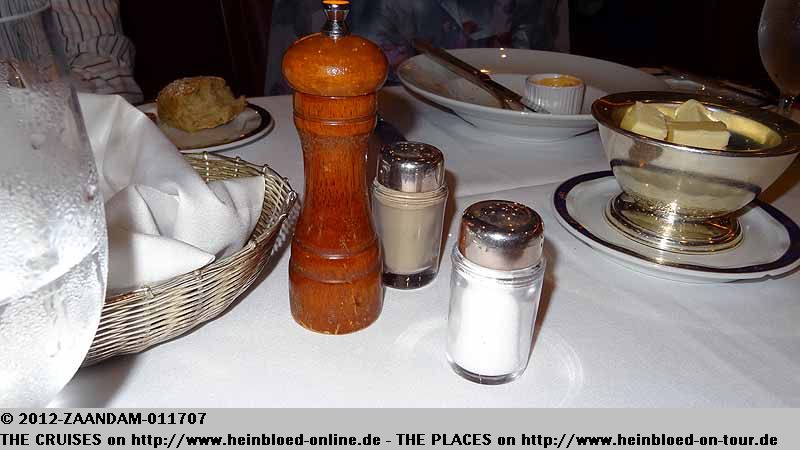 An anderen Tischen sehen wir, dass es Pfeffermühlenservice gibt. Wir bekommen diesen nicht im gleichen Umfang.
Salat ist wie immer sehr gut und Dressing gibt es in reichlicher Auswahl und immer extra.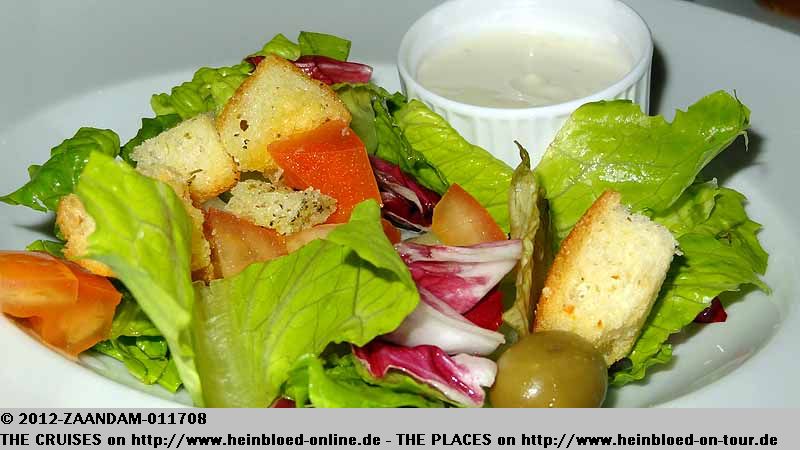 Salad was well as usually and you get a great selection of dressing and always seperate.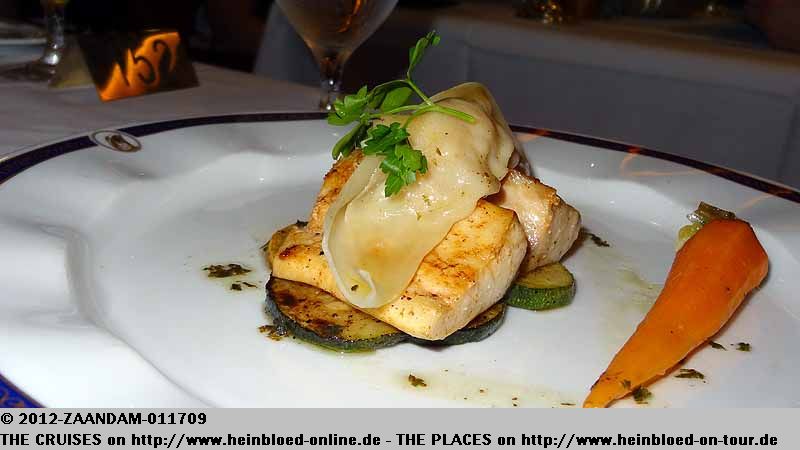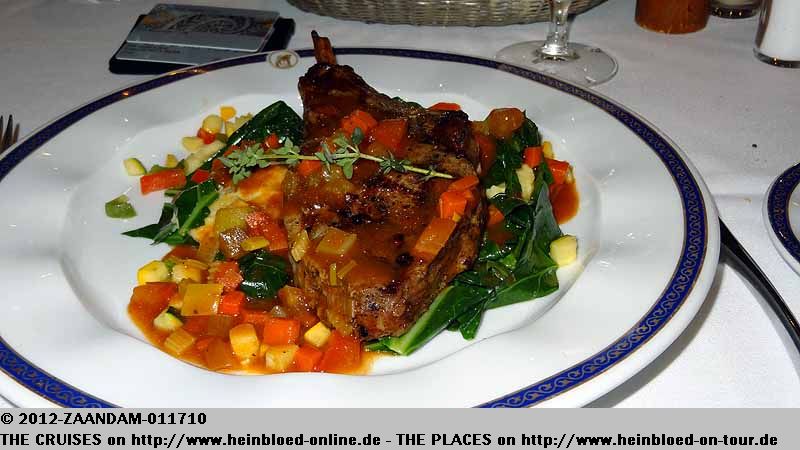 The entree (very good) was over and still the cards were waiting for some attention. Bruno was asked if he wanted something. But not me.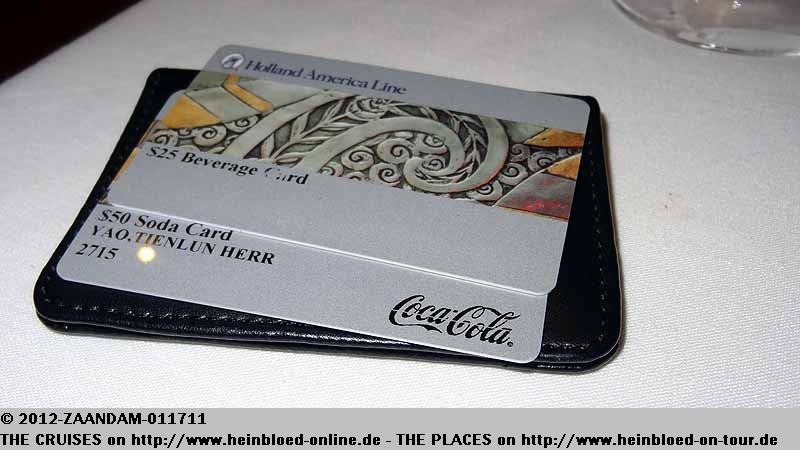 Der Hauptgang (übrigens sehr gut) ist vorbei und die Karten liegen immer noch da. Bruno wird mal gefragt. Ich aber nicht.
Auch kein Abräumservice für Brotkrümeln. So haben wir HAL gar nicht in Erinnerung und für zu einer Rücksprache mit dem Dining Room Manager, ob wir eine falsche Erinnerung haben...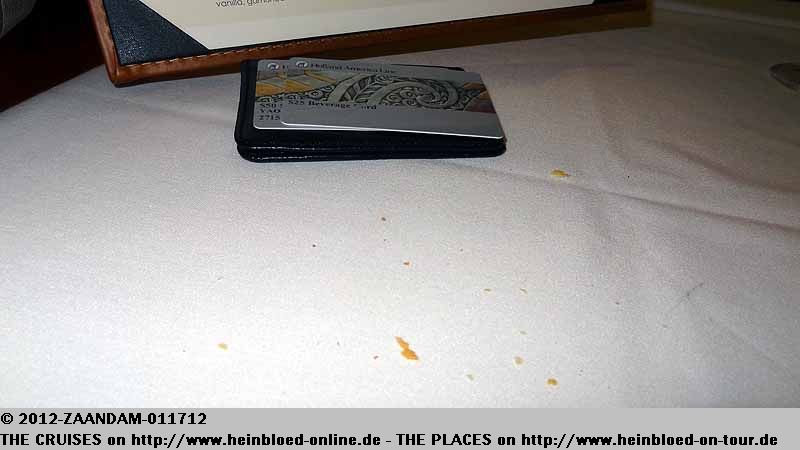 No clearance of the bread crump. We did not have HAL in such memories which took me to a discussion with our Dining Room Manager if our good memories of HAL were wrong.

Great were the complimentary hot beverages at the end of the meal.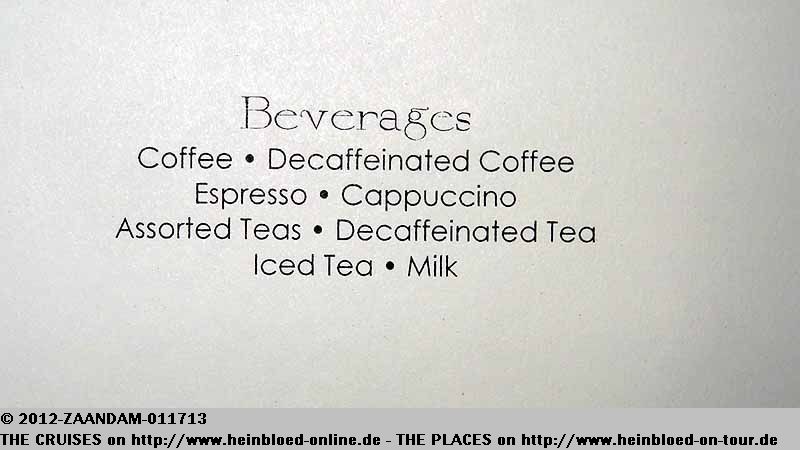 Gut sind die kostenlosen Heißgetränke am Schluss des Essens.
Gut ist auch immer die Eisauswahl.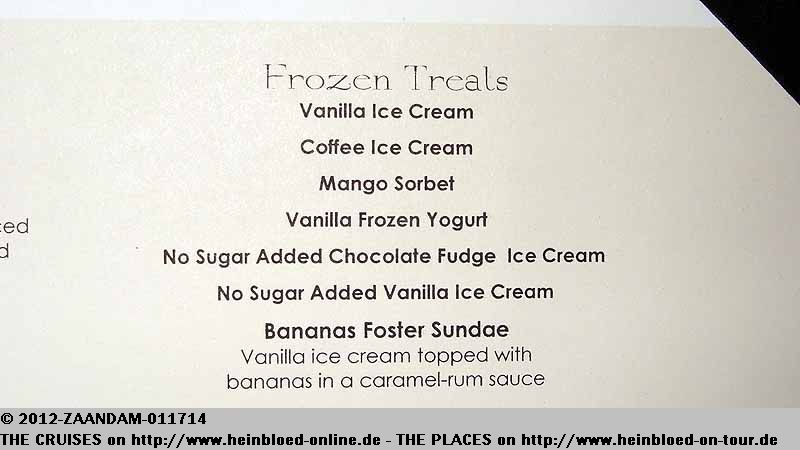 Great was also the selection of ice-cream.

But I wanted to have some cheese and I can pick four of the list.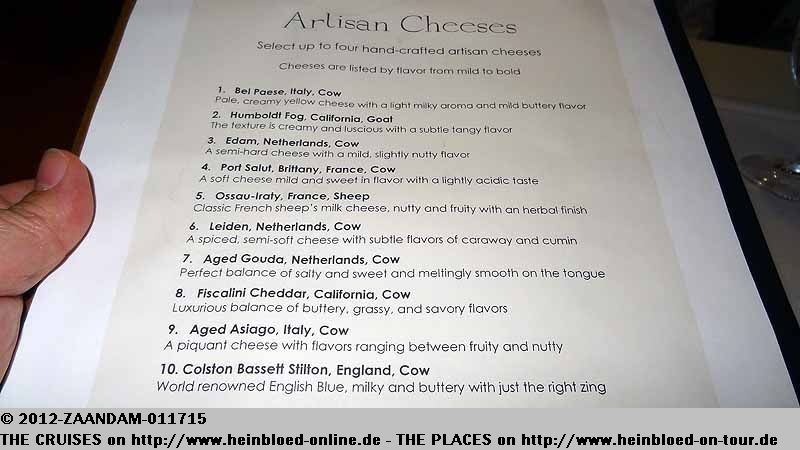 Ich will jedoch lieber Käse. Da kann ich mir vier davon aussuchen.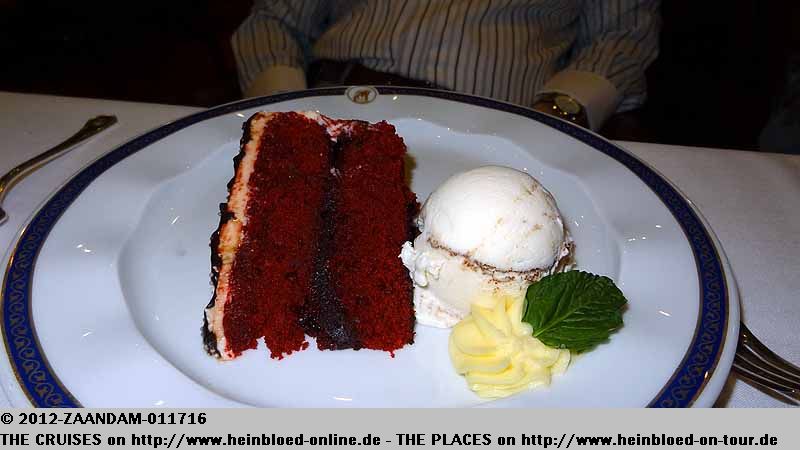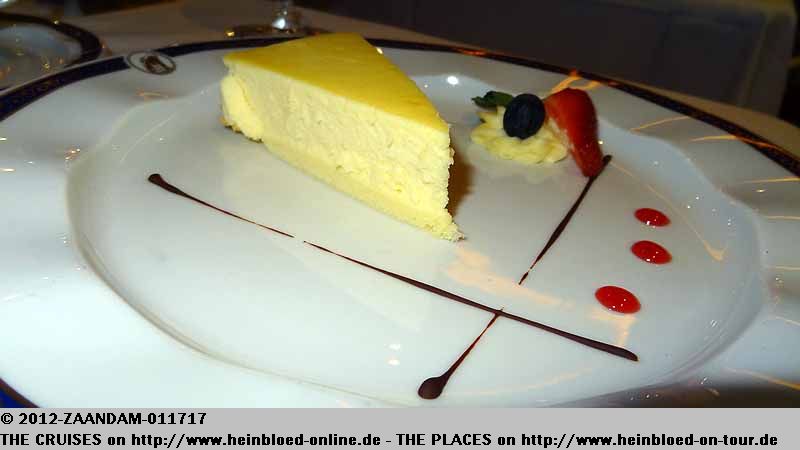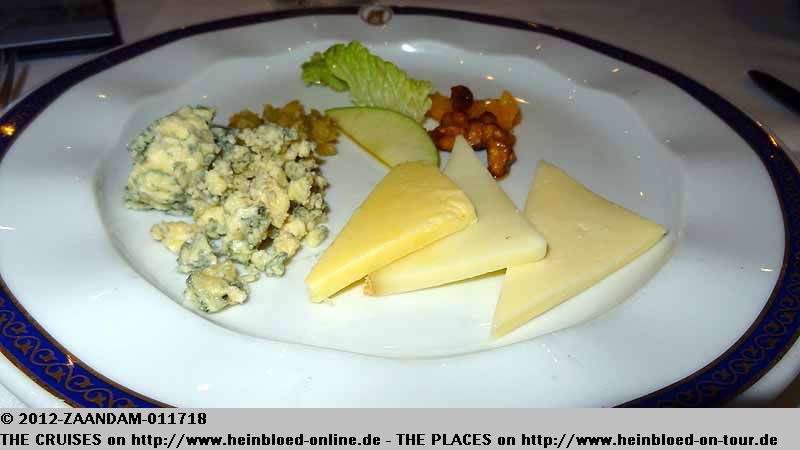 The food was generally very good. But the service left some room for few improvements...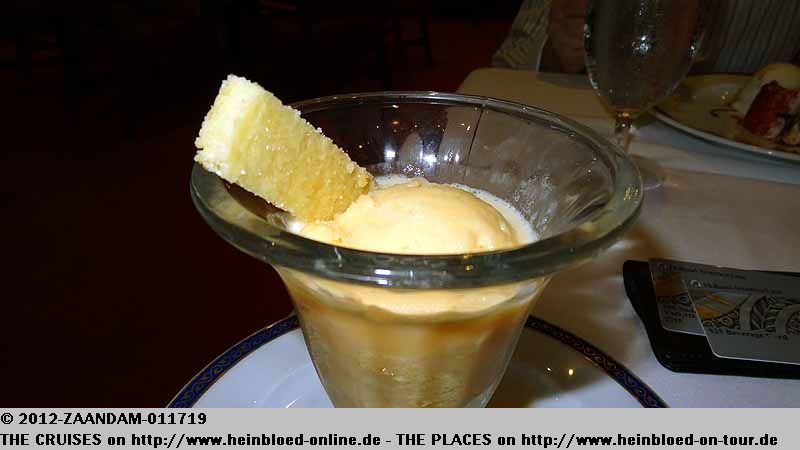 Das Essen insgesamt gut. Der Service könnte aber noch besser sein...
50er und 60er Nacht...

50s and 60s night...

In the envening you had a string quartett (Adagio Stringers) which was very good.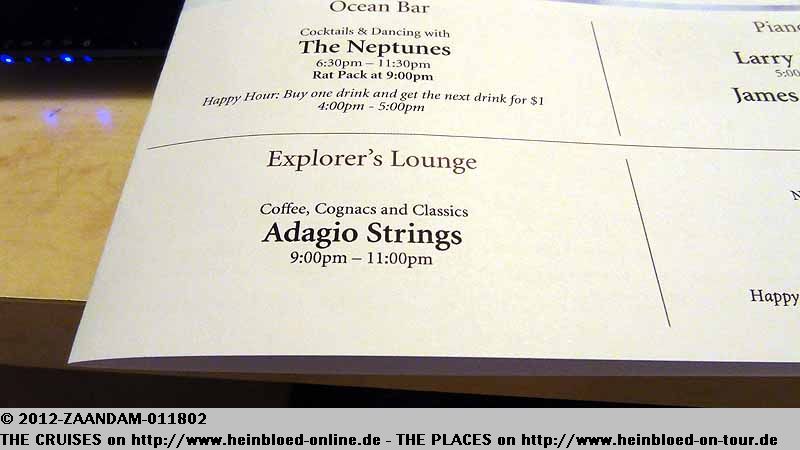 Abends Streicher (Adagio Stringers), die aber echt gut waren.
Da sie u. a. auch Bach spielen, finden sie mein Interesse. Sie stammen aus Rumänien.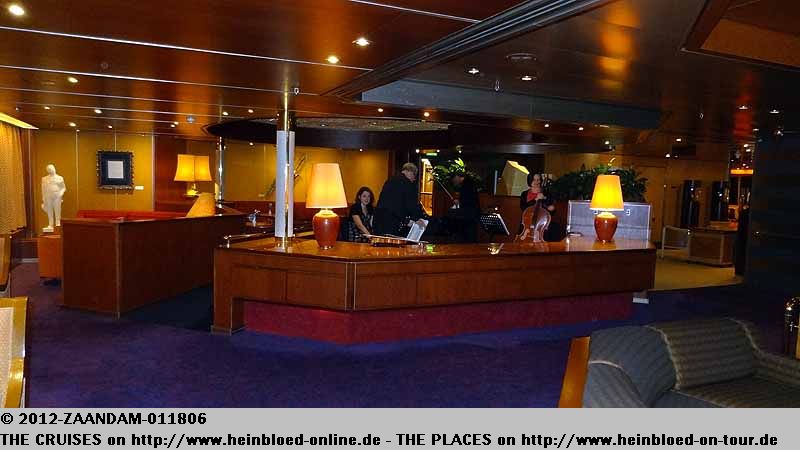 As they also played Bach they attracted my attention. They were from Romania.

And here some information to the beverage card.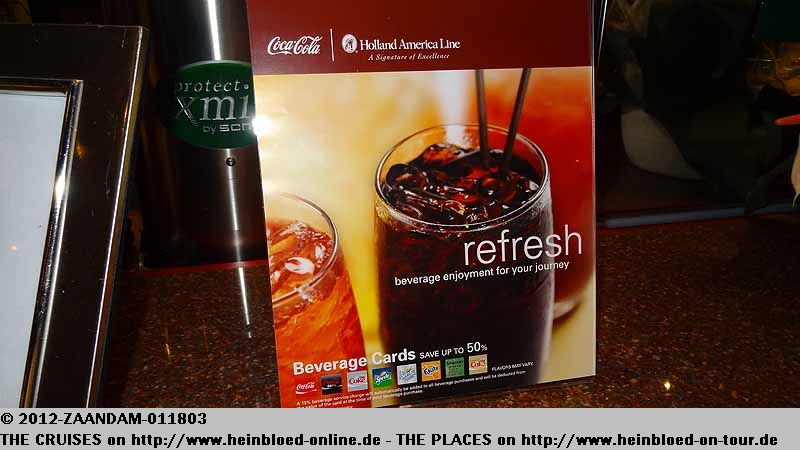 Und die Hinweise auf die Getränkekarten.
Ich möchte gerne frisch aufgebrühten Eistee, aber da muss ich mir noch etwas einfallen lassen. Das ist die Stärke von Celebrity.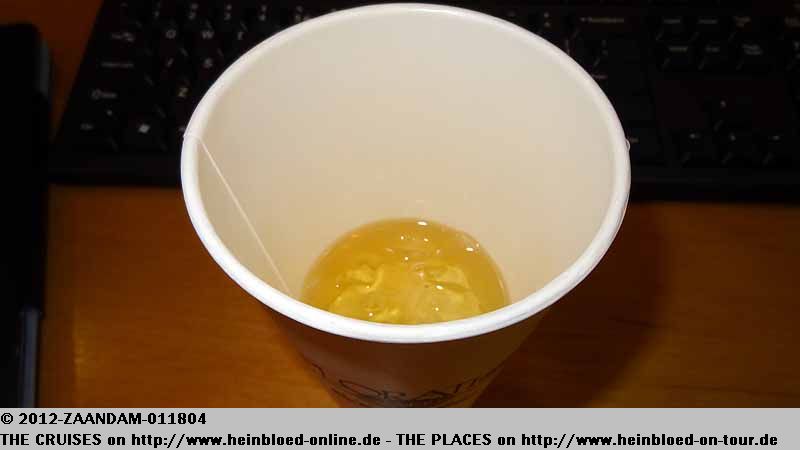 I wanted a freshly brewed individual ice tea but I need to find a solution how I communicate what I want. That was the strenght of Celebrity.

Four guest with the Piano-Bar and two participate to sing-along. I really would love to stay but since I was awake since 04.30 hrs I better go to bed now. Good Night.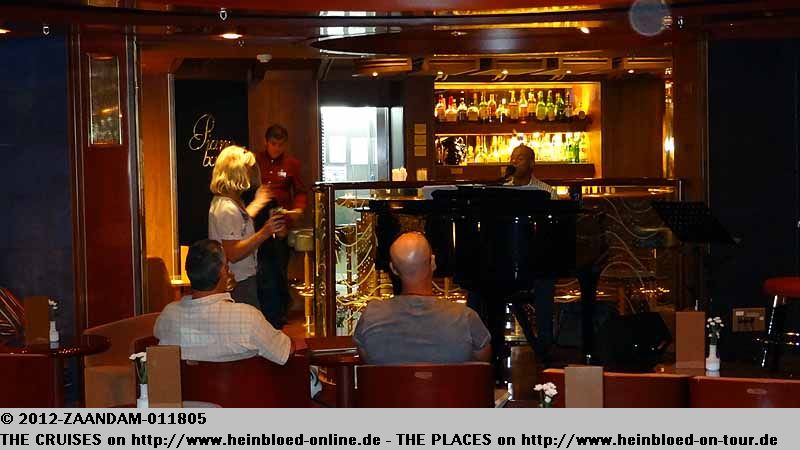 Vier Gäste in der Piano-Bar, von denen zwei laut mitsingen. Ich wäre gerne noch dageblieben, aber nachdem ich seit 04.30 Uhr wach bin, zieht es mich auch ins Bett. Gute Nacht.